Why is Blackjack such a popular game?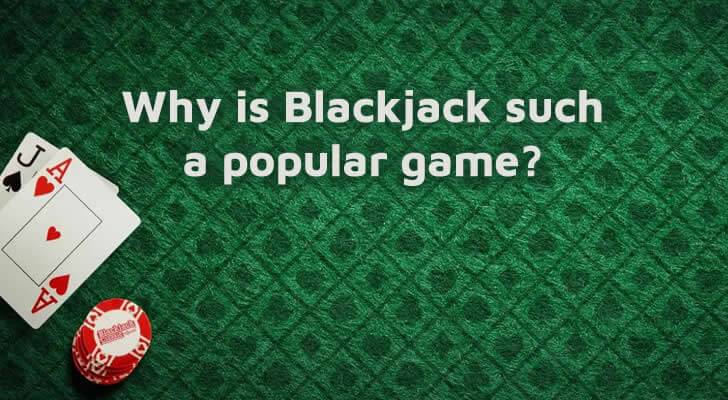 Blackjack is one of the most popular games played worldwide both at land and online casinos. In fact, no matter where you are in the world, any casino visited will most likely offer blackjack. According to some sources blackjack originated in France in the 1770's, from a French game called Vingt-et-un, which means 21.

The object of blackjack is straight forward, beat the total the dealer of the game achieves, without exceeding 21. The game is relatively simple to play. The player gets two cards to start with, only one of which the rest of the table can see. The player then hits (gets another card), stand (stick with what they have), split (if they have two identical cards), or double down (double their wager for one more card). Traditional blackjack sees a player receives odds of 3 to 2, if they achieve blackjack (a face card and an ace or a face card and a 10) and all other winning bets receive even money.

One of the main reasons that blackjack is so popular is because if played with a proper basic strategy the house edge is less than 1%. That means the player will always have a decent chance, with a strategy, of walking away with a decent profit. Other popular casino games such as slots and roulette are completely down to luck, but blackjack differs slightly in that a player's decision during the game can alter their chance of winning. It is also attractive to players, as winning is all about beating the dealer and not other players in the game.

Most players who discover blackjack online, do so to start with because it is a very easy game to pick up, with simple rules and not much to remember. You also do not need a large bankroll to play, so it really is open to anyone who can count. For some of the newest online casino players it is exciting to them to play a very traditional casino card game online and gives them a chance to feel they are a part of the glamorous world of Vegas without being there in person.

Most online casinos will also offer a variety of different versions of blackjack for players to try their hand at. Some of the most common ones to come across are Blackjack Switch, Pontoon, Atlantic City Blackjack, High Streak Blackjack and Perfect Pairs. Live Casino Blackjack is also popular due to the social aspect of playing the game as well as the realistic environment it provides. In addition, blackjack tables can be crowded, even by those not actually participating in the game, but just want to watch and enjoy the atmosphere.

For all these reasons, blackjack remains one the most popular casino games in the world and this doesn't look set to change anytime soon. So much so, that it is even becoming more and more popular for online and mobile gamblers. It is a game of skill and not just luck. This is very appealing to players who don't just want to rely on chance. Plus, players love the relatively favourable house edge, which gives everyone the best chance of walking away with a profit.
0

comments on

"Why is Blackjack such a popular game?"