The Best Irish Slot Games for St Patrick's Day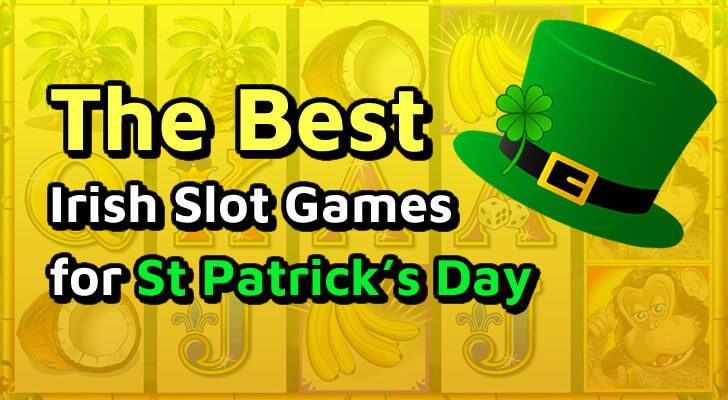 The 17th of March is an exciting day for all Irishmen and women and everybody who appreciates the Emerald Isle. A true St Patrick's Day is marked with unlimited merrymaking, the real Irish way. But dressing in green, flocking the streets or jamming to our traditional Irish music is way too ordinary. Itís a week of good fortunes; exactly what Irish slot game lovers yearn for!

Come to celebrate Paddy's Day in style!

St Patrick's Day is unquestionably a day to ride on the Ďluck of the Irishí and win playing some of the best Irish slots. If you would fancy slot games that professionals love, then weíve picked out some of the best slot games to complete a beautiful, fun-filled week of revelry.

For a bonanza of slot game bonuses, these are the slot games worth giving a try!

On this historical day, you should explore the adventure-filled emerald isle. Youíll meet a magical leprechaun called Finn and perhaps dance to his sick dance moves. This traditional Irish themed, 5-reel, 5-row video slot game is just the right one for you, whether you love some magic or you just canít wait to discover the fabled pot of gold!
You should also take a voyage to the epic world of sound and colour Ė the Emerald Isla. There, you will enjoy the feel of the Paddy Dayís 4-leaf clovers and the beautiful golden horseshoes, while trying your luck in the hidden treasure of the Leprechaun. This gameís five reels and 20 active pay lines, golden wilds, free spins and, of course, the beer bonus round, all make it a perfect game for the day.
Still on the list of the fun and cheerful slot games for the St Patrick's Day, hereís a game that will most definitely lighten your dayís mood. Saucifyís Lucky Leprechaun is a magical piece with awesome comic-style graphics, the playful Leprechaun, and some five reels and 40 pay-lines. You will fall in love with the gameís Wild symbols and free spins Ė trust me!
Of course, you canít miss out on the simplistic, but unbelievably rewarding bonus rounds of the now-legendary Rainbow Riches slot game on such a day. As you would expect, the gameís graphics are on-point, while the 5-reel, 20 pay line as well as its three bonus rounds means, if lucky, your Paddy Dayís might end up with £500 or the top prize of £200,000!


Rainbow Riches Fortune Favours


It is Irelandís most cultural and religious day, but who knows Ė maybe itís a day of pure luck for slot game fans. And if itís rightly so, then what a better way to get lucky than playing the 5-reel, 10-pay-line Irish-themed Rainbow Riches Fortune Favours slot game? The Magic Fairy bonus and a mystery symbol will transform your win by 50, 250 or 2,500 times, no matter your stake. †
Miss singing the nostalgia-inducing Little Leprechaun Song during Paddyís Day when you were a kid? Well, now you can sing along to it while spinning your way to lots of free coins and spins. Playing Leprechaun Song is absolute fun because, aside from finding the hidden pot of gold, there are lots of surprises to marvel at. You hit the bonus spins and the game gives you one surprise incentive Ė it could be a giant roaming symbol, a free spin or lots of coins!
What more could you ask for than these super-awesome slot games online? And the best thing is you can play all of these Shamrocking slots at
Lottoland
.
0

comments on

'ÄúThe Best Irish Slot Games for St Patrick's Day'ÄĚ