MafiaReturns V-Day Massacre
Don't forget to clear your plans for Saturday, Feb 21st for the V-day Massacre Competition for MafiaReturns. You should compete and show some of these noobs what you got. Here's why:
VDay Killing Comp – Starting Saturday, Feb 21st, 12:00 Game Time until Sunday Feb 22nd Sunday 12:00 Game Time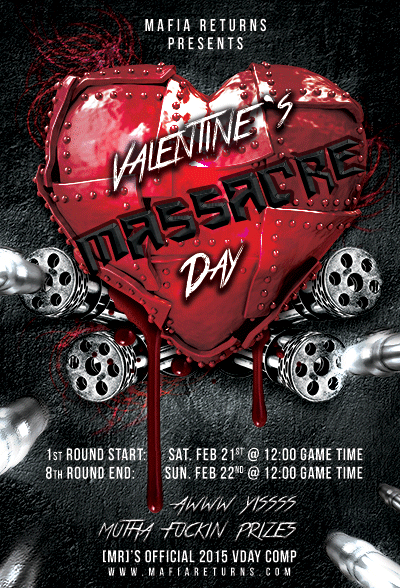 8 rounds, one starting every 3 hours – means 8 chances to place well in one of multiple categories.
If you do not have a character, please create a character before the start of Vday to ensure that you are able to compete. Your character needs to be at least 24 hours hours old to compete.
We look forward to seeing what kind of damage you can dish out on this romantic..erm…lethal holiday.