Why browser gaming is getting more popular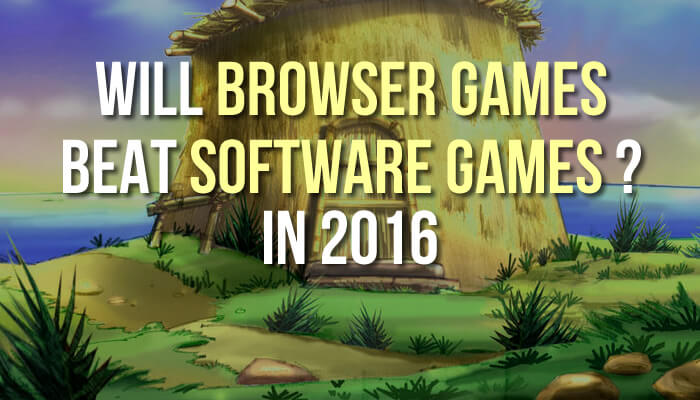 Gaming is something the mankind has loved since ages, so what if we have become a bit occupied in our day to day lives; we still got the flair to catch up with the computer gaming mode. Yeah! These addictive web based RPGs have really made our lives a bit more interesting. Software games have always been more popular than browser games, but it is predicted that this could change in 2016.


The concept of browser gaming
Games directly played inside you browser are called
browser games
. To enjoy them you actually do not need any software to be installed in your system, rather play it directly with just an internet connection. Basically it's what you can call as "social gaming", which makes you play in a collaborative fashion. The best part about browser games is that they make you part of the community, almost never can you see a browser game that is only using single-player mode. In addition they are compatible for every device so there stands no point of arguing.
How can they beat software games?
No need to use your keyboard, very social, don't consume too much of your time - these are only few positive ways to describe them. For instance, you don't require shooting with a mouse or driving with your key board, just grab your mouse and start clicking. You can easily invite your friends to play with you in a single click aka the referral system where you actually get bonuses for each friend you invite. Socializing will be the key to success in 2016 and with that, browser games have a chance to dominate any other genre. There are more and more huge browser gaming companies being formed as they clearly see the potential.
Strong points


You don't need to install loads of applications to play browser games.


Focus on socializing with other players.


Playable via your mobile or tablet while away from your PC.


Don't require too much time investment.


Very low requirements to play


Different browser game genres
There are different categories into which the browser games fit into. Basically the browser games can be divided into five types:
Strategy games
- These games test decision making skills of the player.
Role-playing games
- Players usually take up one role or character and advance the stats and grow in rankinks.
Manager games
- Usually based on a sport or testing your economical skills.
Fantasy games
- usually popular monster niches likes vampires and werewolves.
Science fiction
- Advanced technology and usually involving maintaining your planets and invading others.
3

comments on

"Why browser gaming is getting more popular"
Ruff
February 02, 2016 at 09:15 pm
By browser games, do you means APPs as well? Because APPs IMO will be more popular than just web based games. So gaming in 2016 would go like APPs -> Browser games -> Downloadable games.

I remember playing Travian back in the old days even during school with friends about 5 years ago, those were the times!
Arogandor
November 26, 2015 at 12:36 pm
A great idea!
I will see how The Grail Lords can become more mobile friendly!
From what I see now, the game code & layout style is so old, it seem to work on all the phones so far :D
NewRPG
November 26, 2015 at 02:52 pm
At the moment Google sees The Grail Lords as "Not mobile friendly" so you are missing the boost. To check if Google sees your website as mobile friendly, visit their official tool here: https://www.google.com/webmasters/tools/mobile-friendly/
Arogandor
November 26, 2015 at 06:41 pm
Thanks for the link NewRPG!
Much appreciated!
Arogandor
November 24, 2015 at 09:49 pm
As a owner of a small browser-game myself, I wildly cheer for such an evolution, however are there any statistics available that back this article up?
NewRPG
November 24, 2015 at 11:11 pm
Greetings, Arogandor!
It's actually pretty simple. As you probably know, mobile gaming has increased a lot in 2015 and will continue to increase in 2016. Now browser games can take advantage of this as they can create APP's for their games. Another solution is to make your browser game mobile friendly, this means you can now take advantage of this mobile gaming sensation. In addition if your browser game is mobile friendly, google will rank your website in higher positions thus giving you more traffic from your SEO.