Closer look at Age of Gods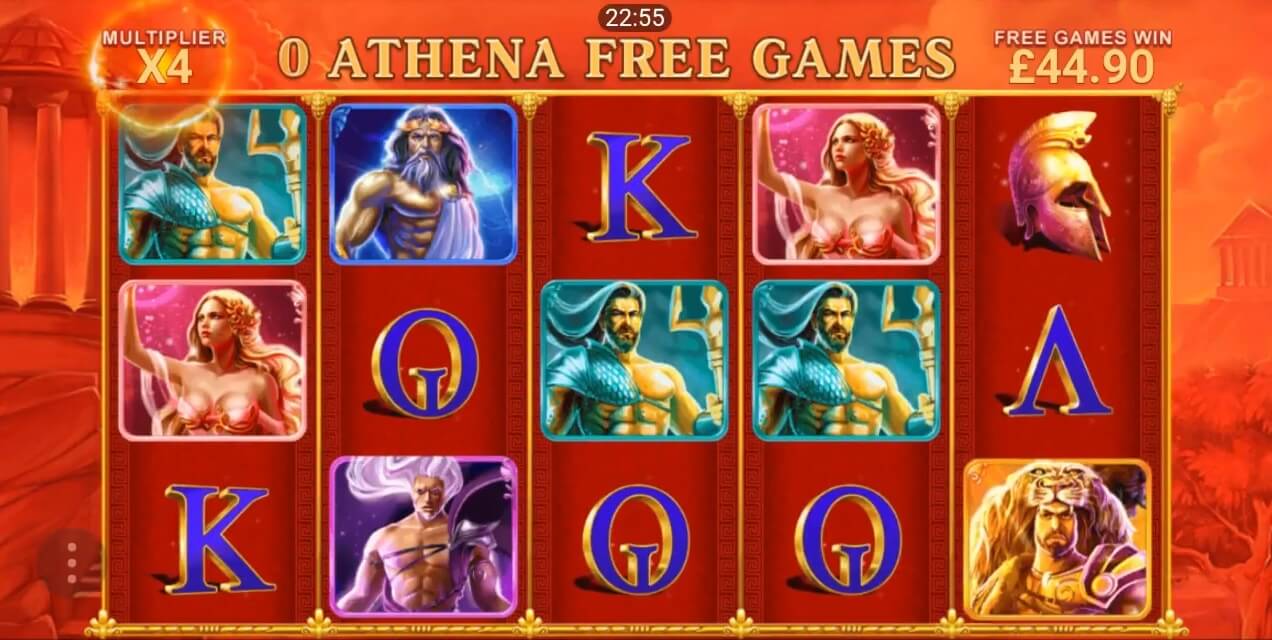 Age of the Gods is an intriguing online slot game. Greek mythology theme throughout the game makes you feel powerful and epic. There are a total of 20 paylines you can use. The game payouts compared to many other slot games is honestly better due to the fact of huge amount of Age of Gods free spins you can get.

Age of the Gods is an intriguing online slot game. Without further details on how slot games work, let's get into the specifics of Age of the Gods itself. There are a many ways you can set up your game. You need to match god symbols to trigger that god's free games. Revealing ends the bonus and you have to match 3 symbols to win free games. Once you do get a match then 9 Athena free games will be rewarded to you. Athena awards a win multiplier on every spin. You then try to line bet and hope for a good multiplier and line combo.

The total win of the free games is shown in the right corner. Lines can go across one corner to another, other quirky lines and of course a straight line as well as the combination of these lines. The game graphics and music are very ancient and fun to look at. Also the effects between slot games is very detailed, a golden door shuts off one instance and opens another. If you get lucky you can get 9 zeus free games and zeus increases the win multiplier every 3 spins and "Wild" is extra WILD! The Wild game gives more rewards. If you spin and don't wish to wait you can touch the reels to instantly show your results. After "Wild" run - Reveal 3 matching god symbols to trigger even more free games and revealing ends the bonus. In a rare occasion you'll also get to Hercules phase, when you get there - well let's just say you've earned a lot of money by then. You can then enjoy 9 Poseidon games and keep in mind that all of those free games's price pool is shown as a total in the right corner, not just a single set of games. Heads can reveal a Vortex game when you pick your God symbols.


Spins in detail
Athena free spins
- Athena bonus round will award you with randomized multipliers from 2 to 5 before each slot round.
Zeus free spins
- Zeus slot round at the beginning has only x1 multiplier, but gains an additional multiplier with every third spin. In addition you will notice that the "Wild" symbol is in the center of the reel throughout the whole Zeus round.
Poseidon free spins
- Poseidon round has a cool lightning look to it and allows you to get extra Wilds (up to 5) by targeting the symbols on the screen.
Hercules free spins
- Hercules slot round grants you bunch of Herules's symbols. Those symbols do not act as default, they will then act as "Wild" symbols. This does not apply to the Scatter symbol, but applies for all other symbols on the screen.
0

comments on

"Closer look at Age of Gods"