Die2Nite latest version release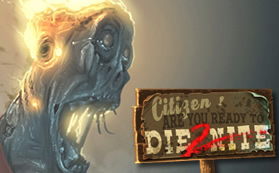 It is very positive to see more and more browser games being up-to-date. This one is no exception, latest version of Die2Nite is 4.5 and there are more versions to come. Rankings calculations have been changed. New mode has been implemented into the game for badass players. And of course with every new version of the game, lots of improvements and overall bug-fixing.

Players rankings
Torn rankings have been recalculated. Rankings system is one of the most important aspects of every browser game. Players have the need to compete with each other. There is a need to know who is better and who is worse. This is a delicate subject, but changes have been done. Now in each town only 35 top players will compete in rankings positions.
Overall improvements
Forum commenting has been tweaked, nothing major. As for in-game updates, DEF items are now easier to get from a basic construction site. Also ruins have been moved closer to town to help players who are struggling with the game. If you think they made it too easy, try a harder game mode.
List of fixed bugs


Minor fix for private towns.


Tinkerings for various in-game maps.


Some security loopholes have been detected and taken care of.


Storyline texts have been tweaked.


Overall design improvements and getting rid of some code errors.


Option to disable API flow.


Play Die2Nite
0

comments on

"Die2Nite latest version release"