Galactic sneak peak - Interview with developer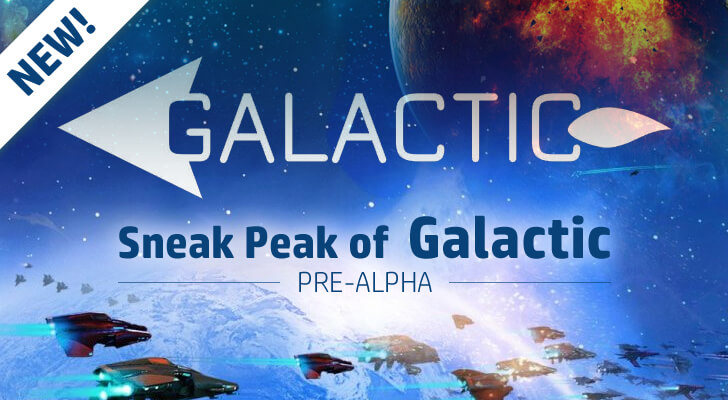 We are glad to announce that there is a brand new game coming up! The developer has reached out to us in hope of spreading the word for Galactic. Once we saw the game UI ourselves we got really interested since it looks unique and modern, on top of that, the gameplay looks intriguing. We have interviewed Ryan Jennings to see if we could get some answers out of him about this new Sci-Fi browser game that he's developing. Luckily he has answered all of our questions and is very determined to go through with the game. Check out the answers below to get a sneak peak of the new game called Galactic.


Interview with Galactic developer
Where did the "Galactic" name came from?
I thought of the name simply from thinking of space type words and the beastie boy song intergalactic, it had a nice ring to it and was super simple. I then played around with logos and realized I could turn the word into a rocket type shape with very little effort in
Photoshop
:).
What is the game about?
Youíre a pilot flying around the galaxy in your ship. Trade goods to become wealthy, fight other players to become notorious, create an alliance to become a leader and raid ports to become a strategist. Combine them all with friends to become Galactic.
Where it came from: I used to play a game called TDZK around the year 2000. The game got me hooked and I played multiple rounds with friends and setup an alliance. We pooled our resources so we could afford semi decent ships and set about fighting other alliances in the game trying to compete to be top kills. We werenít the best by far but we held our own. Part of the inspiration comes from this. After I stopped playing TDZK I moved to Eve Online and enjoyed it for a good 6 years. A lot of Eve was familiar from TDZK but with a lot more to it and a huge player base. Iím aiming for Galactic to be a combination of the two.
How is it any different from other SciFI browser games?
I find most other browser text-based sci-fi games are usually based around galaxy domination. Managing your fleet from a kind of top down view and strategising. This game puts you in the pilot seat. Youíre not the invisible hand, you are you. And what you do, or donít, effects your game directly.
Could you tell us more about yourself?
My name is Ryan, Iím 29 (Soon to be 30!) and from the UK. Iíve been a commercial full-time developer for 7 years now, involved with a range of projects from financial banking tax income systems to mobile app design and development. I have experience all the way from server configuration to mobile ui design. I started web development at a young age creating clan websites for me and my friends in counter-strike 1.6 and later creating forums and kill-boards for my corporations in Eve. Eventually this lead to me moving into the development world full-time and I havenít managed to escape it yet!
How far is the development?
So far Iíve created the galaxy generator, user registration/login, the UI, player movement & docking. I started around 3 weeks ago and spent some of that time being addicted to Horizon Zero Dawn. Iím starting a development video blog to track my progress and keep people updated as to how the game is coming along. Check out the
Galactic Facebook page
and my
youtube videos
to keep track of my progress.
When are you planning the first launch?
Iím planning on putting out an alpha at the end of May. This will simply be the core trading mechanics of the game as I want to get the foundations correct and build from there. I want Galactic trading to make you feel like you're Hans Solo (Or better yet Mal, if you know, you know) smuggling all sorts of luxury or illegal goods other people want to take from you. Not just a stepping stone to combat.
Will Galactic be supported for mobile devices?
The game wonít be designed with mobile in mind, it will be desktop focused. To me thereís just too much on the screen to fit into a mobile game without losing the beauty of it or dumbing it down, which I definitely donít want to do. However once the game is running Iím not ruling out an app that allows you do management type actions within the game, such as managing your alliance.
9

comments on

'ÄúGalactic sneak peak - Interview with developer'ÄĚ
Nora Tenorio
January 25, 2023 at 02:49 pm
Great goods from you, man. I've understand your stuff previous to and you're just too great I really like what you have acquired here, certainly like what you're stating and the way in which you say it. You make it enjoyable and you still care for to keep it wise. I cant wait to read far more from you. This is really a tremendous website.
Ashley Jones
May 10, 2022 at 05:51 am
Thanks for one's marvelous posting! I certainly enjoyed reading it, you might be a great author.
I will ensure that I bookmark your blog and will come back in the foreseeable future. I want to encourage you to ultimately continue your great work, have a nice day.
Alisha Ross
August 14, 2021 at 04:28 am
Hey there! Do you know if they make any plugins to protect against hackers?
I'm kinda paranoid about losing everything I've worked hard on. Any tips?
Regards
Alisha Ross
August 13, 2021 at 05:29 am
I really appreciate this post. I've been looking all over for this! Thank goodness I found it on Bing. You have made my day! Thank you again
Regards
Rose Martine
October 26, 2019 at 09:35 am
"I'm really loving the theme/design of your website. Do you ever run into any internet browser compatibility issues?
A handful of my blog visitors have complained about my website not working correctly in Explorer but looks great in Chrome."
Regards
Rose Martine
Ryan Jennings
October 29, 2019 at 02:03 am
Hi Rose,

Thanks for the comment :). This has been down for a while so haven't come across them BUT I've been in dev for a while now and there's always browser issues, usually from IE & Safari. But there's usually ways around them :)
MOSES BRODIN
October 26, 2019 at 08:16 am
Excellent read, I just passed this onto a friend who was doing a little research on that. And he actually bought me lunch since I found it for him smile So let me rephrase that: Thanks for lunch!
Ryan Jennings
October 29, 2019 at 02:04 am
Hi Moses,

What was your friend doing research on?
Terrai
May 04, 2017 at 04:49 am
I look forward to trying this out. As Ryan said, there are a ton of games where you can build an empire to dominate the galaxy. Personally, I much prefer the genre he's aiming for.
Ryan
May 08, 2017 at 10:33 am
Thanks for the interest Terrai. Feel free to get involved with the development via the facebook group.
Kaputin
October 28, 2019 at 06:11 pm
What happened to the game? Any updates? It looked promising . . .
Ryan Jennings
October 29, 2019 at 02:00 am
Kaputin,

Your comment has given me the drive to revive this actually. For someone I don't know to come across this article and think it looks cool is really motivating :).

Checkout the facebook group linked above as it's back active.
Ryan Jennings
October 29, 2019 at 12:59 am
Hi Kaputin,

It turned out to be too much of a time sink to do it in my free time and other projects needed attention unfortunately. I was planning to do a kickstarter to cover the time developing it but people taking part in the facebook group (30 or so people) weren't interested in supporting it financially so I had no choice but to drop it.
Anon
April 19, 2017 at 05:09 pm
Looks like it has nice graphics and good idea but everything stops there. First of all it looks awfully boring. Looks like a lot of grinding and pointless clicking. If you take away the fancy space background you have what? nothing? Also why not mention premium stuff, so what about premium? is it going to be another P2W?
Ryan Jennings
April 20, 2017 at 12:20 am
Thanks for the comments. The video is simply a ui sneak peak at the moment so you are 100% correct regarding not much being there. I've only been coding this for a couple of weeks. Going forward there will be ship to ship combat (solo & group), ship to port combat (raiding), alliances, planets and system ownership. It will be a persistent world where alliances can put their mark on the universe and claim sections of space as their own. As it's live action based (no page refreshes) it may not be for everyone.

There will be no premium mode for this game, everything will be playable for free. There will eventually be in-game items but these will not effect gameplay balance. There are a lot good and bad implementations out there for micro-transactions and I intend to thoroughly investigate all options before attempting to implement my own.

I have linked a couple of articles below that I agree with if you would like to do some light reading yourself.

Thanks for taking the time to comment.

https://www.forbes.com/sites/insertcoin/2013/11/25/the-ten-commandments-of-microtransactions/#e92c78d8cd37
http://www.pcgamer.com/microtransactions-the-good-the-bad-and-the-ugly/
Playa
April 19, 2017 at 10:02 am
This is pretty exciting. Cant wait to try the game! Good luck!
Ryan Jennings
April 20, 2017 at 12:06 am
Thanks for the interest! Follow our facebook page and development group to keep up to date with my progress :)