Idle games still popular in 2020?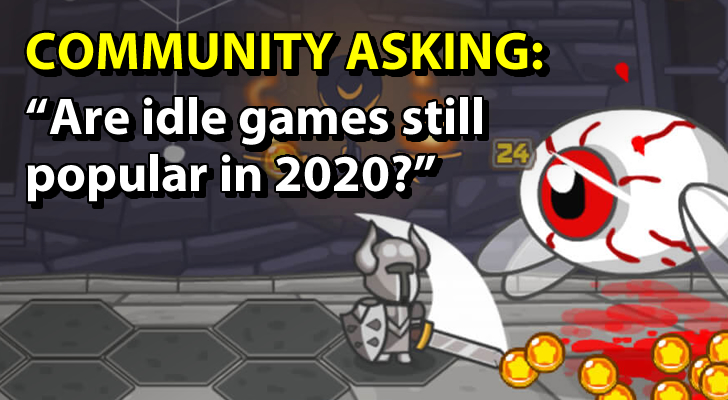 Idle games made a huge entry in May 2019, but are people still playing them in 2020 and how often are there new Idle Games released nowadays? The peak of Idle Games is over for sure, no arguments here. If you often find yourself playing games online check out best-slots-sites.co.uk for some dope slot games. Idle gaming logic got a lot of players quickly intrigued. You can play your favorite Idle Game by just investing 1 minute per day if you want. This is exactly the reason they went viral, people nowadays don't have the luxury to spend hours each day to play games.


Popularity of Idle Games
Google Trends
data clearly shows that
idle games
have established a steady popularity even after the last year's peak in May which you can see on the graph below:

Classic Idle Games which are still popular in 2010
Doge Miner
is a fan created Doge themed idle browser clicking game with only one objective ? to reach the Doge to the moon! It is Such idle, many click, WoW! In all seriousness making an idle game based on a popular online memes is a great idea to quickly grow your game's popularity. This game still gets a ton of hits even in 2020 and the developers have also made new games, although they haven't quite reached this level of growth as their Doge Miner did.
Bonfire Idle
as the name suggests is all about making your bonfire bigger by getting upgrades. Let your fire sit for a moment to be able to make it grow. The bigger is gets the faster it grows as well, pretty realistic! You must increase your clicking power as well if you want to boost your fire by manually doing the heavy work or simply let the automation do the work if you are feeling busy. Your bonfire generated a specific amount of co2 per second and you need to focus on growing this faster and faster. Throw some leaves, books, branches, lighters etc into your fire to increase your rate of co2. You are advised not to do this in real life.
Idle Web Tycoon
is for people with a business and money making interest. On the surface a pretty basic idle clicking game that allows you to build your own virtual website which generates money. That web of yours will earn money based on views and advertisements, you need to add more of those annoying ads and buy various website upgrades. Every click you make on your web generates you those valuable bucks. Change the font as well as the background of your digital website to suit your business style.
Poop Clicker
is a game a few of you might find weird, but it sure as hell is funny as shit. That put was intended! This clicking game has a very fast pace compared to some other clicking games out there. Upgrade the manual clicking bonuses and your buildings when you can. Once you reach all your buildings and upgrades it pretty much becomes a true Idle Game that you just occasionally check out to see your progress. The main focus as funny as it sounds is how many poops per second you are able to generate.
0

comments on

"Idle games still popular in 2020?"