Inter-Dojo tournament at Dino RPG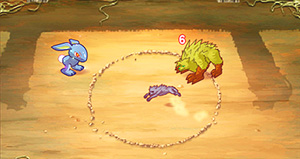 Today, the 53rd Inter-Dojo Tournament has started at Dino RPG. Make sure you take this challenge to test your skills and also qualify for the finals. But take on the challenge before 1st October in 2015 or you simply can't participate anymore. The battle for Champion of Dinoland title and Zen Medal should be quite interesting.


Tournament details and rules


Everyone can join, no access restrictions of any kind.


Only magic item are allowed in qualifications and in the finals as well.


The finals type is going to be 5 x 5.


Teams in finals should have 4 or more different races of Dinos.


Only "Smog,Tricerithumps,Quetzu,Feross,Santaz" allowed for final teams


50 first Dojos to qualify can also grab Baby Tofufus!


Tournament prizes


Dojo Champion - The Zen Medal, 3 Napodinoz, 100 Treasury Notes and Demon Tickets.


Runner-Up - 3 Napodinos, 80 Treasury Notes and 100 Demon Tickets


Semi final - 2 Napodinos, 80 Treasury Notes and 100 Demon Tickets


Quarter final - 1 Napodino, 80 Treasury Notes and 100 Demon Tickets


Last 16 - 1 Napodino, 80 Treasury Notes + 50 Demon Tickets


Last 32 - 1 Napodino and 80 Treasury Notes


Last 64 - 1 Napodino and 50 Treasury Notes


Last 128 - 1 Napodino and 30 Treasury Notes


Last 256 - 1 Napodino and 10 Treasury Notes


Play Dino RPG
0

comments on

"Inter-Dojo tournament at Dino RPG"