Lords of Legend tutorials and tips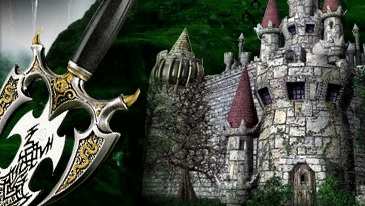 We will be going over some basics of Lords of Legend. You can choose between 9 races: Orcs, Trolls, Elves, Dwarves, Undead, Humans, Fangolians, Draconians and Dark Elves. Each class has something unique to it. Some are better at attacking, some are better at defense, some gain more money and so on. Game itself is pretty classic online RPG. You register with your username, but it won't be shown to others, after you register, your character name will be asked separately. Of course there is only 1 account per player allowed. Now if you live with your brother and you guys both play the game, send an e-mail and administrators will figure something out. The main focus of the game is community. As you start playing, you notice that it's difficult to manage all alone. You need to create or join an existing clan and help each other out. Now clans can also work together, creating an even bigger community.

Ingame dashboard options
Warlord summary
shows your current Power, gold, level, army units, attack points and turns info. Usually when you start, you get 24 or 25 Power and 40k gold and 30 Attack Points.
Warlord menu
offers you the most important links you need to advance through the game. For example you can Attack someone and if you do you will lose your noobie protection.
Main menu
is somewhat less important than WarLord Menu. This involves info about the game itself and overall player statistics. Latest updates and forum link to connect with others.
Account menu
allows you to log out, if you use public computer, it is highly recommended. You may edit your information and support the game.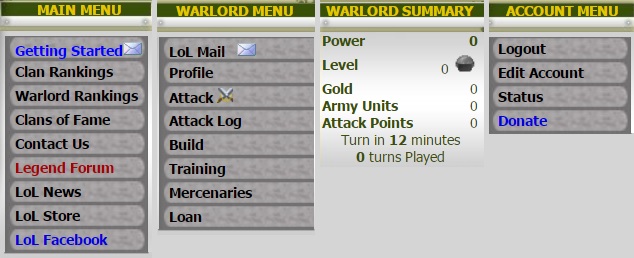 Lords of Legend tips
If you start as a new user and you don't know much about the game yet, then don't attack anyone just yet. You will lose your noobie protection and others might take you down. Another useful strategy is to start creating as much buildings as you can. Start buy making your defense more effective by upgrading your Fort.
Play Lords of Legend
1

comments on

"Lords of Legend tutorials and tips"
-IanAstbury-
June 10, 2015 at 09:24 pm
Fun game.. but it's all about the community.. Gone for 10 years and people flocked back as soon as it returned because nothing has been able to replace this game for any of us.. It's the first thing that has made me put down Destiny and such a simple game too..