Megaplex Manager update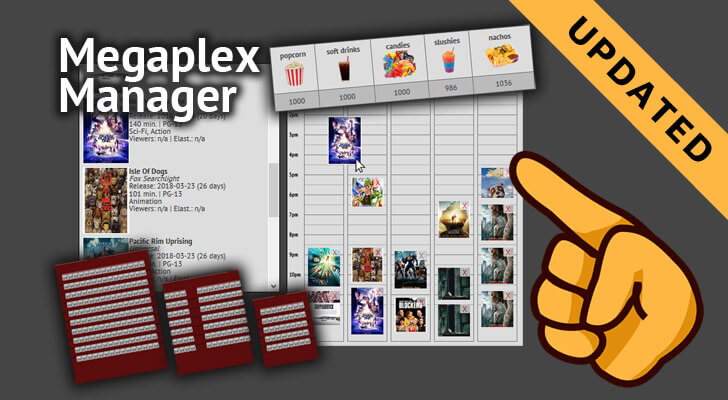 As of Friday, March 22nd, an overhaul of this bonus/malus mechanism went live!

Just like before, depending on the moment of the showtime and the MPAA rating (PG, R...), there will be more or less moviegoers.

The general idea is to give more flexibility to adjust and predict the Offset (surplus vs shortage of seatings occupied by moviegoers).


Shown above: the new ladder of Weekdays.
In a nutshell


Removal of the NC-17 bonus zone... Except for oddities like Showgirls, Crash or La mala educación, this MPAA rating is rare and would block a useless space for nothing on the schedules.


Standardization of the percentages (ladder) for all MPAA ratings... Currently, G rated movies is at 8% bonus, while PG-13 is at 6% and PG 5%... Now, the new percentages will all be the same, ranging from -20% to +20%, always increasing by ticks of 5%.


A new, negative percentage, applying to ALL kind of movies for showtimes scheduled too early in the day (darker the zone, heavier the penalty).


Different ladders on weekdays VS Friday to Sunday (Box office "weekend").



Shown above: the new ladder of Weekends (Fri to Sun).
The opacity level always indicates a step of +/-5%. The darker the color, the better the bonus: as an example, you'll get the +20% bonus if you schedule a PG-13 movie at 8 p.m. on a Saturday. If you schedule a PG rated movie at 7 p.m. on a Monday, you'll get +5% bonus.
*IMPORTANT*: the bonus or penalty (malus) is only based on the start time (top of the movie image!)
* * *
Also, it's now possible to change your Megaplex name for $10,000.
Check the left column of the BUY page.
0

comments on

"Megaplex Manager update"