New browser game - Age of Citizens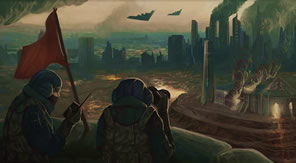 It's always wonderful to see new browser games arriving. This time we have a strategy browser games with fantastic modern design. Age of Citizens has 4 main aspects: construction, fighting, politics and allies. As expected of a fresh game, the community is not large, yet. This does not mean that it is going to be one random new game that wont make it. This game has a lot of potential, it has outstanding design and the way features work together, it creates a wonderful combination.  The gameplay seems to be very slow at the beginning, but take some time to analize the features and read the manual (actually very useful). Your account has also stats like Levels, Health, Energy, Strength, Knowledge and in-game money.

Age of Citizens in-game features
The player dashboard is a bit difficult to navigate at first, because it's full of icons so you have to hover over the icons to know what it means. After a while you get used to it and you know where everything is. Main features are jobs, factories, market, battles, rankings and increasing you stats.
[gallery link="file" size="medium" ids="1680,1682,1681"]
The good and bad
Bad news first
, there are a lot of premium content, which need Gold to unlock. When you start, you do get 5 Gold, but this is simply not enough. The price is high if you wish to stack up on more Gold and currently only PayPal method is available. Some features still need tweaking. Very low player-base at the moment.
Goods news
is that the development is quite active and the game is very refreshing, this is not another copy of another game, but a unique concept.
Play Age of Citizens
1

comments on

"New browser game - Age of Citizens"
Thundero
March 26, 2016 at 03:54 pm
Honestly, this is one of my favorite mmo text-based games. It has an easy user interface but has the complex enough features to keep the player interested. With an extremely active developer, polls for new features happen every two weeks and a new feature is added every month or so. Some problems are that one can easily make infinite gold even without real money. This is definitely NOT a pay2win game but its really easy to be successful within the game.