New donating system in Torn City
Torn City increasing security through API key system that prevents data to flow through 3rd party. Now for the awesome part, every weapon/armor will be unique. Each item will have its own damage/accuracy/defense value. You can combine them to create a perfect set for yourself. New payment method added - BitCoin. They will also launch a new faction skill tree system that will be changed a lot, somewhere during 2015. Another great addition to the game is Contracts. These are like little versions of regular missions that specific agents will give out.

New donation system
Torn City has modified the existing donation system to maximize their earnings. They are trying really hard not to look like money sharks, but the fact is, developers and ads do cost them a lot of money. In order to keep all the crew happy and the game regularly updated, the changes have been implemented.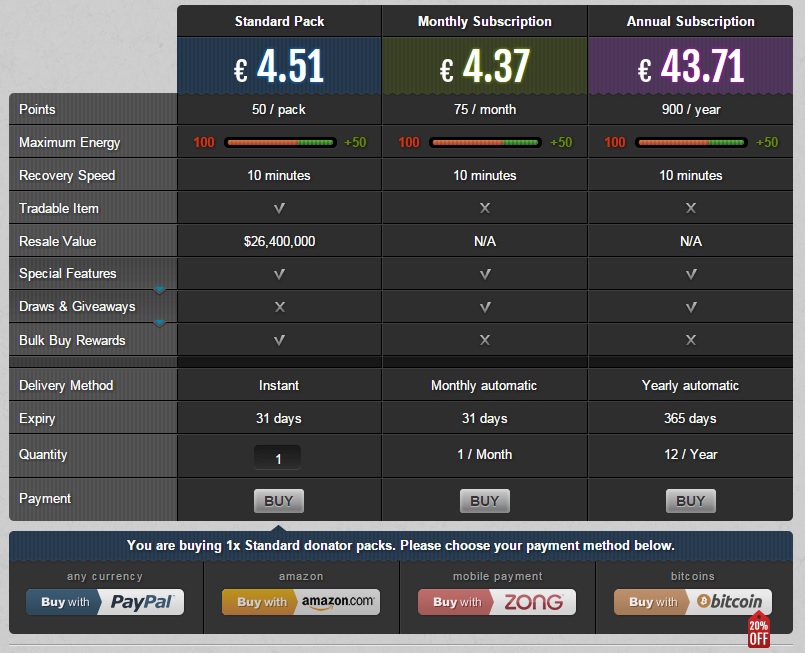 This is an in-game donation page view with payment methods showing.
Mr & Miss event
Event that allows players to upload a photo of them into Torn City. Players can vote for other player's pictures with 10 star rating system. The winners will be announced when the event ends. If you upload your picture, make sure you hold a proof of the year, your in-game user code.
0

comments on

"New donating system in Torn City"