New era at Land of Nevard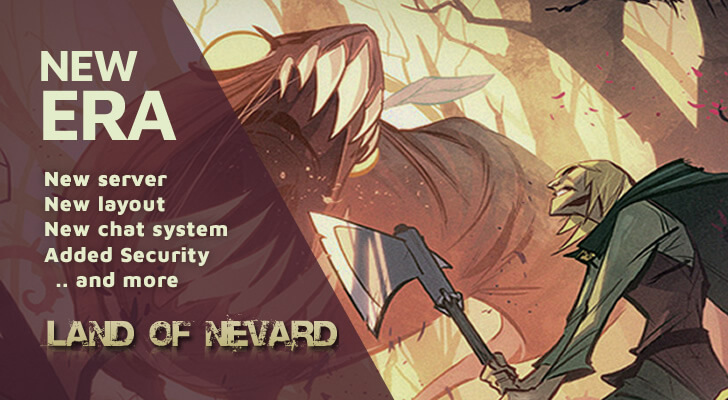 Land of Nevard has been with us for over 13 years now, this game has won the hearts of true TBBG fans. Showing the gratitude towards the loyal players, a new era has arrived that brings or amazing new content. Let's take a closer look at the updates recently implemented into the game.


New chatting system
Big part of the game is community and they've always aimed towards bringing the community together as much as possible and they haven't failed, now it's even more comfortable. For example inactive chat channels have been removed. Added "
/shrug
" that inserts "
?\_(?)_/?
" into the chat. Players can now open links directly from the chat. Hovering on an item name in a chat window will show you the item info. Right click options added. Improved mobile friendliness. Game staff can't read guild chats anymore, enjoy your privacy!
New Server
Say bye to lags - Server now supported by new cloud technology. This means that the server is more flexible to traffic volume. Cloud allows an easy way to increase the servers stats whenever needed - without downtime!
WTS, CTF, and The Maze removed
Weird Throwing Stuff (WTS)
feature removed, you may still sometimes encounter this feature during periodical events and under a different name.
The maze
and
Capture the flag
also removed from the game.
New Player Tutorial
Land of Nevard has been very thorough with their tutorial, if you really dig into the tutorial then you'll understand everything about the game and this is nowadays a unique feature. They are well written and the content it indeed helpful. Enjoy the tutorial until you complete it or reaching over level 6. In addition to the helpful tutorial you can always ask staff for additional questions, they're always willing to help or take a closer look at the wiki to get down to the last detail of the game.
New mobile friendly layout
Waiting for a bus has never been more entertaining, take out your mobile phone and play the game. "But it's uncomfortable in a small screen".. NO, not anymore - the new game layout is automatically adjusting to your screen size and re-ordering elements to give you a better mobile gaming experience. And no need to download some kind of extra application, just play the game via the same URL you always do from your PC.
Auto-Fighter Nerf
Earlier in the game there was the Auto-Fighter feature, all players started with 50 fights. You could increase the number with donations, but staff quickly realized that the AFK system means players would spend less time inside the game and thus making the community less active. Now this feature is nerfed. AFK players will be logged out after 2 hours of using the feature, unless they actually spend time inside the game while AFK mode is on.
Automatically lending guild equipment
Guilds can now enjoy a new feature called
Automated Armory
, allowing Guild members to borrow equipment from their guild without requests, limited with each equipment type.
Game Time Zone and security
Game Time Zone used to be
Central Time Zone
, now it's
Coordinated Universal Time
. SSL certificate has been added to the game domain, making password and other data storing much safer.
Code Improvements
To maintain the game quality it's important to improve the quality of the code, this is the backbone of the game. Multiple bugs are fixed and if new bugs occur, they'll be taken care of.
0

comments on

"New era at Land of Nevard"