Ravenmarch and Wings of Destiny shutting down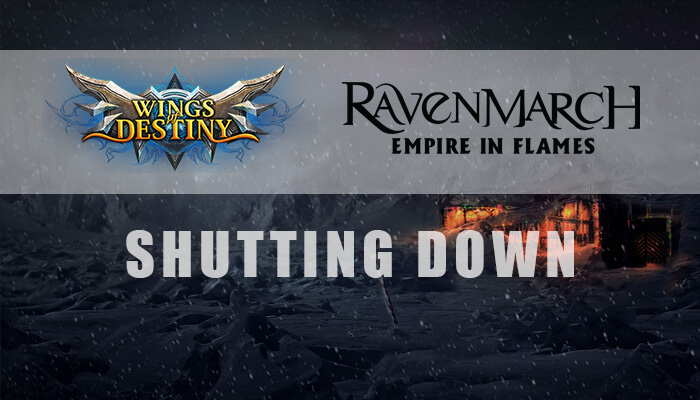 This doesn't mean that these Ravenmarch and Wings of Destiny are going to be vanished. They will simply be migrating off of Kabam browser games company. Kabam is trying to transfer all of the players to their other games - and they have a lot of them. Lately there have been many games that are shut down from Kabam and more is expected.

Ravenmarch shutting down
Announced to be offline after February 12, 2016.
Ravenmarch is a strategic browser game set in a fantasy world. There's an empty land in the first place and your aim is to recover the city. Building facilities and upgrading them are the main features. Dwellings are the first constructions that require your attention. Later you can also build inns, taverns, treasuries, textile mill, and so forth. Using automatic upgrading can save you time.
Scenario
However, building an empire is not the only feature. Ravenmarch includes lots of possibilities for fighting. There are various fighting areas and you can always keep an eye on the results. Winning the battle allows you to gain experience and earn gold. Defeat the enemy to move on to another fighting area.
Having a good equipment can cause more damage to the opponent. For instance, there are Iron Boots, Hearteater and Rogue's Chainmail available. More equipment will unlock as you progress and gain higher levels. New equipment can cause more damage as it adds more defense, attack and troops. As you progress, the battling areas become bigger, you can use more aggressive machinery and combats last longer. You could speed up the battle with diamonds that you can collect through events.
Following the quests
On the left you can see quests that need to be completed. Click on the quest to understand, what is your next action. After completing the quest, you earn gold, food and experience as a reward. More difficult quests give you several rewards, simpler quests might give you only one reward. Rewards are mostly useful for purchasing equipment and upgrading buildings. If you follow the quests exactly, you will finish a stage eventually. As a stage reward you earn gold. Move to the next area and keep fighting.
Wings of Destiny shutting down
Announced to be offline after February 12, 2016.
Wings of Destiny is a popular browser game set in a magical world. There are different characters such as Knight, Hunter, Mage and Priest. Knights have powerful attacks and Hunters are known for their quick, long-ranged attacks. Mage can provide firepower in fights and Priests are attuned to the spirit world. Wings of Destiny includes a huge map, allowing you to explore the surroundings.
There are different creatures giving you quests. Talk to them and accept quests. Skills are important, because you can use skills in battles. There is a bar at the bottom. You can drag your skills over there, so you could use them during the fight. The bar also includes experience and current energy reserve.
In dungeons you can surely experience exciting adventures. You can access the dungeons after level 20. Each dungeon includes bosses to defeat and big surprises are waiting for you if you survive. Pets are helpful as they can cause damage to the enemy. The first pet will be given to you after reaching level 10. Your pet can bravely fight by your side.
You can enjoy different fighting areas. Deathmatch arena is a place with no mercy - players with different skills must face each other for survival. The Arena is available after level 30 and it allows players to fight against each other. Siege Wars feature increases the adrenaline level, because your job is to fight for your guild. Enter The Colosseum where your aim is to kill as many opponents as possible.
0

comments on

"Ravenmarch and Wings of Destiny shutting down"