Soccer Manager 2015 app
As far as soccer simulators go, Soccer Manager is always staying on top. They have a huge community and they are always trying to be on top in the future. As expected, they have announced their mobile apps to win over more mobile and tablet users.

What exactly is soccer manager 2015 app?
Soccer Manager 2015 apps are for both Android and Apple. Two very different Operating Systems mean there are 2 different application download links available. You can skip to the bottom of this article for app download links.
What has to be mentioned is the fact that they have a fascinating website design. Very modern and clean look with almost no ads. Respect for game developers who are trying hard to improve the game by new design and new features. For example they have recently added a new Continental competitions feature. Some developments were even made in the leaderboards listing. Another interesting feature is their new reward system, which will be discussed later on.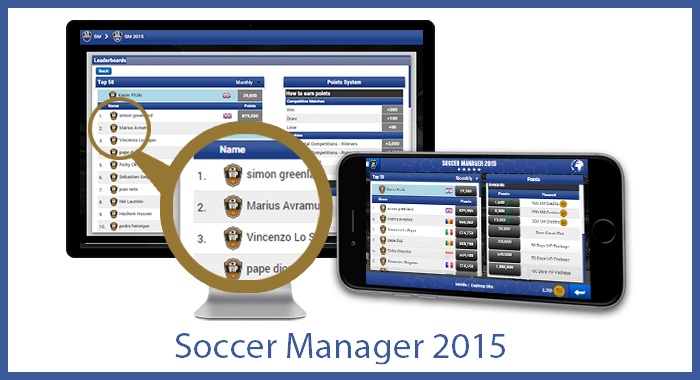 Soccer Manager leaderboards
As mentioned before, a leaderboard functionality has been in development so lets see what they have done with it.
Basically this is another feature for you to keep an eye on your team performance. You can now compare those performance results with your friends. This will hopefully make players interact with each other even more and unite the Soccer Manager community together even further. This is also a good chance to find out how well you know the game, as you can compare the results with other managers who manage the same team as you do. This feature will add lots of competition to the game and good view of your skills and managing advancements.
Reward system
As they develop new features, they also need new players joining their game, this is where the Soccer Manager reward system comes in. As the name already mentions rewards, you don't have to be a genius to understand the concept of this system. You will be rewarded to promote the game, by asking your friends to join the game with you. You will receive in-game points depending on the amount of friends you invite. Reward points can also be acquired by completing achievements, for example if you win a match or a competition. Those reward points can be changed into SM Credits (Stands for Soccer manager Credits). SM Credits can be used for in-game bonuses for your team, VIP status or even more saving slots.
Soccer manager app download below:
Soccer Manager Android APP
Soccer Manager Apple APP
0

comments on

"Soccer Manager 2015 app"