Age of Citizens
Age of Citizens brings you great graphics with interesting features. It's an energy and health type browser game with extra strength and knowledge stats. Visit training grounds for increasing your stats. You may work as a freelancer once per 8 hours and create food and weapon factories. With daily missions, achievements, casinos and wars, you won't get bored. It's a new game with some features still in development, a lot more is still to be expected so keep an eye on this game.





(23 votes, average: 3.83 out of 5)
Rate it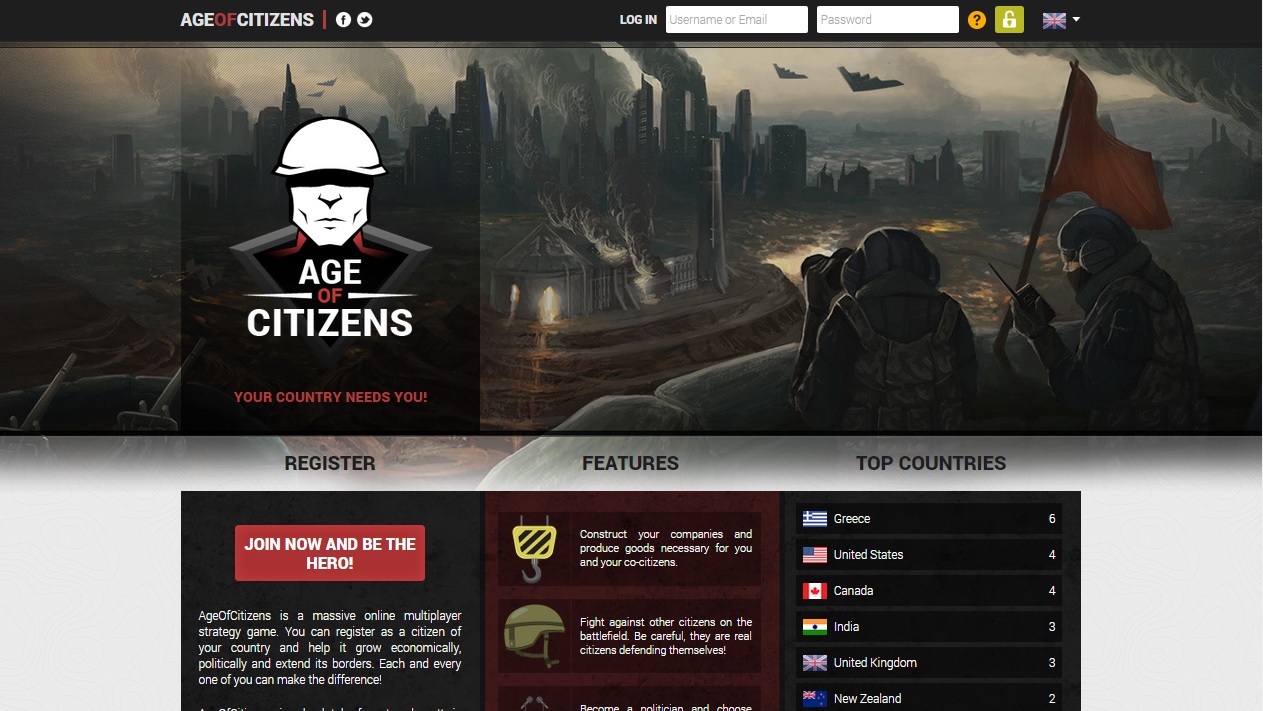 3

comments on

"Age of Citizens"
orangevorm
March 27, 2022 at 07:36 pm
Turn it on again!
Stanley
September 08, 2016 at 02:53 am
Age of Citizens presents itself as a technical well-developed game without any kind of bugs or technical errors. Compared to the most online games it shines with a simplistic and neat design. No flashing symbols or unreadable fonts. No clickbait-like images or eye-piercing colors.

The game developement is also very community driven and the developer takes Feature Requests serious. Sadly the game improves rather slowly, because only one guy is working on it. But on the other hand it ensures the high quality standard that this Game has.

Compared to other fighting browser games this game is retatively small for now. If you join now, you can have a huge impact on the Global Play. And more active players are needed to shape this game into a better Citizen Simulation.
Afcajax
June 13, 2015 at 09:46 pm
Main dev Thomas has proven again he is a very talented, hard working Web developer. I got to know him through the Football Strategy soccer game where he has shown he's capable of using the latest technologies to make accessing the website and playing the game intensely fun.

Consulting the players, he develops Age of Citizens as the game goes on meaning the game is currently rather minimalistic but growing in features in a rapid but seemingly sustainable pace.

The game is free so join now and become your country's leader or become an entrepreneur and feed your fellow countrymen or produce weapons and wage war.