Agonia - Tales of Forgotten Lands
Agonia is a text-based adventure/fighting RPG. It is 100% free (no pay-to-win), ad-free, and with a very strong community. The world begins with two factions, who land on an uninhabited and wild new world. You can pick from among 8 tribes (races), master a numerous selection of weapons, and train various crafting skills (alchemy, forgery, tailoring, sorcery among others). The lands are merciless and there is no rule; you can become a lawful fighter, a trader, a mercenary, an adventurer, an artisan, or invent your own style. There is a wide diversity of character builds and a unique tactical depth in a game where the path you take, alliances you forge, and friendships or rivalries you cultivate are entirely in your hands. The game launched in January 2019.





(632 votes, average: 4.85 out of 5)
Rate it
Agonia - Tales of Forgotten Lands images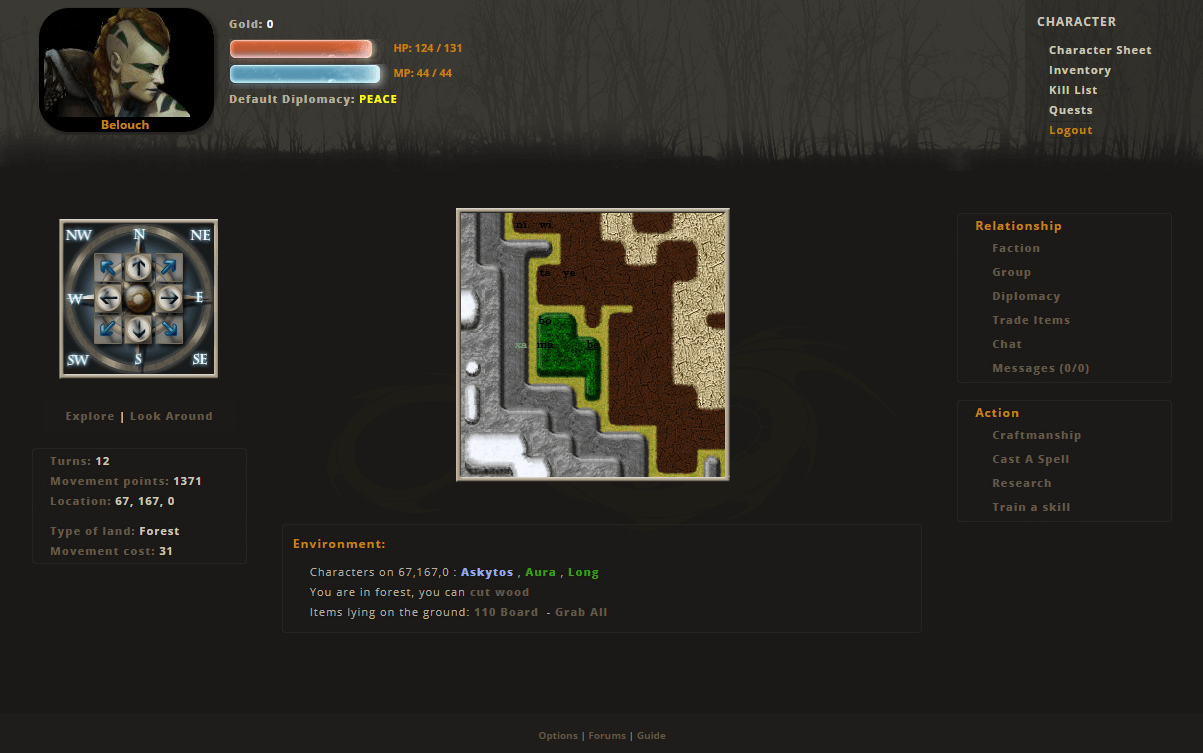 103

comments on

"Agonia - Tales of Forgotten Lands"
Peter
March 15, 2021 at 10:17 pm
Not for the faint of heart as it is PVP, if I can get past the novice stage and the tutorials, I feel the game has potential to be interesting, however, experienced players seem to delight in killing characters that are still doing the tutorials, which makes it a little hard to complete as you wake up to a resurrection and only 500 movement points instead of the normal 1500 , making completion of the initial quests rather slower and difficult than one would expect. I'll rate it one star at the moment, perhaps later when I join a group, I may change my initial impressions.
Ahmadkin
March 14, 2021 at 02:02 pm
Lots of pathways and skills you can master, you can be a skilled craftsman or a skilled fighter or you can just chill around with the game. So far I've seen a good portion of the game but it I'm nowhere near the end of it.

5/5 stars would recommend.
Zailus
March 09, 2021 at 08:50 pm
I like it
Lucifel Uchiha
March 05, 2021 at 07:32 am
After being invited to the game it just became a bit of addictive and the community is awesome to share all the experience with us.
Hilare
February 28, 2021 at 04:56 pm
Nice game with lots of social interactions ! Try it !!
Butcher
February 25, 2021 at 04:06 am
New version of a old game that many played 20+ years ago. Solid Admin base with an exceptional player base. If you create, give it time, join the discord server and network with the players. They are very helpful. Game has tons of potential.
Loonatic
February 24, 2021 at 05:35 pm
That was great adventure in the past and game is back it seems. With new features, map and great community. Join if you r looking for smth different from typical mmo.
Ultimate
January 24, 2021 at 01:36 am
Agonia is a very good RPG. Nice one.
Hydra
December 29, 2020 at 11:41 am
I started our recently, but this game is really well made. RPG, skills, big world to discover. I already said it looks like Skyrim but browser version, thanks Tod Howard!
hellxena
January 18, 2021 at 07:18 am
love it
Virian
October 11, 2020 at 08:54 pm
Amazing game :)
kristofer lawson
November 28, 2020 at 11:46 pm
http://prntscr.com/vs134i
Martin The Giant
September 23, 2020 at 08:23 pm
I have been playing this game for quite some time now and I must admit that I am addicted.
Great community (minus grahf) and great Admin team. They work hard to make this game great!
novagrupa
August 28, 2020 at 07:05 pm
5 star
burger
August 25, 2020 at 07:17 am
very fun game. no pay to play. love the quests. find items and battle different monsters. create different items. can walk on lava or swim. be a giant if you like. excellent community. very helpful and friendly. come and see what it is all about. read the game guide. very helpful.
Osin
August 10, 2020 at 07:22 am
Fun and casually competitive, Agonia's a well rounded game that excels in many aspects. For me, the steady yet noticeable progression alone is reason enough to play, but the community and game devs add tremendously to an already engaging experience. For its pacing, Agonia has no business being this thrilling, but the intense coordination of raids/ counter raids in pvp add a level of suspense and tension you probably wont find in other games of the same genre. I highly recommend you give it a try. (and if you happen to join 'The Order', accidentally kill Long for me.)
Motodragon
August 08, 2020 at 08:52 pm
new to the game seem great :D
Cypher
July 30, 2020 at 03:44 pm
I'm a new player and this RPG Game is huge, the community looks very mature and friendly. So much to discover and do, the limits are those of our imagination. Another thing is not a pay to win!
Mephisto
July 30, 2020 at 11:56 am
Let me start off by saying how unique the game is. Its gameplay is unlike any other fantasy text-based MMORPG I have played, A whole world to explore and creatures from the past to fight against. This game is different because its completely f2p and p2w is not an option :). The greatest aspect of the game that I so love much is the community the game offers. There are always 20-50 players online and the concept of factions makes it so much more interesting. Regardless of what faction you belong to, there are always people who will help you in any way possible. I would recommend this game to anyone who is an avid fan of fantasy text-based games and also for those who are interested in playing a long term game.
Cheers!
Silverlance
July 26, 2020 at 02:51 pm
it's so engrossing...there's so much to do and so many things demand your attention that, you'll never know what took your time...not a single moment of boredom with this game here! love it!!!
Martin The Giant
July 25, 2020 at 03:36 pm
I have been playing Agonia for quite some time. This game takes much work and strategy is key. The community is great, helpful, and mostly charming. The Forsaken are much kinder and I hear that the Jellos, err, "The Order," are ok too.
The Admins have developing, testing, building, breaking, and making this game as great as it is for the past 2 decades and I approve.
Nero
July 16, 2020 at 04:01 pm
A lot of fun. Great community. Just started and already mailed by player asking if I need help. Discord will be very helpful. Looks like a fun community. Free to play. Interesting game. Easy to learn. Stay safe. Stay healthy
Donut
July 10, 2020 at 03:48 am
Good.
maslina
June 14, 2020 at 02:09 am
good job
Jeremy Sutton
June 13, 2020 at 07:27 pm
Just the kind of game I've been looking for and missing, was welcomed by the community quickly and have been loving it ever since!
Bean
May 31, 2020 at 01:37 am
Before you start playing the game I strongly suggest to take a look at the quick start guide at www.agonialands.com to get familiar with the game mechanics.

When start playing, slowly its going suck you deep into its detailed magical world without even notice.

Definetly worth a try after all it 100% free, no cash shop. Absolutly NO pay to win, like the majority of games out there.
john crossley
May 24, 2020 at 08:43 am
just started and finished my 1st quest. very refreshing change for me :)
BJT
May 22, 2020 at 11:33 am
Very nice game, old school but very addictive with an interesting communauty. Lot of support from the admins. Also extremly nice to see a game runs by passionate players fir players which is not contaminated by all the adds/microtransactions/freetopay bullshit in 2020
Martin
May 17, 2020 at 12:21 am
Lots of fun!
Simon
May 10, 2020 at 03:01 pm
Awesome
Harry
May 08, 2020 at 06:11 am
It is quite fun to play despite its simplicity, and it is actually much better if you use your own imagination to fill in the lack of 3D effects. It is much like reading a fantasy/adventure book, but, instead of being bored to death reading the words, you are actively shaping your own character however you want to play. I appreciate the efforts and dedications that the developers have put in this game on their own free time with no money asked from the players.
s7
April 24, 2020 at 02:22 pm
Long time player of this game and its predecessor since early 2000's. Not much has changed over 20 years but the launch of Agonia and the inherent updates have improved many facets. Mountains of work and pain lie ahead for the developers (who work freely and on their spare time, I might add) but the linchpin is the community who strive to enjoy the game while helping new players.
Balin
April 14, 2020 at 06:16 am
If this amazing browser game doesn't suck you in, the fantastic strong community of players will. Single handedly the best browser game there is. 10/10
Tokeloshe
April 01, 2020 at 07:55 pm
I totally agree with Frinzell!!!!
Gerbald
April 01, 2020 at 05:31 am
If you are looking for the Text based game, this is the one. Not only it provides massive amount of details, but also giving you freedom and not pushing to buy any "gems" or filling the screen with adds. Its plain and simple, exactly how it should be.
Atalaya
March 29, 2020 at 06:18 pm
It's a game for people that like RPGs! I love it! The community is great and the developers try to come up with great events to make things even more interesting!
DMsenpaii
March 24, 2020 at 03:44 am
brings back the nostalgic days! this is the kind of game i been missing for so long and its really fun to play it!
dbushman
March 23, 2020 at 01:45 pm
great game
Frinzell
March 13, 2020 at 09:21 pm
Refreshingly different in a genre with many very similar games.
Join me there
John
March 13, 2020 at 04:48 pm
Really easy to get into. Only a day in and so far am really enjoying the game mechanics
O
March 13, 2020 at 12:50 am
Very good game. Lots of different ways to play. Great community.
Wabbit
February 21, 2020 at 09:41 pm
So, just starting out in this. I've understood the skillgaps are not so terribly, a month, month and half to get your main weapon skill up to be usefull in a fight. The amount of time spent each day is not terribly much so no five hour daily grind either. Many helpfull tutorials and the starter quests seems to get the point across.
Groot
January 21, 2020 at 08:23 am
Great oldschool online game with real PvP and looting. Great community of players if you connect in through the discord channel.
Dadakis
January 19, 2020 at 04:12 pm
Awesome game, great community. I been playing for 6 months now and still enjoy it every minute!
Galyos
January 14, 2020 at 09:59 am
Great game with an admin team really active.
You need few weeks to well understand rules and game play
Numerous old players motivated to help you to start and grow.
Ikiryuu
January 12, 2020 at 07:00 am
The game is a lot of fun specially when you work together. You have a lot of freedom to do what you like. Has so much potential
Xoran
December 30, 2019 at 03:40 am
I wasn't honestly expecting much but oh boy.
It's simple to get you started but once it hooks you and reels you in, it's tons of fun and people are great aswell. Worth it without a doubt.
Vance
December 16, 2019 at 04:37 am
Solid game, very nostalgic! Lots of fun and a great community that is active and cares!
Trigo
December 13, 2019 at 09:07 am
The only browser game worth playing, lots of fun, great community!
Tiu
December 22, 2019 at 08:53 pm
Tried out this game looking for something to kill some time one day at work, 4 months later and I'm logging on three times a day, every day!
Babayega
December 01, 2019 at 03:20 am
Great role playing game!
ATROCITUS
November 23, 2019 at 03:18 am
So far fun, community on Discord is helpful and kinda something retro/new, still in development but have been enjoying it so far~
MINDKILLER
November 19, 2019 at 04:38 am
great game
Danzig
November 17, 2019 at 04:06 am
Handedly the best browser game around. I get it, everyone says they are the best...but if you are an old school D&D player, love rpgs where you can select a race and develop a character, write stories, move around on an interactive map, and interact with a great community of players, this is the game for you.

It takes time to progress and there are players at all skill levels to help you along the way no matter the path you take. The game has a linked-in discord community as well, and the admins who develop the game do it straight out of their own pocket and with their own free time. It is a passion project and it is insanely well developed.

Last but definitely not least, there is NO cash shop, there is nothing you will ever have to pay for in real money, no soliciting for funds or anything of that sort. It is a game where if you put the time in to developing your character and playing, you will profit, and have a ton of fun along the way.

10/10
Mohila
November 16, 2019 at 08:07 am
Very good game. Lots of different ways to play. Great community.
HORROR
November 06, 2019 at 11:17 am
GOOD game. Not easy to grasp at first, but the depth of gameplay is fascinating. I've been looking for quite a long time and this one looks like it's the one for me The fact that it is brand new is great, no neee to catch up to old elite players, everyone is fresh out of the shell. I like the complexity of different character builds.
Sarai
November 05, 2019 at 04:21 pm
This game works best with teamwork and coordination. Having a welcoming and knowledgeable community makes the journey through Agonia that much more fun. The development of the game is still in process, which allows for the player base to offer input and essentially be a part of some of the updates and fixes within the game. The development team is very skilled in what they do, and they offer great support. After a game I loved since age 14 fizzled out, this new world is both refreshing, and keeps your interest.
Kran
November 04, 2019 at 03:10 pm
Excellent game. A wholeworld with a lot of things and features to enjoy.
Really nice!
Bjorn
October 31, 2019 at 02:37 pm
This game is the most fun text-based rpg i've played in years. It is actually a sequal to a previous game thats been running for over 17 years so the devs know what they are doing. WIth so much experience in game development and world building, Agonia is probably one of the top 5 best browser games EVER. 5*
Kyri
October 30, 2019 at 08:54 pm
5/5
A gem among rocks!,
Been playing from the start and its predecessor, lays the framework for imagination if you like the RP as I do, you can make the game what you want, whether you want to be a Crafter or Warrior or a bit of both theres room for all, Great community both in game and on Discord even your "Enemies" will give advice and often some help!.
Vresmir
October 30, 2019 at 10:41 am
ME NEED MOAARRR!!!
Dithreabhach
October 30, 2019 at 02:40 am
Awesome game! Glad I discovered it!
vtrlordc
October 21, 2019 at 09:25 pm
i like this game
Vulfbad
October 21, 2019 at 07:35 pm
The best thing, for myself, about this game is that it can be played anytime, anywhere. Whether you work a lot like I do or you don't work at all. Much like it's predecessor, this game is easy to get addicted to if you put the time into it, and you will find that once you are hooked, you are hooked.

I have burned out on this game in the past, as well as its predecessor, and I'm sure it will happen again...but, I always come back because the community is great, the admin team is top notch, and the character progression is really some of the best, if not the best, in any browser mom you will find.
O
October 19, 2019 at 02:20 pm
Super jeu !! (:
Number71
October 12, 2019 at 05:38 pm
This game has the skill progression i like, a neat dropping/crafting system and i like the style
Brooklyn
October 03, 2019 at 09:54 pm
Its a decent game. Rp us ok but community involvement is mediocre
Samuel
October 30, 2019 at 07:21 pm
As a member of that community I feel quite offended by this comment which I find totally unfair.
Have you tried at all to connect with the community? I don't think you have otherwise you would never post something like this.
The discord has 300+ players, with regularly 50+ online, who are super welcoming to new players and helpful.
The whole game works around the 'faction communities' where everyone helps everyone in the great war against the other faction.
Kurbads
September 27, 2019 at 02:13 pm
Pros:
My favorite part - crafting. You can make everything there is in game - starting from simple tools to enchanted rings. Every item you find/buy/sell is made by someone in game.
I also like combat system, that allows you to make training camps with other, so you get your weapon skill trained even while you are offline (oh yeah, you don't disappear from map, when you log out). Same thing lets you participate in huge battles, for example, to take down legendary beasts like dragon, you need around 20 players.
Community - everyone here mentions it, so I guess I have to. If you need help with anything when you start, it is easy to get advice and help in discord channel.
Cons:
It might be hard to get into it. It is kinda fixed with starting quests, but sometimes people need help to even find where to get them, so - if you try this, use discord as well.
There is possibility to chose character that doesn't fit your play style. I would say, that it could be good to before making your character to ask around in discord about races and what makes them so special, weapons and stats.
Maebius
September 18, 2019 at 09:09 pm
Im really liking this game. Very casual friendly, forbus folks with jobs and kids etc, but also a very deep community and player-driven activities and culture and RP.
Highly recommended!
Ace
September 16, 2019 at 04:39 am
The community is awesome. The dev team is awesome. It's a good game to sink your teeth into.
Keshia
September 11, 2019 at 12:54 am
Love this game! Great community and so much fun coordinating together!
Mecik
September 10, 2019 at 07:15 am
rly good game.
DraisEpach
September 09, 2019 at 05:21 pm
5stars!
elleviral
September 07, 2019 at 01:59 am
5 stars
Jiraiya
September 06, 2019 at 11:36 pm
Epic
Niek
September 06, 2019 at 10:14 am
Awesome game!
Giant Dad
September 06, 2019 at 02:53 am
Join us and join the Forsaken! Down with the Fellowship!!
law
September 06, 2019 at 01:33 am
More fun than Funner-SmashedOlBasher
Masjack
September 06, 2019 at 01:04 am
This game is tons of fun. I play to watch the faction vs faction warfare. It's the most fun when playing with a big group and planning out raids or counter raids.
Eric
September 05, 2019 at 11:49 pm
This free game is in a medieval fantastic universe, very active and supporting community. Nice quests support beginners to enter this dangerous world smoothly.
And when fight arises, this gives good adrenaline. Coordination between players must be done to achieve big monster, build road ... A very true city with mayor and so one. Choose the good faction : The forsaken ?
Here the game link: Www.agonialands.com/index.php?r=964
Azathoth
September 05, 2019 at 11:48 pm
Agonia is a brand new game that inherited some of the player base of a decades old browser game. It is rare to find a new game that already has so many active and dedicated players running around and helping newbies.
The fight mechanics allow for a style of play where you can train in the background while reading the news (or "working"), but the game also rewards very hands on trainers with minor edges in xp gain.
Like the best of these simple graphics old-school browser games there is a ton of depth. The devs are constantly adding more depth in the form of new features as they update the UI.
It appears this game has every likelihood of sticking around for a long time.
Ragnar
September 05, 2019 at 11:30 pm
Many players have played the predecessor to this game for nearly 20 years and agonia is a much improved version. Recently-introduced 'new player boosts' and a skill cap help keep the game competitive and everybody can contribute. Close and helpful community (with some healthy competition to keep things interesting) and admins who dedicate their own time and effort in for free to constantly improve the game.
Thebiggerone
September 05, 2019 at 10:15 pm
I joined the game due to a recommendation of a friend. The community is great, a lot of interaction and nice chats with friends and even more funny chats with enemies ;) There are hundreds of ways to succeed, everyone with its own advantages and pitfalls. There are lot of supports and advices from elder players and now also some boosts for young players to keep up fast. 5 stars from my side!
Rezun
September 05, 2019 at 10:09 pm
This is the best gam? ever
nose
September 05, 2019 at 09:03 pm
In the void of pay to win crap this is a true gem
Obed
July 06, 2019 at 11:40 pm
Excellent game but the rules are not easy to access and a couple of us using the same IP were banned because we didn't know about that particular rule. Everything about the game is brilliant except the interface which is being updated, I just hope they move the rules to a very accessible place so no one else will fall into the same problem I had
Agonia Admin
July 12, 2019 at 01:10 am
Dear Obed,
Thank you for the positive feedback. We will also consider your suggestion and add a more visible link to the rules section. However 7 accounts on the same IP/same browser/same computer looks more like severe multi-abuse than an IP-sharing issue, hence why the characters were frozen.
We take extra caution in ensuring a fair and cheat-free game for all players to enjoy. You are more than welcome to keep playing but with only one account please ;)
Best,
Belouch
Agonia Admin
July 12, 2019 at 01:12 am
Forgot: I had asked you to justify in Discord after you contacted me but you never replied to me, hence why the characters stayed frozen until the situation could be clarified.
Carl Warfel
May 17, 2019 at 12:36 am
Great Game. I give the game at least a 5 star rating, and the person that takes care of the game a 10 star rating, and Most of you gamers know how important that is.
This is a new game with a lot of exciting features to come.
Falsiion
April 27, 2019 at 08:35 pm
I have been searching for a game like this for some time. Very immersive, so many options, very sandbox style. I am not sure which paths I will take yet, so many look interesting. I very much recommend this game to anyone looking for a new game.
I also strongly suggest to join the game's discord where dozens of active players are willing to help you get started, at least it was a critical factor in my integration.
Vzhum
April 18, 2019 at 05:09 pm
Hey guys, and agonia staff especially.

I want to say you that i'm so much impressed by the game
i would give it 10 stars from 5 possible :)

I wanted to say it early but hesitated if it's needed.

You know i once tried to make game like this but failed,
but you guys made an amazing job:
graphics, excellent and that's there not so much of it not spoil it a bit,
role-playing system is i never met before and its simply great,
map coloring and tiling is just outstanding
real-time battle take enough time to get involved, but not too much to get boring,
and i believe there is much more to explore.


As usual for me, as i always play games i like, i have no criticism for you:)
Lothrop
April 11, 2019 at 08:58 pm
Just started playing and it's a great game so far. Amazing community that's friendly and supportive of new players, already lots to do and they're working on it actively.
Eric
April 07, 2019 at 06:25 pm
Jeu très différent de ce que j'ai pu essayé dans le passé. Captivant vraiment. Une commauté très active et très sympa de joueurs passionés. Pas facile de faire sa place quand on ne parle pas très bien anglais mais le jeu est vraiment top.
Teabag
March 16, 2019 at 11:09 pm
Character building: 5/5
Gameplay: 5/5
Community: 5/5
Interface: 3/5 (but new interface coming soon apparently)

Very fun game, so complete and rich. I think I haven't discovered all features yet.
Developers are very active and listen to player feedback.
Sonja
March 10, 2019 at 10:31 pm
A wonderful new game, the continuation of a two decade old series of game worlds with a fan-base of dedicated and helpful players. Faction versus Faction might not be a new scenario, but Agonia's gameplay systems reward teamwork and coordination as you pit yourselves against your enemies in an intriguing information and resource war, where every victory and defeat can change the balance of power. Agonia uses a persistent universe and turn-based combat to its advantage and makes the world you move through feel more alive, as you can fight alongside your allies even while offline.

The game boasts active developers lovingly crafting the game they want to make, all for free, both admin and community ran events and quest-lines, a free-form character stat leveling system that's different for each of the eight character tribes, and multiple weapon and general crafting skills to master, each helping your faction, and yourself, in their own way.

Roleplay: Dictate how other players in the world see you, solely with your actions and words.
Perma-life: Characters can revive as many times as you wish.
Full-PVP: Players may fight anywhere, but not without community repercussions...
Full-Loot: Upon death, characters drop all normal items to the ground.
Energy System: "Turns" allow you to train and craft, while "Movement points" allow you to move around the map. There is no need to play this game 24/7 to keep up with others.

These games have always held a special place in my heart, and I highly recommend trying it. It is truly a diamond in the rough, come join us!
Arathain
February 25, 2019 at 03:37 pm
The best community I have ever meet.... As a Newb, they have been really supporting and they work together as a team... You can easily be part of it
Edric
February 16, 2019 at 09:03 pm
A truely unique world, you can feel different sources of inspirations but it's truely its own universe. The gameplay looks very deep, a lot of PvP focus but I prefer to play the peaceful guy and there's really a niche for eevry style of play.
Edrin
February 12, 2019 at 07:36 pm
A jewel!
Hope the player base will keep on increasing fast, but i am sure it will.
Belisaire
February 11, 2019 at 08:20 pm
Great game already, and active devs making it better by the day.
Arthur
February 10, 2019 at 05:49 pm
Fun and new. Very interesting gameplay.
smashed
February 04, 2019 at 09:49 am
Excellent RPG! The game-play feels unique. As you progress a few days into the story, you will begin to spend more time planning actions and see lengthy battles. This lifetime-adventure RPG needs you!
Ricky
February 03, 2019 at 03:48 pm
Not easy to grasp at first, but the depth of gameplay is fascinating. I've been looking for a good TBBG for quite a long time and this one looks like it's the one for me!
Old-Schooler
January 23, 2019 at 06:22 pm
- Super friendly, helpful and active developer!
- Community always ready to answer questions and support you where they can
- Interesting game, seems balanced, and with lots of future plans, consisting of:
GUI overhaul, new/additional features and mechanics along with improving current content
- Absolutely NO P2W!! No single way to buy yourself a top spot
- Game design that allows both casual and more hardcore gamers to contribute and compete

... In general, come and give this game a try. Its brand new and seems to have a bright future!
Lord
January 14, 2019 at 07:08 pm
New world for new adventures. Complex evolution and craftind systems. Fun to play.
Samuel
January 10, 2019 at 02:19 pm
Excellent so far. Excited to see how the game will evolve. Very promising and it's great to be able to start playing from the early beginning.
Dean
January 04, 2019 at 02:35 pm
Brand new game released with lots of exciting changes by the admin team with a helpful (and competitive) player base dating back 17 years. Give it a week and you'll be hooked!
Duban
January 04, 2019 at 12:10 pm
Excellent game. The fact that it is brand new is great, no neee to catch up to old elite players, everyone is fresh out of the shell. I like the complexity of different character builds.
Grahf
January 04, 2019 at 03:26 am
The game is a lot of fun especially when you join a group and coordinate together. The community makes the game, although it can be played solo just fine. There is open world pvp in the game although some players play for pve only and declare themselves as neutral to try and stay out of the open world faction warfare.