Ahruna
Ahruna is a browser game that allows you to play as a mage who summons creatures to fight in your stead. While your creatures are busy fighting, it is your job to support them by casting various curses and blessings to turn the tide of battle. You can also create and enchant items that your creatures can equip to give them the edge against their opponents. Ahruna has a little bit for everyone.





(84 votes, average: 4.69 out of 5)
Rate it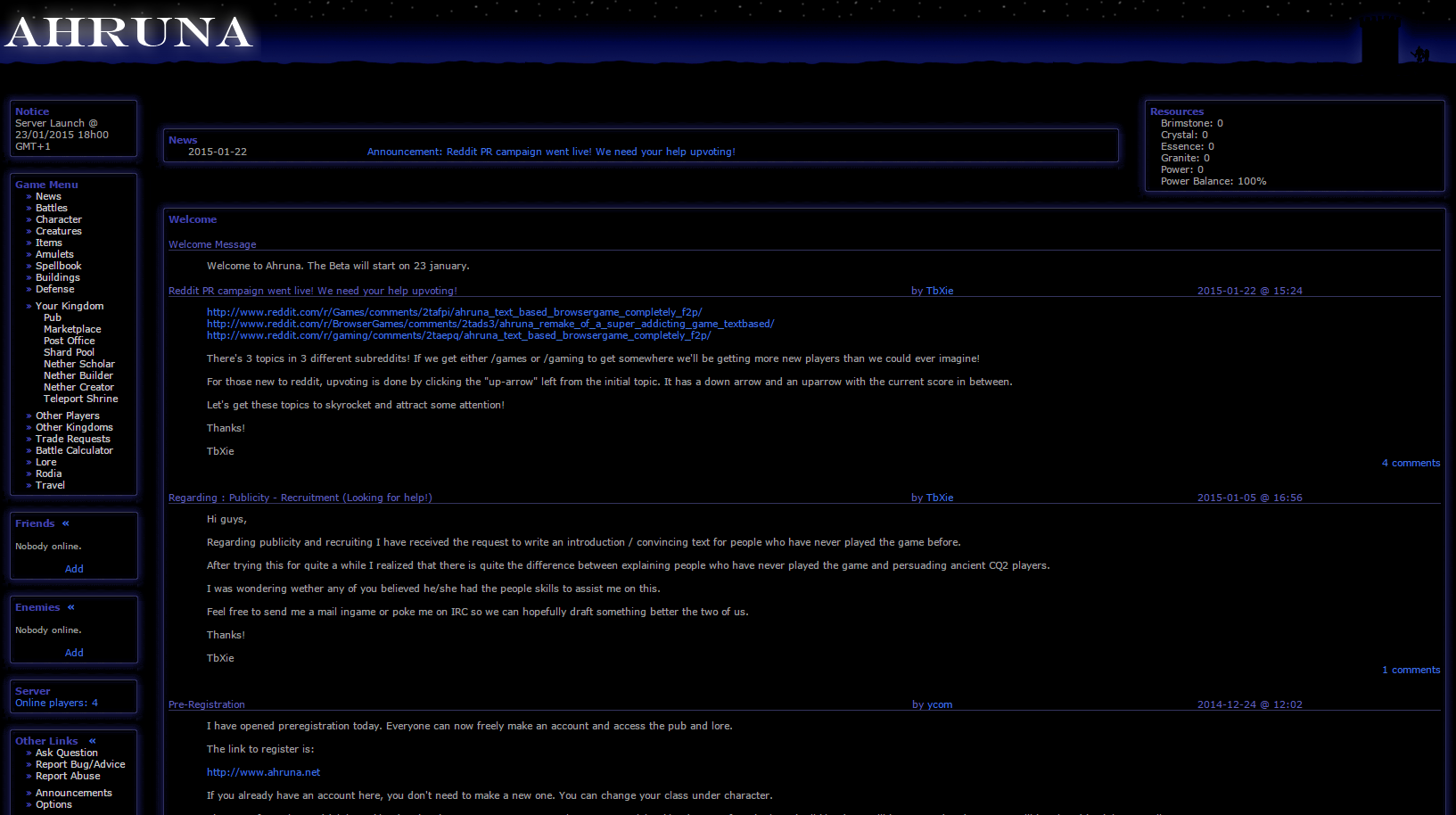 9

comments on

"Ahruna"
Gratchski
November 20, 2018 at 11:58 am
Devs are working on major changes, new age should be soonish
Fentum
June 11, 2018 at 08:57 pm
This game once was ahead of it's time, nowadays it's dull and most players seem to have a form of autism. Shame.
Desjy
May 29, 2018 at 03:53 am
New age just started come join
Phantom
February 25, 2017 at 09:19 pm
Dead game!
Do not play.
Cumsume
December 24, 2017 at 12:49 pm
70+ active players come and join
i really like this textbasedgame you should give it a shot you wont be disapointed
the learning curve is somewhat high tho but worth the challange
Phantom
February 25, 2017 at 11:52 pm
Uhmm troll comment?
Monkay
March 29, 2017 at 06:19 pm
Nothing's dead about it ...
Ex-Player
May 01, 2016 at 03:41 pm
Game works well enough, but the current high level players keep attacking you with more beasts then you currently have.
There is no way to become better at the game, because everything you have keeps getting stolen by better and higher level players....
I tried playing for 1 week, and in this time 3 higher level players attacked me with 20+ beasts while I only had 15 or so.
The " ask another player" system doesn't seem to be monitored at all, used it a few times but I never got an answer from anyone.
Helper
October 15, 2016 at 12:56 am
well balanced game, very nice and helpful comitity and quite competitive game with 6 month age and reset format.
Playable from your phone as well!
newt
March 28, 2016 at 11:07 pm
The game restarts at 1st of april. We had 4 alliances competing with eachother last age.
Alot of changes are still being done on a frequent base to bring more variation and entertainment to the game.
Just give it a try.
entropy
September 10, 2015 at 04:42 pm
Next age starts the day after tomorrow. People can already preregister. We all start from level 1 again, with some nice changes in game play.
Lord Insanity
July 13, 2015 at 09:04 pm
Well it appears to be working now for I was able to create and log into game. While it has a nice concept (mages with attacking summoned creatures) it needs a lighter background to see it, and perhaps some more interesting things in it.
Tbxie
September 10, 2015 at 01:43 pm
Different colorschemes are accessible via options. There even is a wordskin available for visibility at work.

Regarding the more options thing, improvements are under contineous construction and are / will be implemented as time passes.

For now, a new reset is coming up and will start this Saturday at 14.00 CET. There's plenty of new additions to make and keep your account even more interesting than it was before!
Make sure to check it out!

TbXie
calvin keller
May 24, 2015 at 06:24 pm
ahruna log in does not work!!! DID IT CORRECTLY! tried for 2 days----used differen emails i have and web names and passwords--none work! no wonder their player base isnt growing!
Tbxie
September 10, 2015 at 01:40 pm
If you have troubles logging in, please send an email to [email protected] or hop on Quakenet IRC @ #ahruna.beta. For sure someone will help adress your questions.

TbXie