Infamous Wars
(Online since

2018

)

Androidian is a crime related text based browser game. Commit crimes with various rewards and difficulties. You might end up in jail, you can get out via a Bust, Bail or simply by waiting. You can hit other mobsters and they can hit you as well, upon successful hit the attacked player will end up at hospital. Hit the Gym to prevent from getting hospitalized too often and Join a gang to find protection. Take various courses at school and apply for a job. Mining feature: The higher your mine level the more you earn in the mines.





(245 votes, average: 4.95 out of 5)
Rate it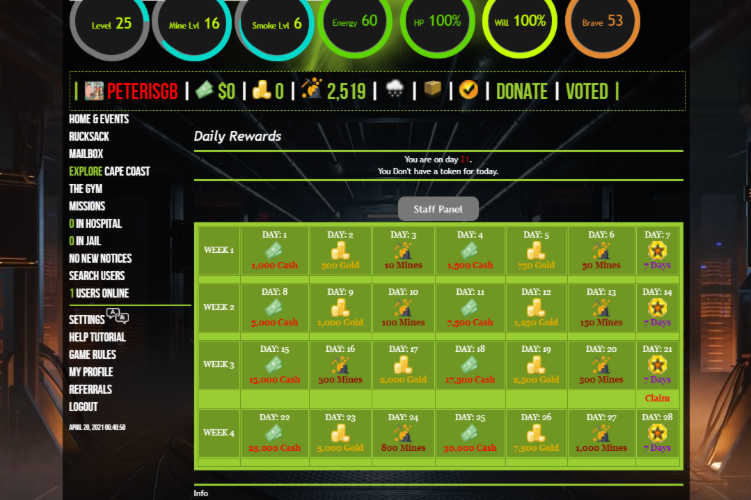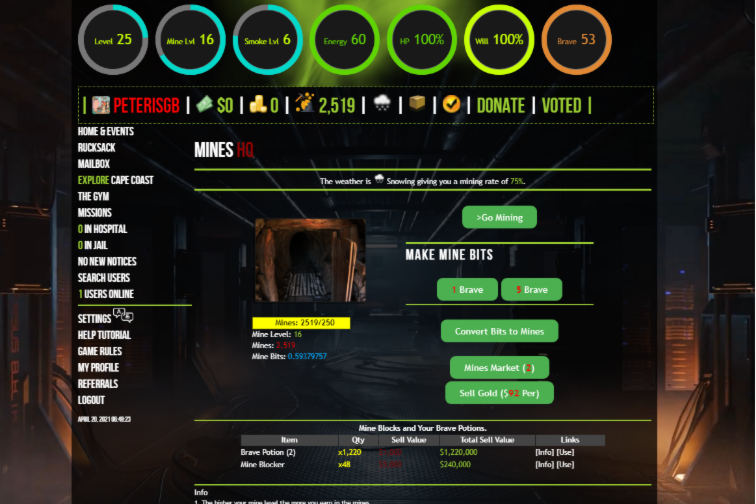 Mines HQ to mine for Gold!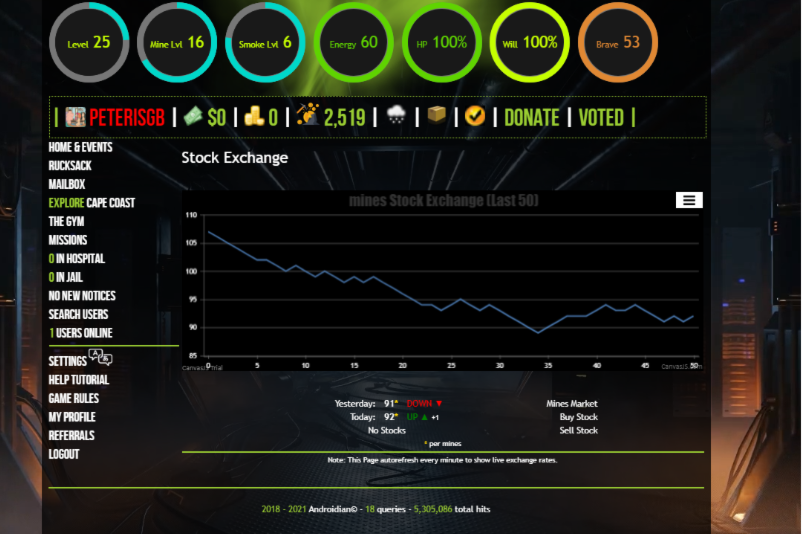 12

comments on

"Infamous Wars"
Hellhound
August 30, 2023 at 10:25 am
This is a brilliant game lots of fun things to do and always new stuff added really well thought out game mechanics, aswell as friendly and helpful staff and a friendly gamer environment definitely worth trying out.
Peterisgb
August 16, 2023 at 01:11 pm
We have a Brand new Theme and a refresh on the game to bring in new game mechanics.

Come check it out.
Chris
March 20, 2023 at 01:42 am
Wow. After all these years the game has done nothing but get better and better.
Things to do and regular updates and fixes.
Owner is tentive and easy going.
Deffo worth the play.
He even gives new players a free donator pack!! nice.
Refflesia
March 18, 2023 at 09:45 am
Honestly... This a great game. Hope people come and try...active game owner... Lot thing to play in game... Come and try.. you will enjoy it.
Ravenus
March 06, 2022 at 02:26 am
Nice game. Easy to navigate and learn. Friendly gamers and attentive owner.
PeterisGB
June 29, 2021 at 09:17 am
Whoever gave a down rating, please don't, I know you don't play my game so i guess your rating me down as your a competitor.
Rate me down again and i'll find your page and give you neg rating.
PLEASE ONLY RATE AFTER YOU HAVE TRIED THE GAME.
NOT BEFORE!
PeterisGB
May 01, 2021 at 01:26 pm
We have a new name, and web address.
The current link will redirect you to the new domain.
Also waiting on new pictures and name updates for this page currently.
troy
April 22, 2021 at 10:59 pm
great new game. You should definitely come and play.
Tristen
April 17, 2021 at 11:31 am
This is a good game, If you log in everyday and claim the rewards you'd have donator status. Clever.
Love the stock market feature giving different prices for gold instead of one price all the time.
You can see the owner has put alot of time and heart into this and i hope that he can get the users to motivate him to do more.
PeterisGB
April 12, 2021 at 08:46 am
Special Offer for newrpg users.

Join/login and mail ID 1 with the message "newrpg" to claim a FREE donator Pack ingame.

This offer ends 31st December 2021.
Sentavoid
February 07, 2021 at 05:12 pm
The link doesn't work, I was looking forward to playing this after I saw the images. Can someone please find the like that works?
Peterisgb
March 21, 2021 at 09:15 pm
Hey there Sentavoid, You think the game looks good? Well if you are interested i might think about bringing it back, I never really gave the game a chance.
JohnWick
October 07, 2018 at 04:52 am
It is a great new game and the owner actually care about his players.