Arcane Kingdom (OFFLINE)
Arcane Kingdom is a free role-playing game. While Signing Up you must select a race and a element but you should read their little description beforehand. You can fight manually but you can also use automatic fighting. You must upgrade your skills to various classes such as Master, Supreme, Ultimate and Legendary. Earn achievements if you've upgraded a level, gained gold, killed enemies or found the certain amount of keys. Each accomplishment gives you an award.





(28 votes, average: 2.14 out of 5)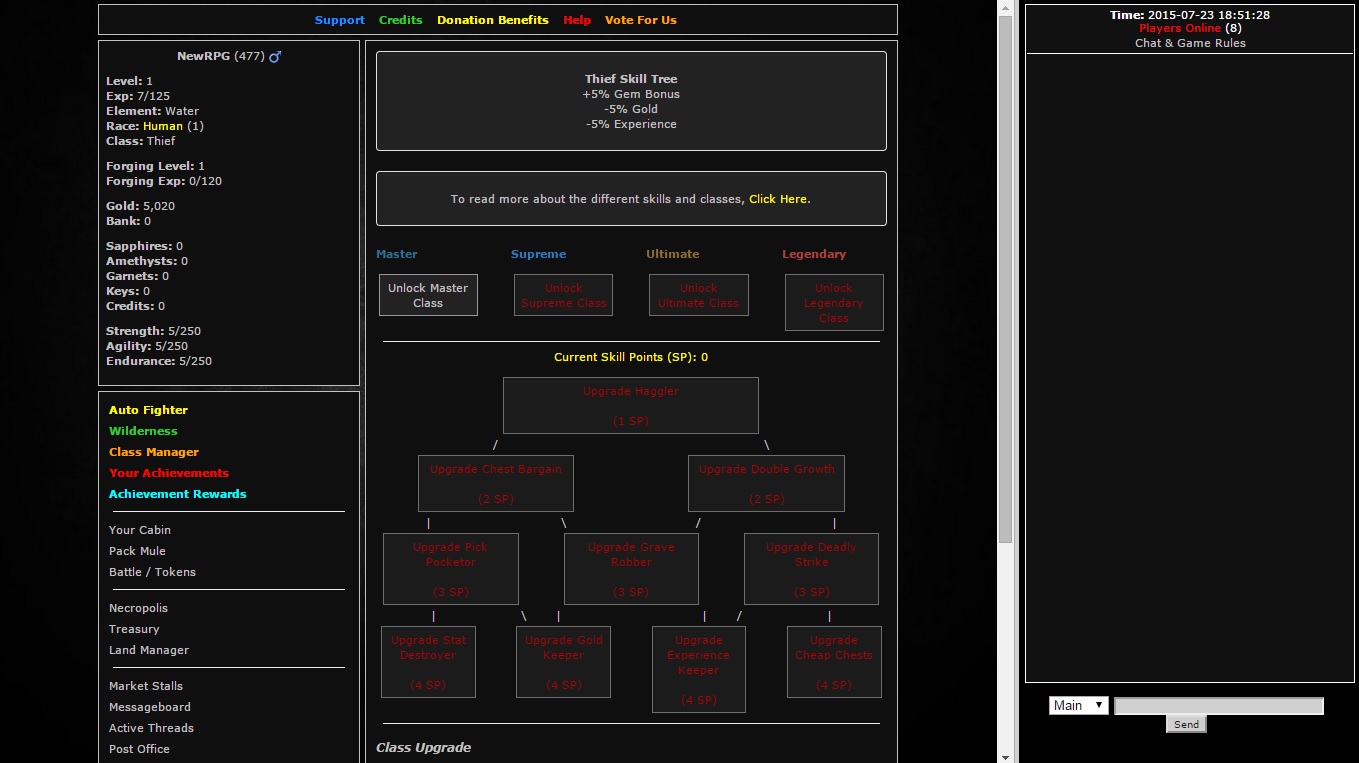 7

comments on

"Arcane Kingdom"
He-Man
December 18, 2015 at 10:15 pm
Awesome game!
Marcus (Kirito)
September 11, 2015 at 07:30 pm
Copy of Land of Nevard. It is stolen code and much worse than the original as it has no protection on passwords and is a pay to win game.
Draven
August 28, 2015 at 01:26 am
This game is a copy of my game, Land of Nevard.

5 years ago the owners of this game tricked one of my admins to register on a website they made, a website that did not encrypt passwords. They used that password to log into my admins email account which had my servers FTP in it and downloaded my code.
Lolz.
August 11, 2015 at 10:31 pm
This game has been around for a very long time and switched owners quite a few times. It's nothing like it used to be. In the past it was one of the few games that donations didn't gain you an edge over anyone else. Now it's just a cash grab by the lazy owner who hasn't done any updates to the game or anything different besides turning it into a cash grab. You'll be lucky to see the same 2-4 losers signed in who continually keep returning to this game and donating ridiculous amounts of money after the owner resets everything for whatever reason he pulls out of a hat that month including your previous donation count. Stay away from this game it's just a waste of time in the end. Owner is a student with little to no time to maintain the game but has no problem collecting the $$$.
Gleamy
July 31, 2015 at 07:58 pm
Good game with good staff and friendly people.
chryssallis
July 31, 2015 at 01:35 pm
Many games require constant upkeep or you suffer, not this one. I work 12 hour shifts, and a lot of times I can't play for days at a time, you can pick up where you left off. No time limits, or play limits. Spending money will speed up your play, but you won't be crushed because you don't spend . Does not matter what time of day you play either. My kind of game.
Lupoxx
July 26, 2015 at 11:23 am
Ive been playing this game since day 1 , and i can say its pretty addicting when u get to know this and that. The most inportant thing when starting is to go to the Necropolis (this is the city) then to the Traveller's Shop and get the lvl 1 starting gear. After that its all up to you to decide will you lvl up with auto fighter , or go in the Wilderness and fight there. The game has no energy system which means u can play it all you want without a energy/time restriction. Hurry up and join us in the battle !