Assault Online
Assault Online is about competing and working with other players. You can start a clan, help each other out or attack each other and grab more land. Or even attack others with your clan, the choice is yours. Attacking is limited with Morale and turns. You can explore Land or sell it. Start researching to get more money or to get better at attacking, shipping etc. Manage your buildings, units, missiles and satellites. Use marketplace to sell or buy items, use forum to look up information.





(92 votes, average: 4.64 out of 5)
Rate it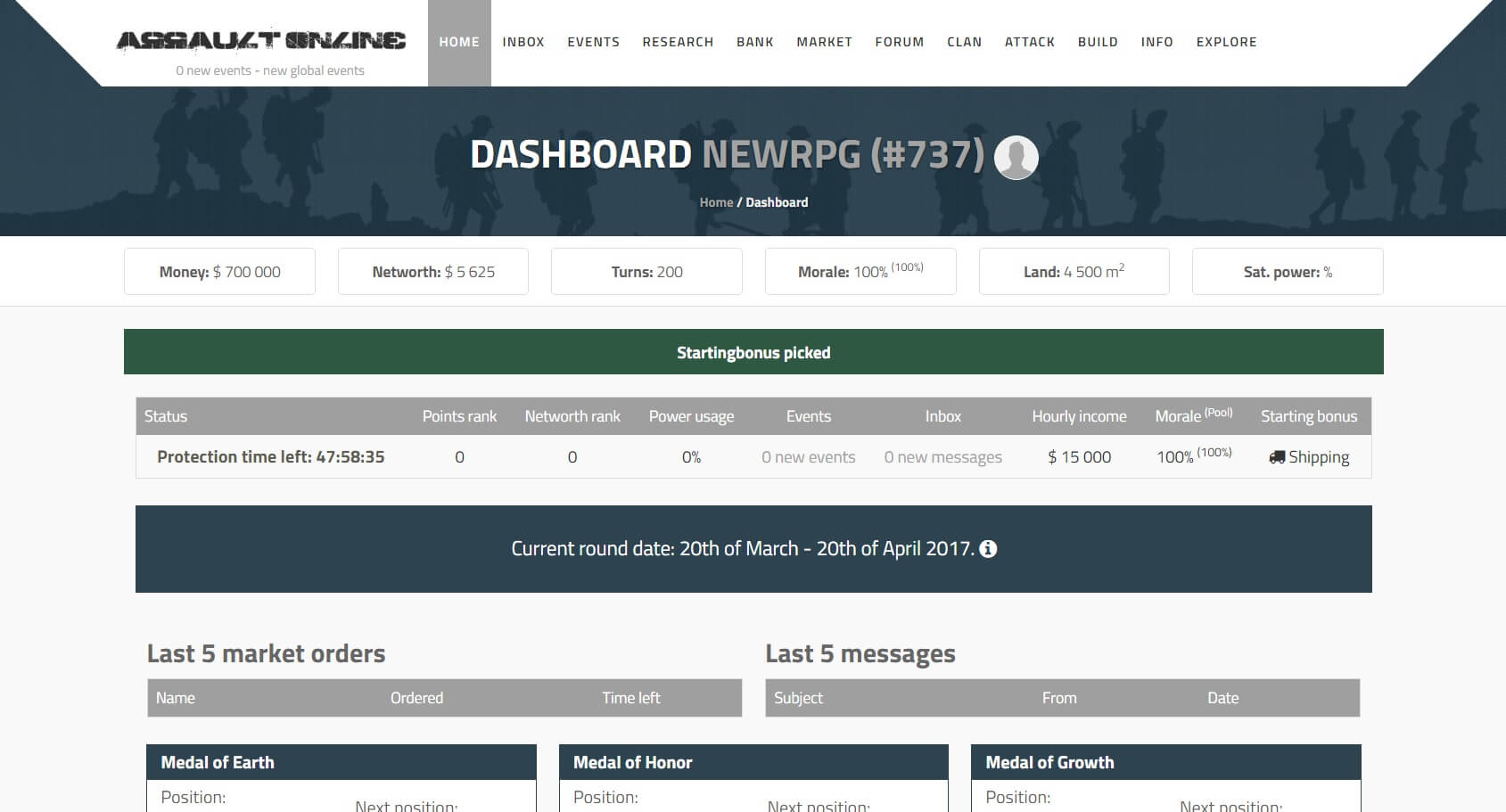 14

comments on

"Assault Online"
Jim beam
May 15, 2020 at 11:43 pm
It's gone downhill significantly. Admin are unresponsive and close minded. Less than 100 players total. It's a gangbang if you are a new account.
Jesse O
June 16, 2017 at 12:53 pm
Great game and great community. Join today!
Jan Remi
June 10, 2017 at 11:28 am
The unofficial sequel to NukeZone, it has the same great gameplay, but with a more modern design. Most importantly it is free to play, while you can not pay to win ;)

Give it a try! =D
K
April 13, 2017 at 10:06 pm
Although this game is still in alpha mode it is a lot of fun to play. You will love the community, tactics, wars and massively growing provinces. Its simply fantastic
MeTaLerke
April 13, 2017 at 05:42 pm
The only and improved version of NukeZone, community build and awesome gameplay! Thumbs up tot the people who created this!
Dwi
April 03, 2017 at 09:24 pm
Recommend
Furble Al
March 31, 2017 at 01:44 pm
Addictive and fun game to play. Never getting old either, 10+ points for the game, Griffindorf gets none.
Jamie
March 29, 2017 at 05:09 pm
Has the potential to be a very enjoyable game. A very active, open minded and committed creator leading the way. I would recommend.
Dave
March 29, 2017 at 03:30 pm
A superb dedication to a rather complex early 00's online battle game - Assault Online has it all. Great community play, more than 20 different units to attack with as well as missiles and satellites for offensive or defensive play. Defense buildings and land organisation to defend your territories and clan wars to fight for one of 10+ clan and individual achievements every month!

Consider signing up and getting up a post on the recruitment forum, and we're sure you'll find this great community a fun and fulfilling way to spend some of your time.

The site looks great on browser and mobile device too, so there's no excuse. Sign up today and nuke some people!
RiaX
March 29, 2017 at 02:35 pm
The only game that you'll ever want ;)
Clans, Medals and Community is what makes this game awesome!
Dare to play?
huggybear
March 28, 2017 at 05:25 pm
Great game. Lots of warring, clanplay and interaction
Kevin
March 28, 2017 at 05:04 pm
Built with love, by the community for the community.
James Barry
March 28, 2017 at 04:34 am
Perfect game if you're into strategy, experimentation and working for individual or even team objectives. Doesn't require a massive investment of activity or time so is flexible for your life/work schedule. Give it a shot!
andreas bjordal
March 25, 2017 at 09:46 am
Assault.online is a fan built dedication to Nukezone. NukeZone was a text based war game with great community and over 40 000 active user at its glory days.

It is not a copy of the game, but more like an evolution based on similar concepts.

A fun text-based war strategy game. The player base are from all areas of the globe and with a great community.

Assault.online will always be free to play.

For more info join the facebook page: Assault online, the successor of nukezone.