Astro Empires
Astro Empire is free MMO space strategy browser game. Build your empire. Three type of structures you can build - Facilities, Support, Defenses. Focus on your production to gain noticable stable income for your empire. Attack other empires. Join a guild to get tips and other benefits. Later on create your own guild for discovering new features. Your actions are limited so think things through before doing something. Research to unlock new upgrades to your empire. There aren't many strategy empire browser games out there so be sure to check it out.





(37 votes, average: 3.19 out of 5)
Rate it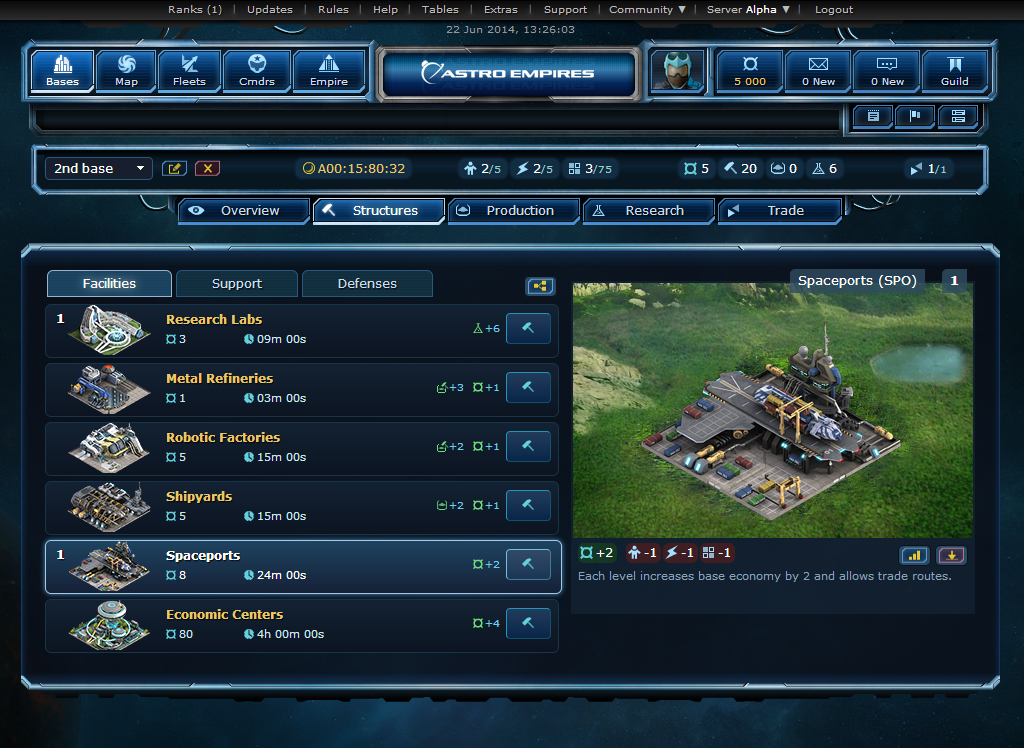 2

comments on

"Astro Empires"
N
December 15, 2018 at 10:38 pm
I used to love this game. I stopped playing because is hard to get anywhere if you aren't VERY ACTIVE, but I'll give a quick review for people thinking about joining.

Pros: Easy to get started, Great community mentorship and alliances. Challenging but approachable.
Cons: You must be active to have an advantage over other players. This game Heavily favors players who can be consistently online, or who go online in consistent intervals to move fleets and recycling ships Your fleets will not retreat from a superior enemey unless you are online to move them.
Vem
February 13, 2018 at 04:18 pm
Seems like a decent enough game, it's quite easy to learn and to get into which is already a fun thing. It's somewhat similar to Ogame but there are a couple twists like populations, an actual galaxy and starmap with sectors, very different progression, fighters needing hangars to travel between systems etc.

I would've continued playing it if it wasn't for the fact that you're being spoiled right from the start with a test membership. The reason why I have an abnormal dislike for that is that you may not be aware of it until it runs out, and when it does you wonder why all of a sudden you are so limited. Just kinda spoils the fun for me.
N
December 15, 2018 at 10:39 pm
The one week trial period of the premium membership is enough to permanently give you some of the advantages of premium membership if you use all 7 days to strategically build your economy, production, and settlers ships in time to create 11 bases before the trial expires. Follow a guide from the wiki on how to do this.