Astro Galaxy
Astro Galaxy is a space themed massive multiplayer online browser game. You may sell and buy resources at SOL Corporation. Maintenance Facility allows you to hire employees and sell your ship's modules. Shipyard allows you to get new ships, change them and upgrade them. It is a late 2014 game with modern looks as well as tablet and mobile support. The most important stats are Stations, Ships, Station power and Ship power. Various technologies to research and plenty of players to interact with.





(14 votes, average: 4.07 out of 5)
Rate it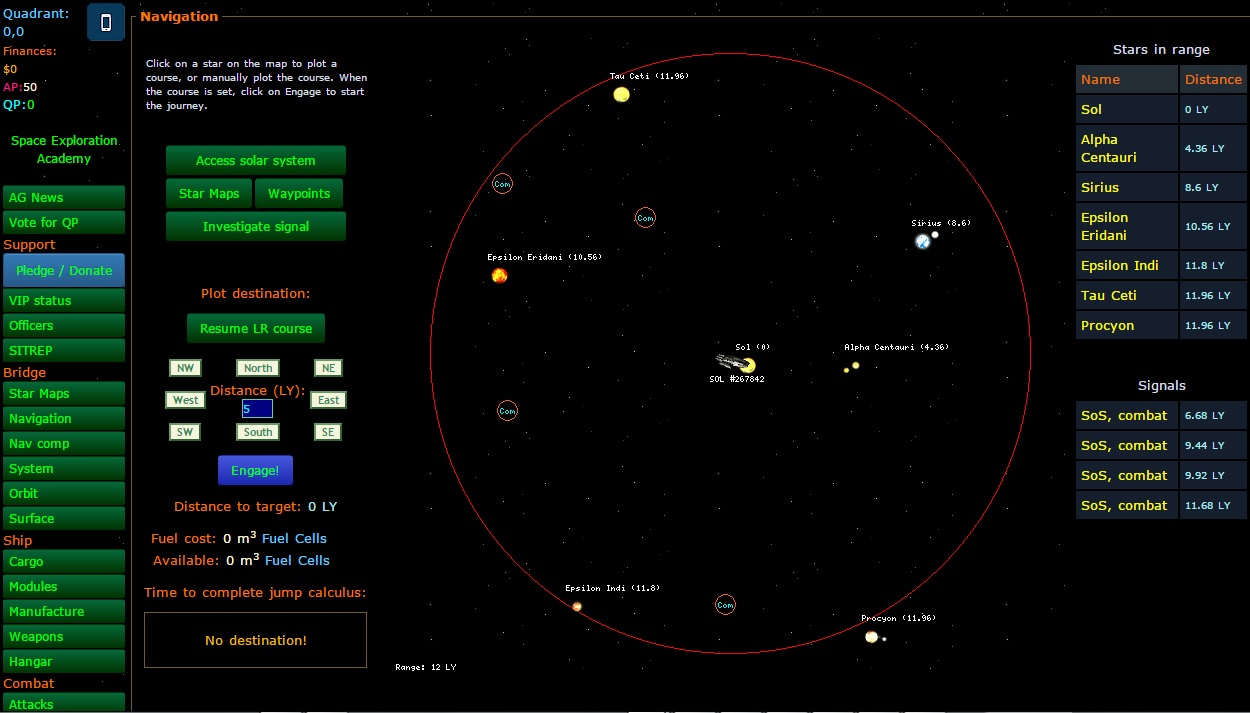 3

comments on

"Astro Galaxy"
Jon
January 15, 2016 at 11:12 pm
Warning: It's slow even with AP, but it shouldn't bother you if you're trying to play this kind of game. Play it from a distance.. It's primarily a management-sim or spreadsheet-sim, however you want to call it! Being that's the case, expect some micromanagement.

Compared to other MMO's:
1) In this game, guilds are known as corporations. When you start out you're part of the SOL corporation and it's the default corp, meaning you don't get much from it. You'll want to join a corporation asap if you want to move ahead faster, as other players can give you information and access to high level equipment.
2) Instead of levels or skills there're ranks (MKs) for modules. Modules are placed on ships, stations and planets to make yourself more powerful. Unlike most other MMO's, you can use (re: wear) any module of any level, although trading modules between players involves unorthodox techniques. Trading currency is easier.
3) Unlike many MMO's, there's open-PvP in AG, but it's not frequent because corporations and higher profits from non-player activities are a deterrent

What else can I add? There's lots of exploration. There're hundreds, maybe thousands of star systems to visit. Also many zones inbetween, some with monsters. Travel is via transient wormholes and wormhole-making drives.. The forums are usually busy. The game allows you to build stuff on planets and in orbit, so it's somewhat like a sandbox. You design your own ships. You research different technologies, although it's very linear and nothing like the deep tech trees in some games. The creator(s) of the game are always adding new things. Things like supernova explosions which destroy old star systems and generate new ones, allowing for players to find new places to build (the decay can be halted with infusers). And aliens and missions connected to them, allowing you to find powerful modules. New things are in the pipeline, like colonies you can build where people are generated and you can get tax revenue from. There's much more, but you'll have to play to find out.

I rate it 3.5 stars out of five, my only major complaint being the lack of tactical combat which I came to love growing up on military sims and 4x strategy games.
Madden
June 14, 2015 at 01:36 am
Best game ever! Now with the addition of APs (Action Points), the game is no more the slow-paced game it used to be. There's also a great deal of politics involved, but due to the huge universe, the corporations can always find a place to stake out a base. Remember to send a request to join my new corp, LSK, or Lorrian Star Kingdom. Adios!
Niels Cambon-Brandt
June 13, 2015 at 02:32 pm
It's a good game, big universe to explore. I been playing the game for 6-7 month now.
I really like the slow pace of the game, can be speeded up with AP.:-)
You can be real addicted.
The micro management part of the game (Mining), can be real annoying.