Basic Mafia
Basic Mafia is a crime based browser game. As expected from the genre, you have your jail, hospital, gym and crimes as usual. There are unique aspects to the game as well, such as Gang Chat. This chat system is a neat way to connect a group of people in order to have quick communication during attacks for example, or simply to chill and talk. Gangs are a big part of the game as the social aspect gives the game more meaning and you won't reach far without a gang. At first try looking for an existing gang, in the later stages of the game feel free to create your own gang and start recruiting members. You can also scavenge the streets to find gear and other items.





(4 votes, average: 3.75 out of 5)
Rate it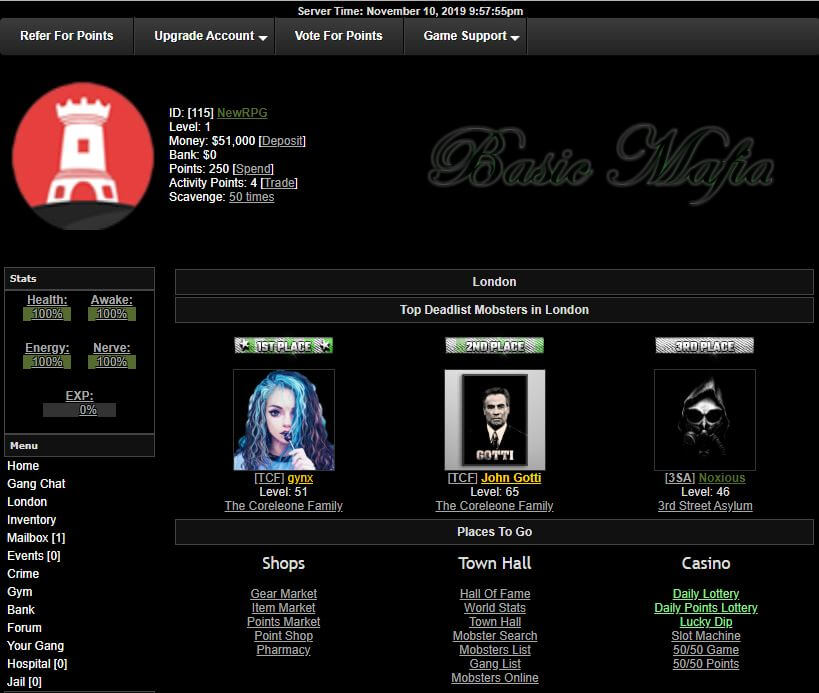 2

comments on

"Basic Mafia"
Bill gates
November 16, 2019 at 07:42 am
New game, active coder. Looking forward on all the great content.
Great game over all
The Maid
November 11, 2019 at 05:33 am
Definitely old school. Still in the works but moving along nicely, get in early as it's gonna be great!