BasketPulse
(Online since

2018

)
BasketPulse is an online basketball management game. All that is needed to play this game is a PC or mobile phone with an internet connection.

Registered users get a basketball club and become its manager. The aim of the game is to make one's club the best in his country and maybe even in the world. However, it is not an easy task as other users have the same intention, too.

Users can lead not only their main teams but also their youth teams and run as candidates to lead national teams. The game is played by people from all around the world.

The game is a reflection of real basketball and it involves managing the many aspects of a basketball club. It is important to deal with finances, sign and train players, find appropriate tactics for the particular match and many more. Managers have to tune all elements so that they work perfectly for their club.

The game is realistic and time friendly. There is no need to login at a specific time, thus managers can play whenever they want and spend as much time as they want.

Users find not only competition and challenges but also a community of basketball lovers and a way to have a good time.





(155 votes, average: 4.81 out of 5)
Rate it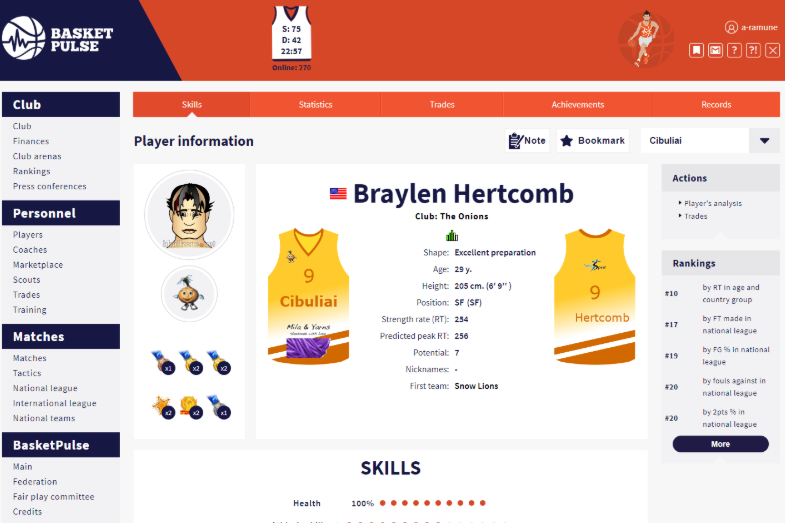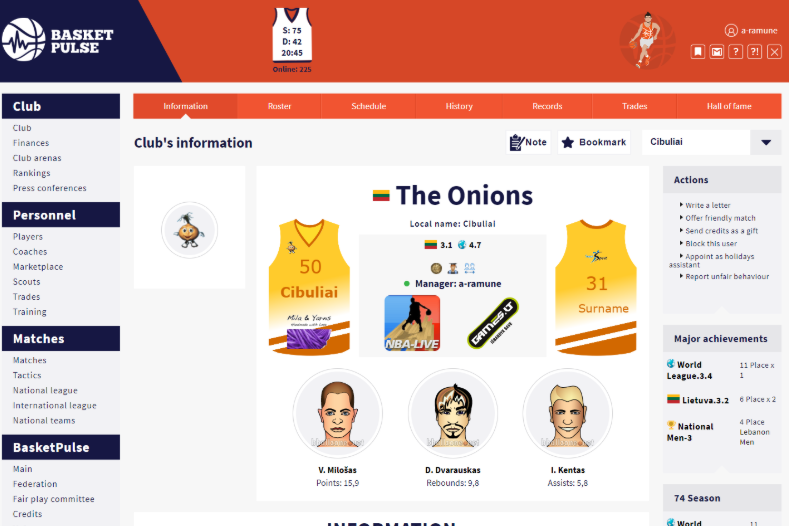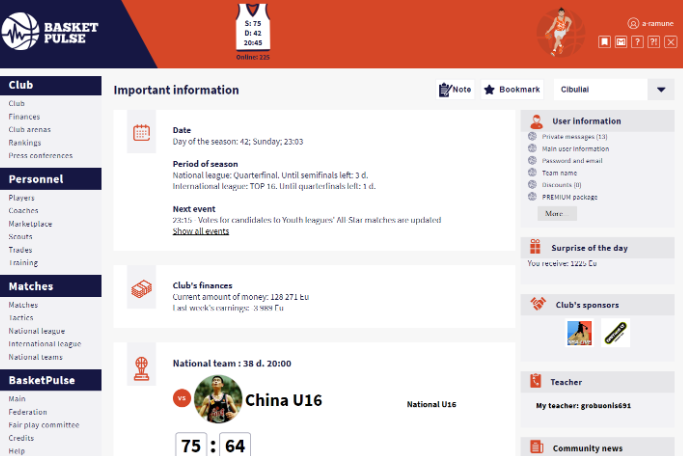 Important information page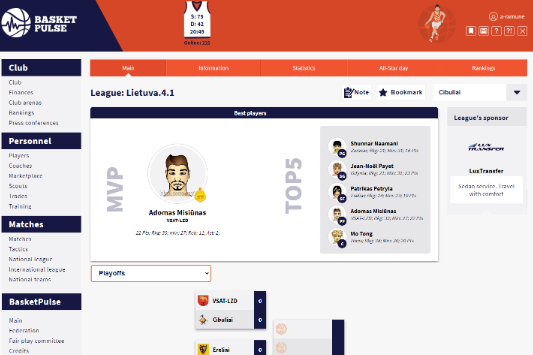 7

comments on

"BasketPulse"
pay to win
July 11, 2023 at 05:10 pm
it's pay to win which admin didn't mention anywhere (wonder why), avoid at all cost
zaidejas
December 19, 2022 at 10:33 am
Great game! I've been playing it for over a decade and I recommend it to anyone who loves basketball as much as I do!
Ratun
January 18, 2023 at 03:41 am
You act as a Club manager competing in an International Championship (main competition) and a National one, with leagues organized in a pyramid system
Matches are on a daily schedule for a nine weeks season, which gives a nice pace where there's always something to do

Economy is quite a fair, as it gets away from classical buy/sell models with the main money sources coming from sponsors adapted to international league level and spectators attendance within your home arena, putting every club from a league level on a same budget
Added to that are mutli-seasonal contracts for players and coaches to recruit during a free and limited market with a blind bid regulated system. There's also the possibility of trading players with other managers

Skills and Tactics are quite classic for this kind of game/sport, with then a Potential skill and hidden potential factors impacting players and coaches evolution
Player formation is developed, as you can start by putting scouted rookies to school, then promote them into a youth team competing in a Youth league, as to acquire sufficient skill and experience to join your main roster
Training is done daily for all your team's members based on playtime, so you'll have to manage it with the dynamic substitution system and rotate your players to maintain them in good shape
Of course, there's also National teams competing in World Cup (U16, U18, U18, A) for which you can be elected as manager

Developers are regularly maintaining and improving the game, functionally and aesthetically, and communicating with the users base
All in all, a great game with a nice community

Et la communauté Française est très accueillante. N'hésitez pas
filou
August 17, 2021 at 02:34 pm
I think one of the best online browser manager games! Great work, great community! Love it!

Belgian Players, please play the game and help the Dutch/French community grow!
lvivmanatee
March 23, 2021 at 07:28 pm
My favourite game.
Realistic training, realistic market, realistic contracts...
And brilliant admins!
Rafael Chust
July 15, 2020 at 12:20 pm
Quite an amusing game. The best I've played ever.
Andronikos
July 15, 2020 at 12:02 pm
Perfect game!!!
Vaidas
July 15, 2020 at 12:02 pm
The best basketball manager!