BasketballZone (OFFLINE)
BasketballZone is a free text-based browser game about virtual basketball. Personnel gives you an opportunity to stay in touch with your team players and take a look at their acquired skills. The game includes training players/coaches and you can train athletic skill, defense, accuracy etc. Tactics gives you a possibility to select a player and decide his gaming style by changing offence, defense, close range 2PT, save for end etc. All your matches have been scheduled so you could easily keep an eye on upcoming matches and watch the results.





(182 votes, average: 4.82 out of 5)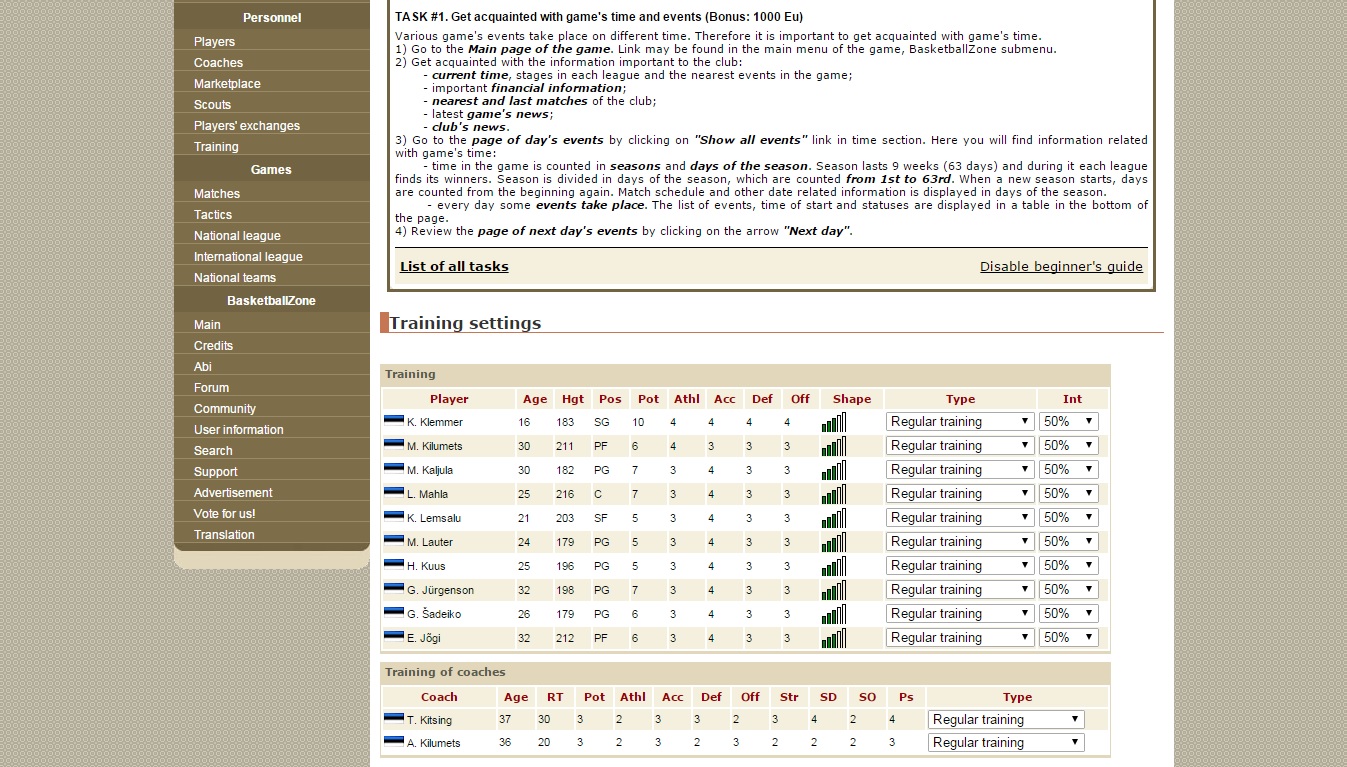 16

comments on

"BasketballZone"
Undecided
January 22, 2020 at 11:35 pm
Very complicated for new player. It's advertised as free to play, but I will have to play for few more seasons to see if it's p2w. Maybe it's not, but very complicated without premium accounts, not enough information. Those who throwing money in this game have advantage, that's for sure.
Ariel
March 21, 2019 at 04:13 am
Probably the best basketball manager online
attass
November 16, 2018 at 04:42 pm
I like it
Marcos rubio
July 03, 2018 at 06:43 am
The best of the World!!
Rokas
September 22, 2018 at 02:30 pm
Best game ever
Marcos rubio
September 22, 2018 at 06:40 pm
Yes!!!
RaZeev
May 24, 2018 at 10:26 am
Great Basketball-Manager. Now also in German!
Mavro
April 11, 2018 at 11:47 am
Obviously one of the best basketball RPG games that I've ever played in my life!
SeniZ
November 07, 2017 at 05:40 pm
One of the best basketball manager.
Mark
October 31, 2017 at 05:44 am
The best game of basketball manager of the world.
sanderke75
May 17, 2017 at 05:35 pm
Zalig Basketball spel! Voor de managers onder Belgische spelers, meld je aan!
Belgïe is nog niet echt actief in het spel, veel beter dan Charazay!
roro
April 10, 2017 at 04:08 am
Manager de basket, pasen y vean!
TYDEAS
March 13, 2017 at 01:31 pm
BEST BASKET SIMULATION GAME
uzikas
November 01, 2016 at 02:43 am
he best basketball manager game
junyi
August 04, 2016 at 05:23 am
The best basketball game that I have played
Doris
August 03, 2016 at 07:14 am
he best basketball game
Malakay
November 14, 2015 at 11:03 pm
The best basketball game that I have played
Abra
September 27, 2015 at 11:23 pm
Ny much more accessible that it seems , this basketball simulation is very realistic and complete . Clearly the best that I round on the net.