BATracer
BATracer is a free multiplayer motorsport webgame. This game is all about cars and racing. Drive with other players and try to win championship. Before winning the championship you must work hard with your team. Decorate your car and helmet by designing and painting them. Select your strategy and driving style. Challenge yourself in harder conditions while the weather changes. Practise a race and win the championship!





(51 votes, average: 3.67 out of 5)
Rate it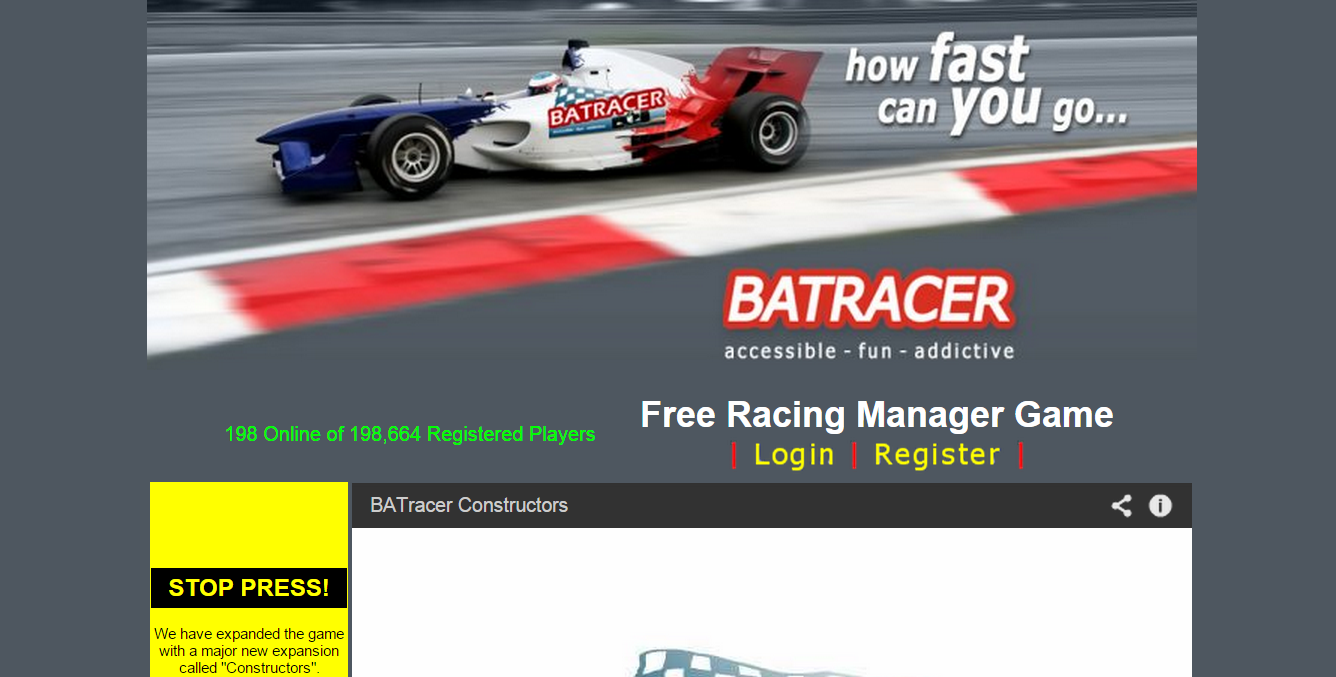 5

comments on

"BATracer"
Q
December 18, 2015 at 02:53 am
As previous people have said this game hasn't been updated for 2 years, but that doesn't detract from what a great game it is, sure a lot of the old crowd have left, but there are still a hardcore bunch of enthusiasts who play the game.
It is VERY addictive, and sure it has the randomness that all games need but overall the better drivers shine through.
Give it a try, I'll see you on track
Looney
January 10, 2015 at 02:21 pm
Game hasn't been updated for years, Lots of players leaving your be beter off playing another game.
JS
January 05, 2015 at 01:27 am
While it is going in a downward spiral, I find it a very enjoyable game. A majority of the community there are wonderful people, and fun to chat with! Plus, it has a broad variety of carsets for any type of motorsport fan. I had been looking for a BTCC browser game for a long time, and I finally came across this in the summer of 2011, and the addition of the Le Mans, Grand Prix, and other touring car series made it even sweeter. I've been hooked ever since. I highly recommend it.
Philip
January 05, 2015 at 12:44 am
The game isn't what it once was, that is true. The developer has not added to the game recently, and a lot of players have left. A new game, an improvement on what is already in place, however, is promised 'soon', so there might be positive news on the development front.
The game itself is great. I've played it for almost 8 years, and despite never getting that good, I'm still hooked. I don't know of any other online motor racing games that offer such variety, I can be in Formula 1, touring cars, LeMans endurance racing, the variety is what has kept me coming back. The game is about co-operation with your teammate, which can be great and can also be frustrating if they don't log on or decide that they don't like you. Besides that, it's about the skill in getting your car ready for the race, deciding when to make pitstops, and how hard you want to push. It's a great game, and I hope that it can stay fresh and keep on moving forward.
sadntrue
January 04, 2015 at 11:01 pm
The game has been in severe decline for the past five years.