Best11 Manager
Best11 Manager is a free online football manager game with plenty of challenges. Manage your club, improve skills, join competitions, handle your finances, define your own strategy and win rewards. You can create up to three different tactics and switch your strategy according to the opponent. You should consider signing the sponsorship contracts as the sponsors are one of the most reliable sources of income. Notice that sponsorship contracts are valid till the end of the season. Find the greatest players with big talents and train your team to reach the top. Some advantages are only available for premium players.





(64 votes, average: 4.44 out of 5)
Rate it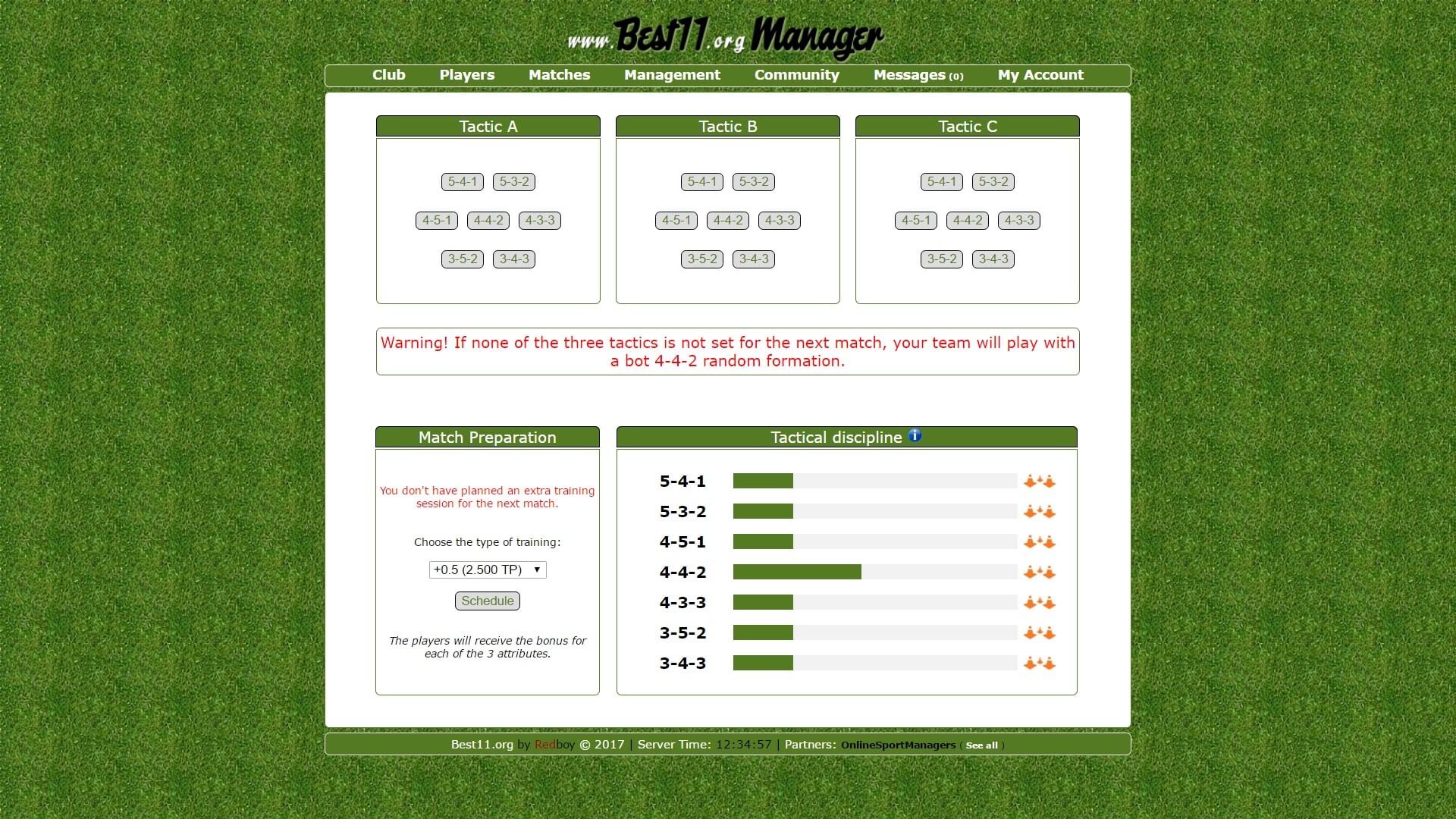 3

comments on

"Best11 Manager"
Dwightyboy
April 08, 2019 at 05:13 am
I have played this game for more than a year and what old-schooler says is correct. And it proves a lot that admin decides to put exact usernames on a forum like this to critizise players. Admin is bad at handling community ive seen that many times in the game. It is also true that game lose players every
season. I dont know if anyone has been banned.
Best11 Admin
March 31, 2019 at 01:55 pm
Just to be clear.

Old-Schooler (in game username: SamohT) is just frustrated because I've banned him on the forum. However, he still plays the game, and no, I didn't banned his account. Actually, I didn't banned one single account just because someone disagreed with me. This is just a stupid lie.

The fact that I don't have plenty of free time anymore to work & improve the game, is true. BTW, I'm the only guy behind this project. Anyway, who knows what the future holds...

If you decide to join the game... Enjoy!
Old-Schooler
February 06, 2019 at 09:13 pm
Do NOT play this game.

The developer has stated that he won't continue to improve the game.
The game has a very small player-base, and the game offers almost no gameplay.

Despite the things mentioned above, the developer has banned and deleted multiple accounts because they disagreed with him in public about implementations he made to the game.

I highly do NOT recommend this game to anyone.

(This comes from a player who have played it almost from day 1 since release. I know feel i wasted a lot of my time on "nothing", and i consider leaving the game myself too at this point)