Blades of Legends (OFFLINE)
Blades of Legends is a browser based MMO. Active community and a frequently used global chat for help and communication. Go into battle agains rats, trolls, wolfs, bears and other creatures. Quests are mostly about killing a certain amount of creatures. Create your own clan or join an existing one. Different tradeskills like Hunting, Woodcutting, Mining and Quarrying. There's a huge market to sell/buy any kinds of items you can get.





(41 votes, average: 4.22 out of 5)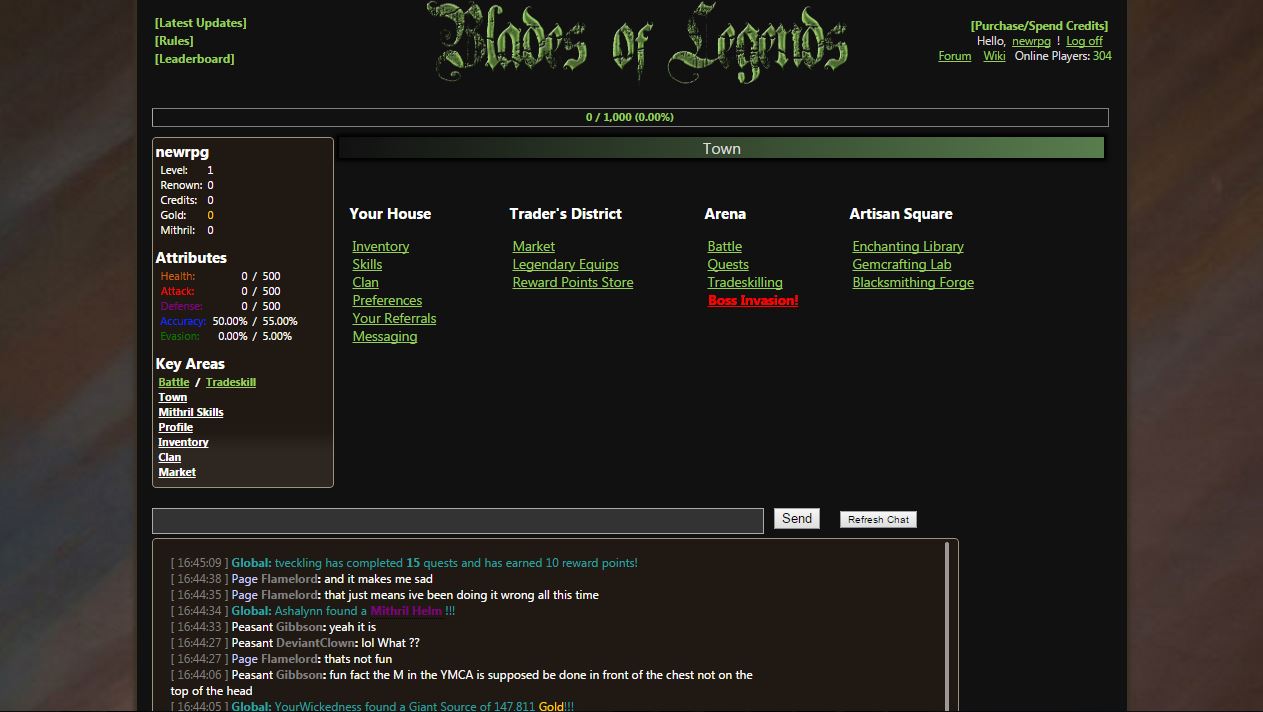 10

comments on

"Blades of Legends"
chalkless
October 18, 2020 at 10:19 pm
It's dead.
calvin
December 28, 2020 at 11:04 pm
Was no one playing anymore? Looks descent
YourWickedness
January 11, 2015 at 08:22 pm
I love the game because i can click a button and let it go...it takes a while to level up, but for me it's worth it- the community, meh- there are a few good people in the mix, but honestly since it's a free for all chat, well that'll tell you right there :S basically no rules except a few- I only wish I could disable main chat, but I do still enjoy the game
Liam
January 10, 2015 at 11:31 pm
One of the best comunities I've come across in a long time. Friendly helpful and the game is a great time waster. 5/5
DemoniaX
January 10, 2015 at 11:31 pm
Started on this game when it first came out June 2013, no new content in ages. It gets boring quick since the leveling is so painfully slow and there is just not much to do at all. Also you cannot multi-task. You are either auto-battling or tradeskilling or reading mail/trades or looking the market. Nothing simultaneous. Did I mention no new content? Yeah zzzzzz. Good luck newbies!
codemeister13
January 10, 2015 at 11:21 pm
I'm fairly new to the site but so far, I've got to say that I'm impressed with it. For anyone out there that's considering joining, I can only encourage you to do so.

The Good:
- Excellent community. Everyone's friendly (more or less) and they're not afraid to help you out if you have questions.
- In-depth gameplay. Despite the simple look, things are not what they appear. There are actual strategies to be learned in this game and plenty of things to do.
- Auto-attacking allows you to converse with people/check other tabs while still earning XP/Gold.
- Completely optional purchases to help support the site and give you new "Renown Ranks." However, it's not Pay-2-Win by any circumstances.
- Community boss fights

The Bad:
- RNGesus hates your guts as well as everyone else's.
- Trying to level up is not quick task by any means.
- Random stat increases can leave you looking very unbalanced
- Gold is hard to get at first (This does progressively get easier as you take on tougher enemies)

The Ugly:
- God damn, it takes forever to level up.
Solomon Grundy
January 10, 2015 at 11:19 pm
This game is kinda okay.
Sheldor
January 10, 2015 at 11:14 pm
I think BoL is an amazing Idle Text-RPG it is at a perfect pace in which you will never get bored of. The community are very friendly and helpful, the mods are co-operative and RNGesus blesses you. All in all, 10/10
mashiara
January 10, 2015 at 11:12 pm
Love this game. Great community and lots to do and learn. Been playing since it came out.. I would love to see you all there... Come join in on the fun! Would love to have you here..
Sheldor
January 10, 2015 at 11:09 pm
Can watch youtube videos while autoing. 10/10
Name
January 10, 2015 at 11:09 pm
you know you want to
Name
January 10, 2015 at 11:13 pm
It is a very enjoyable game with a friendly community.