Bloodletting
Bloodletting is a fantasy based browser game with Vampires, Werewolves and other races. You will play the role of the race you picked, fight and interact with other players. Obtain weapons and armors and climb the top of the rankings. In some battles, your character can actually die meaning you'll have to create a new one. Big part of the game is community, participate in forums and socialize with other players.





(15 votes, average: 4.33 out of 5)
Rate it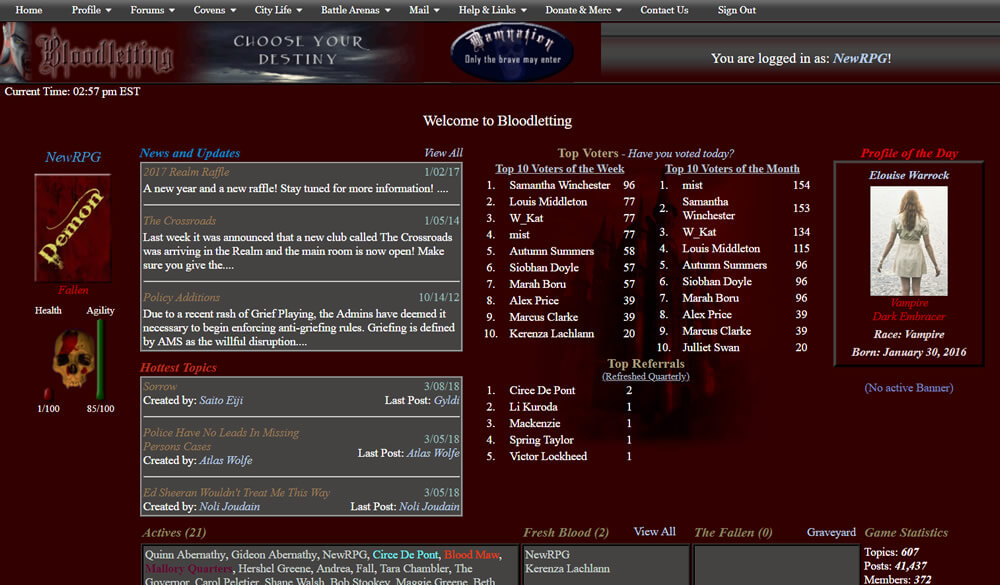 bloodletting-vampire-game
3

comments on

"Bloodletting"
MB
April 07, 2018 at 11:10 pm
I have been playing this game for YEARS. It is entirely player driven. There is SO much to do. You can engage in active roleplay with writers of all skill levels while simultaneously working on your combative skills. Don't miss this one.
Cc
March 23, 2018 at 05:47 am
Excellent game to freely explore imagination and creative writing skills.
Mike
March 10, 2018 at 11:06 pm
Excellent game for writers of all skill levels!