Broken Bat
Broken Bat is a free virtual baseball management game. To acquire new skills you can train fast ball, defense, hitting, stamina, ball movement etc. Lineup allows you to rearrange positions and decide backup players. Under finances you can take a look at the income/outgoings, calculate your profit and analyze the graphics of team balance. Ballpark gives you a clue about your stadium and allows you to alter it by changing capacity, configuration, fields etc. Manage your team and win tournaments.





(73 votes, average: 4.67 out of 5)
Rate it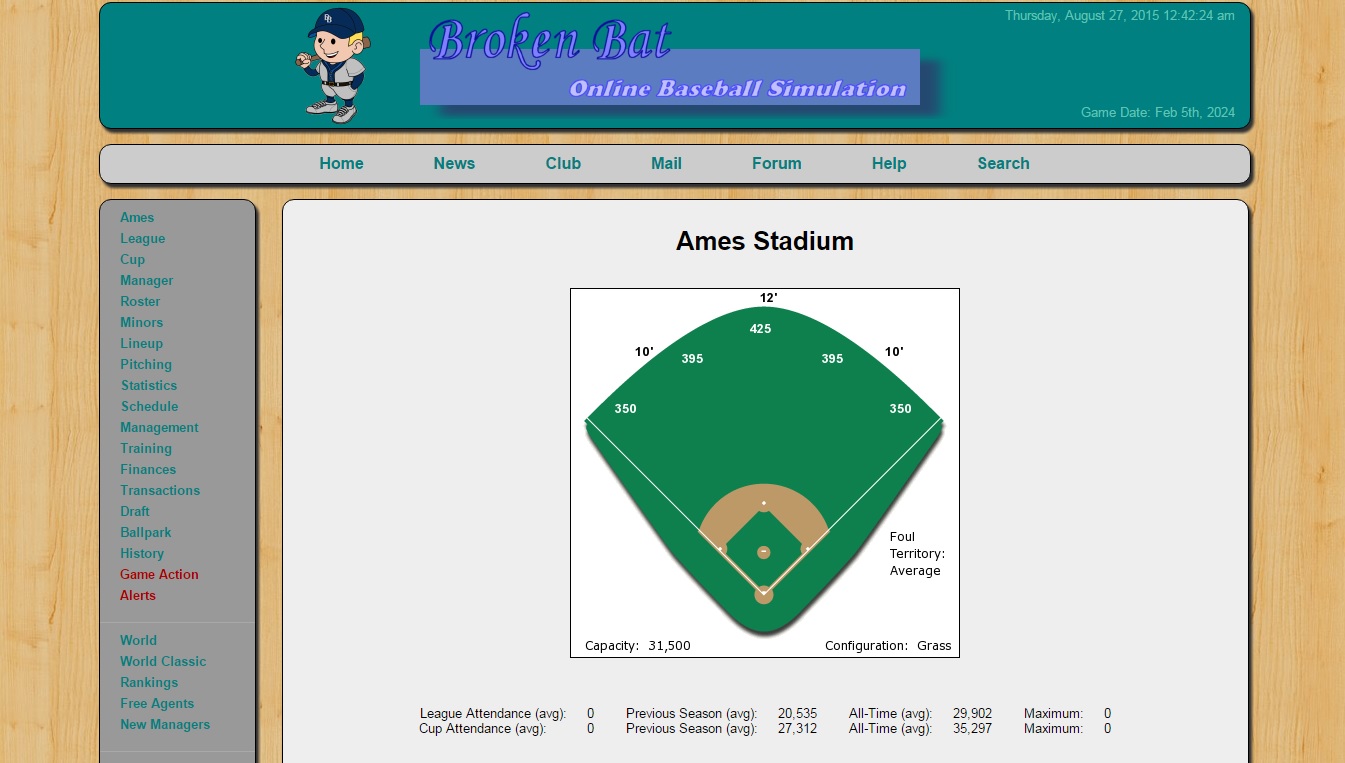 5

comments on

"Broken Bat"
MukilteoMike
December 08, 2016 at 09:14 pm
The game has a very active forum, which makes it fun. It also allows dynasty play, meaning you can manage your team forever for free. That's sweet. The other positive is a developer who actively engages users in the forum. Unfortunately, game play is mediocre at best. Even worse is player acquisition. It's a joke, luck based and not compelling at all. I've played for ten seasons, so obviously I think it has something. I joined thinking it would improve because the game was fairly young. Sadly, I don't think it has taken many steps forward at all. Maybe someday.
Delex
September 29, 2016 at 07:53 am
Super game!
Momo
June 30, 2016 at 06:56 am
Wow great Game but how do I become GM of a team?
JOHN KELLY
January 28, 2016 at 04:05 am
Excellent game!!!
Dinnyin
August 27, 2015 at 06:11 pm
Broken Bat is an online strategic management game and computer baseball simulation that lets you be the owner/manager of a franchise. Managers acquire players, guide them through the minor leagues and then manage their major league club, competing against other managers. Each team competes against other teams in their division with the winners promoting up a pyramid of leagues and the losers dropping down. Additionally, there are playoff games at the end of each season for the division winners and a national cup tournament which all teams, regardless of their league level, are eligible.

Casey, Broken Bat Baseball Mascot
Broken Bat is entirely free!

It's around the clock, so you can manage your team online 24 hours a day. Baseball games are simulated constantly and with a schedule of almost 200 ball games per season, there is always another game coming right up.

The game engine is quite advanced and provides realistic baseball results and requires in depth tactical play. The overall game design requires managers to make long term strategic decision, yet is simple enough that it's not an all consuming endeavor.

Broken Bat has Casey!

Broken Bat is always growing and expanding. After initial beta testing in 2010, the game has seen a number of upgrades and improvements to the site and the game engine. You are welcome and encouraged to check out the site and to offer feedback. You can also follow progress on Twitter or check us out on Facebook!

Now simulated 1,773,023 games and counting!