BulletStar Legends
(Online since

2021

)
The Mafia MMORPG "BulletStar Legends" is now available to play for free online.
Currently the first beta season has started and we are improving the game as we go in the coming months. Recently, we launched a Kidnapping feature where players can kidnap bitches and other criminals in the game. If it's a succesful kidnap, you take away money and power.
Together with other players you can create a Mafia Family and try to become the strongest Family with the highest hourly wage and power. For the players, they need to gain as much power and rank experience as possible in the game by doing crimes. Players can also train their murder experience and try to kill other criminals in the game. When a player is dead, they can't play for one hour.
What is unique about the game is that players can earn cryptocurrency XRP for free while playing. In addition, you can find bags and gold bars that hold in-game money and diamonds.





(1 votes, average: 5 out of 5)
Rate it
BulletStar Legends images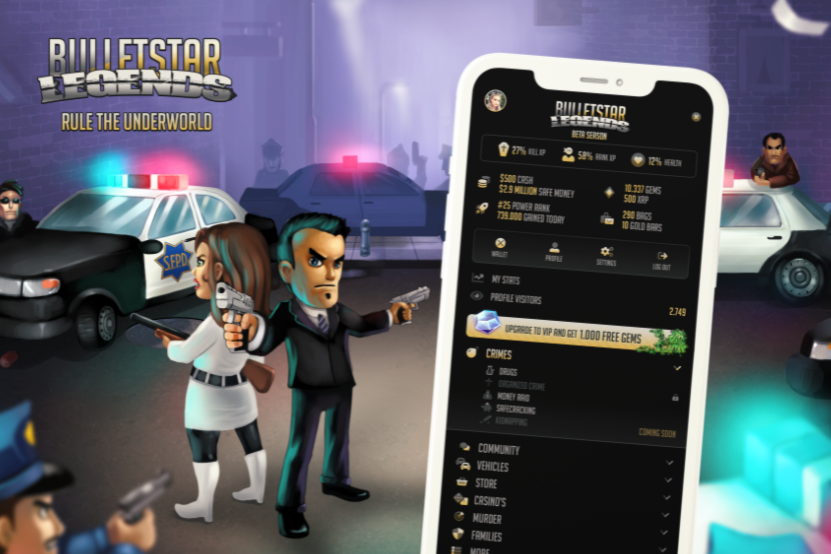 2

comments on

"BulletStar Legends"
Elliot
June 22, 2021 at 11:50 am
The iOS app works great.
Excited to see more updates from this game.
PBBG fan
June 18, 2021 at 07:32 pm
DO NOT RECOMMEND AT ALL!

You can buy unlimited amount of crystals for RL money - Which you can spend on instant "Rank progression", "Power" (Skills), and in-game money.

The worst P2W game i have seen in years!
TheGodmother
June 18, 2021 at 09:26 pm
Thank you for your feedback. Please note that you can earn free gems just by playing. Daily Rewards and inside Bags and Gold Bars you can find them too.