Camadia
Camadia is a free to play, text-based RPG. You'll arrive at "Newfoundland", island that's intended to accommodate players up to level 25. Camadia has over 12 trainable skills and is a great game for people to play that love games but just don't have the time to pay attention all the time. Launched on October 19th 2018. Community rapidly expanding. There are some perks that can be bought via donations, but nothing overpowered. Combat will require you to train multiple skills, Attack, Defense, Strength and Health. All four of these skills will determine how successful you are in combat. Manage your resources and level up your skills.





(187 votes, average: 4.79 out of 5)
Rate it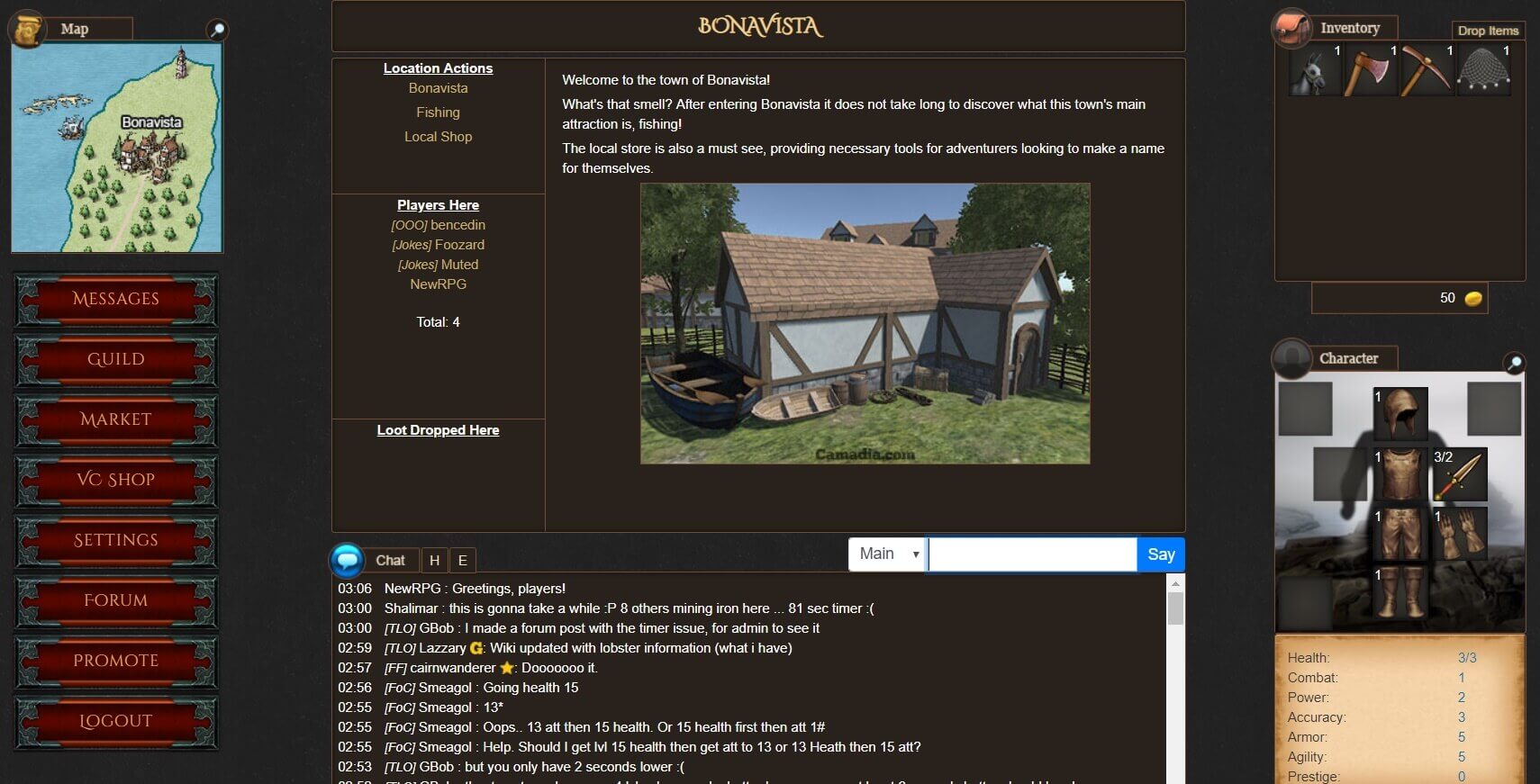 65

comments on

"Camadia"
Channon newton
September 12, 2023 at 08:27 am
Nice game
Cookies
December 13, 2022 at 08:33 pm
Great Game so far
Channon Jay newton
August 30, 2023 at 04:26 am
Nice game so far
samfireballkat
December 01, 2022 at 07:09 am
A good game in progress, excited to see what more shall be added to it eventually
JohnDoe
October 27, 2022 at 03:09 pm
Great game
JohnDoe
October 26, 2022 at 02:39 pm
Great Game to pass the time.
Cerberus
August 13, 2022 at 11:37 am
Good game so far
Magwayen
April 06, 2022 at 04:01 am
Enjoying the game. Friendly community, balanced VIP perks, great little place with a load of potential!
Justin Mccoy
February 20, 2022 at 03:05 am
Great game i have played syrnia for years and im loving this on so much more
Reynn
January 03, 2022 at 12:28 pm
Great game, really enjoy the artwork.
sand3r
September 26, 2021 at 04:26 pm
good game!
Charest
July 10, 2021 at 01:07 pm
Love it
Crim
July 05, 2021 at 02:34 am
love it
RoyalToBe
July 02, 2021 at 10:37 pm
Game Great. Enjoyable to play :)
Keep up the good work ;)
survyvn
June 30, 2021 at 08:24 pm
Always a fun time. People are helpful and game is easy to play
Crim
February 25, 2021 at 10:47 pm
I have loved playing and meeting people in the community! I found this game by accident and have loved playing it ever since. Very different from Commedia Theatre.
bloodqueen
May 24, 2021 at 04:27 am
great game easy for newbies lots to do
Rich DeLuca
October 29, 2020 at 02:15 am
A real nice game ! A jewel in the junk online! Try it you will like it.
Rholabarbe
October 16, 2020 at 10:18 am
A cool game, quiet pace but interesting feature, and a good friendly community, the interface is easy on the eyes, very clear.
Gee Gee
October 05, 2020 at 06:47 am
stand still
lots of skills to master
and hides with smaller windows that pop up seperate from mane window
TheBulldozer
July 12, 2020 at 08:01 am
Great game! I've only just signed up but looks to be a fun ride.
shuckleluvver
May 14, 2020 at 09:07 pm
great game join my guild Sneaky Snakes
Assos
May 06, 2020 at 12:53 pm
Fun game! Captures the spirit of texted based games all jazzed up.
sigfrid
April 11, 2020 at 12:10 pm
Le dinamiche del gioco sono abbastanza semplici ma è comunque raccomandabile una buona lettura della guida. il gioco è bello con tantissime attività da svolgere, ma è la compagnia delle gilde che rappresenta il non plus ultra!
Steffano08
March 07, 2020 at 10:37 pm
Great game
Fujimo
March 07, 2020 at 04:09 pm
Just getting started, would like to see a larger player base but its easy and fun to play. Looks like it will only get better as time goes on.
deathspank
January 30, 2020 at 12:41 am
A fun & idle game. There's quite a bit of different skills in the game, including combat + you can make guilds with other players, trade etc. Worth trying out! :)
WhiteWolf
January 21, 2020 at 09:35 pm
Nice game to pass your time
Morseth
January 05, 2020 at 12:33 am
Good game
magicka
December 27, 2019 at 06:57 am
dope game
Thundurus
December 14, 2019 at 06:09 pm
Great game ! I have been playing now for 5 mnths and are having great fun. Active and friendly community, active admin and game is still busy evolving with regular updates, and don't forget the holiday events :) If you like these type of idle games then I highly recommend. I have my own active guild, friendly and willing to help new players :))
Johndoe
December 12, 2019 at 10:48 pm
Awesome game
Notivagus
November 23, 2019 at 04:33 pm
I'm having fun
Nice game
Geistware
November 20, 2019 at 06:30 pm
New to this game and people are great and game is fun. VERY time consuming in RL I will continue to play and enjoy!
ginger curtau
November 07, 2019 at 01:46 pm
wow lvl 4 in 2 hours
Paul
October 27, 2019 at 01:32 pm
Except for a few cosmetic changes like the names of the towns and every town is on one island, this game is exactly like the game Syrnia. You will chop wood, fish with a net, cook, mine and then smelt the minerals into bars. To earn gold you will be cleaning the docks in Bonavista instead of the Jail like in Syrnia.
I'm not trying to dissuade you from playing, just letting you know it's exactly like the game Syrnia.
wail barkat
October 24, 2019 at 08:01 pm
gr8 game
Shane
October 14, 2019 at 07:31 pm
I have been playing idle games like this for a very long period of time. Good game.
MindGames21
October 13, 2019 at 05:20 pm
Great game!
Lilibeth
October 02, 2019 at 08:10 pm
So far so good. Easy to play. Friendly players. :)
Kyo-ITALY
September 26, 2019 at 05:57 pm
RPG Idle Timer interesting. A must at first read the small incomplete manual, and take advantage of the game's wiki page for more info. It is simple to manage. There is no Android app, but on browsers it is well laid out for mobile phones. The various jobs and time gathering are automatic, the game will sometimes require a code to check the presence and avoid BOT. There is a chat with players who help the new ones. I have just started, I do not speak English so in chat I am not very present. I don't know the advanced game yet, we'll see ...
Demon
September 11, 2019 at 07:50 am
A good game that is easy to play
Demon
September 10, 2019 at 08:41 am
Awsome game
Caya
September 07, 2019 at 06:58 pm
Interesting text based game. I enjoy it.
Car26
September 06, 2019 at 02:59 pm
Very enjoyable game if you like text based rpgs you'll love this game
J
August 20, 2019 at 12:23 am
Great potential for its genre, easy to look at, and the manual gives basic concepts but lacks in-depth specifics for certain things that could be helpful for someone new to this particular game or new to the genre. items, skills, and community are fun and relaxed. nothing is super complicated and everything has its own purpose. I like the attentiveness of the devs and effort they put into continuously updating and adding stuff to the game.
Xavier Xirau
August 19, 2019 at 02:17 pm
It's a lovely game and I had a really warm welcome. I just played a few days so I don't know how it will progress but for now it sound good .
Okietrader
August 17, 2019 at 01:53 am
this is a great game
rishi
August 14, 2019 at 11:17 am
Great Game. It's an Idle Timer RPG which allows you to gather resources and craft them into usable items. It has fishing, hunting, wood cutting, mining, crafting, cooking, blacksmithing, carpentry, farming. The Combat is roguelike but you can deposit your items in a storehouse so that you do not lose them. You can join guilds and trade with other players and even sell your items in private shops.
Referral Link: https://www.camadia.com/?r=775
Aeduuard
August 10, 2019 at 10:00 pm
I like the game! It's new but it's growing faster!!
Bellmont
July 28, 2019 at 04:04 am
I like this game alot
cromax
July 16, 2019 at 04:03 am
good game
Bubbles
July 09, 2019 at 08:21 pm
Amazing game! If you like any games like oldschool runescape or syrnia, you'll love this one. It's incredibly actively developed, a nice community and I can see it thriving for a long time,
Vortigern
July 09, 2019 at 08:13 pm
Fun game to play
Noone
April 24, 2019 at 04:42 am
wesome game so far and the community is already growing into a nice one.

Well thought out skills and looking forward to see what will come in the future
Willie
April 12, 2019 at 05:47 pm
Excellent game. Breath of fresh air in the PBBG gaming community. Would highly recommend.
Arwen
February 05, 2019 at 06:20 am
Love the game, lots of options for skills and guilds. Definitely a must try. Super friendly players as well.
Elixa
October 28, 2019 at 07:13 am
Love it I'm a gamer chick and love to play all types
Nickolas
January 22, 2019 at 07:05 am
Small but helpful community, interface is pleasing to look at, and has several skills to advance. This little auto-RPG has very good potential. There are guilds to join, people to meet, and player run shops to look through.

On the other hand, it doesn't feel very complete at the time of my review; there's an introduction at the beginning, but then the player is given no help from the game what so ever. Like, I didn't know you lost ALL of your equipped items and gold till after I had already died (you can build a storehouse to protect items from being lost). Then I had no idea how to regain health (eat food, simple!) Another example: I bought an Iron Hammer, but it wasn't until I tried to actually use it that I found out I needed a higher blacksmith level (10) to use it; this is because the game gives zero info on item's uses or requirements, it only tells you what the item is called and how much it costs.
Barry
March 08, 2019 at 01:15 am
Hi,

A lot of the information you are looking for could have been found by 1) clicking the manual link in the footer and 2) visiting the wiki which is linked to via the manual. :)
Outlaw
December 27, 2018 at 10:18 pm
nice community and easy to learn :)
Kundar
November 29, 2018 at 07:12 pm
Nice game so far
Ignis Mundi
November 27, 2018 at 03:45 pm
This is shaping up to be a very nice game with a lovely community. I'd recommend it for people who like text-based rpg games.
Gorgonzola
November 27, 2018 at 10:55 am
Right from the first click on this site I've been hooked. Camadia is real RPG based game that'll definitely change the level of modern text based games. I see lots of potential in this game gowing forward and stands out to becoming no. 1 TBG game.
Drottning
November 26, 2018 at 04:31 am
A fun game with a good community. The images are some of the best for a text based game and it's easy to navigate.
The admin is active and pays attention when people give feedback, either to fix what people have an issue with or explain why it is the way it is.
Genie
November 25, 2018 at 01:59 pm
Cracking little game. Will almost certainly grow really well if the start is anything to go by. Friendly and helpful players, overall a nice text based game. 5 stars!
cari
November 20, 2018 at 11:08 pm
great game, nice to be in at the start of a game, watch it evolve!
Someone
November 20, 2018 at 11:06 pm
Awesome game so far and the community is already growing into a nice one.

Well thought out skills and looking forward to see what will come in the future
Doru
November 20, 2018 at 11:01 pm
I like the game