Carnage Blender
Carnage Blender is a magic themed text based browser game. You battle against opponents and other users. First of all get a good equipment for your character to keep safe and strong. There is also item renting available and you can modify items. Lots of skills and spells to help you during battles. If you start playing, then try sneaking yourself into a top 1 clan. If you can get into a good clan, they will support you as much as they can and you can get lots of bonuses if you team up with others.





(7 votes, average: 4.57 out of 5)
Rate it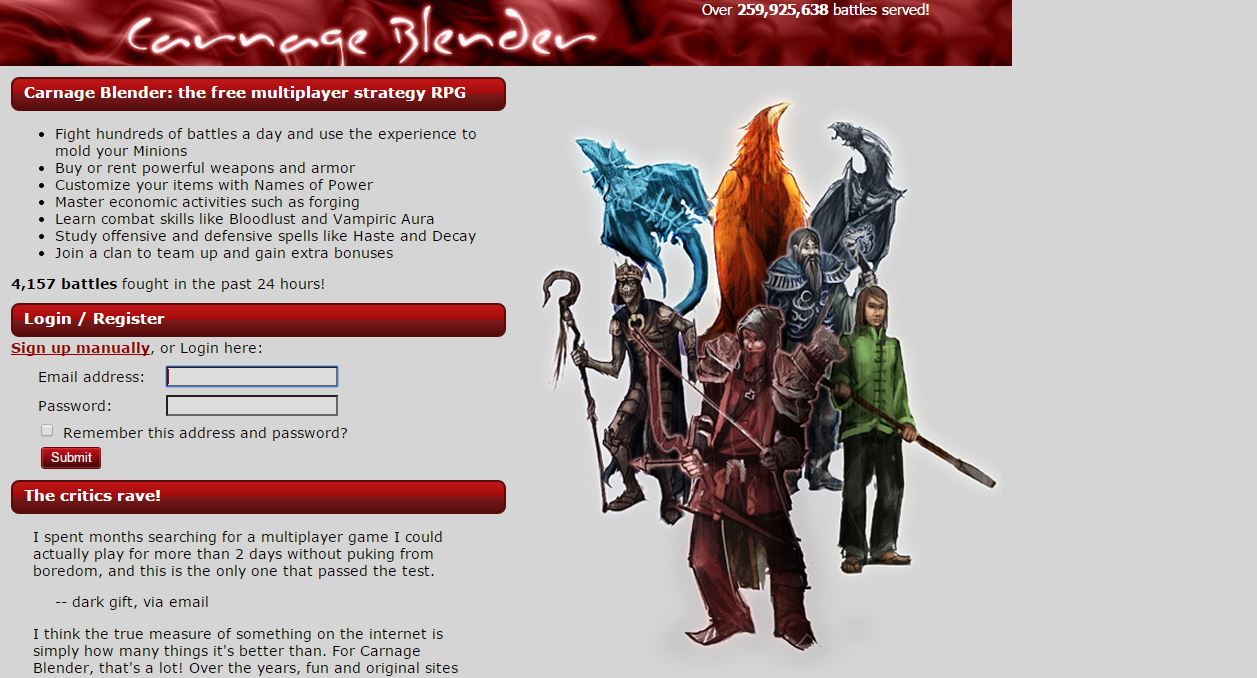 3

comments on

"Carnage Blender"
Psychomantis (in game)
July 18, 2016 at 03:33 pm
Awesome RPG game, simple, complex, impeccable community who are intuitive about the game and friendly enough to help learn the game itself.
Matthew
July 15, 2016 at 08:05 am
It is a great game. Simple to learn and understand but complex enough to keep you interested! Great help guide makes it easy to learn. Lots of unique strategies and diverse items will keep me playing for a long time.
Danny
July 14, 2016 at 09:46 pm
Been playing this for years.

(1) Create a character
(2) Hire 1 to 4 minions
(3) Train skills and spells
(4) Put on armor, amulets and tattoos
(5) Join a clan
(6) Begin the carnage

Sounds simple? It is. Choosing the right strategy to keep winning against other players, well, that is the real challenge. The possibilities are mind boggling and will perpetually keep you adjusting your game plan.

New players should take time to read the help pages and plan a good strategy. They have an incredible NUB bonus for the first 6 months of play which, if played correctly, can rocket them straight to the top of the rankings.