Colony-Wars (OFFLINE)
Colony-Wars is a proper space strategy game. Your journey begins on a small planet and the aim is building a mighty colony. Create new units and don't forget to develop them. Technology section includes various categories and you can see information about current level and a short review of the next level. There are many different missions for you to complete and the rewards are money, resources or units. Create a new alliance, explore the galaxy by choosing directions or take a look at the highest scores. Combat with other players and rule the universe.





(6 votes, average: 4 out of 5)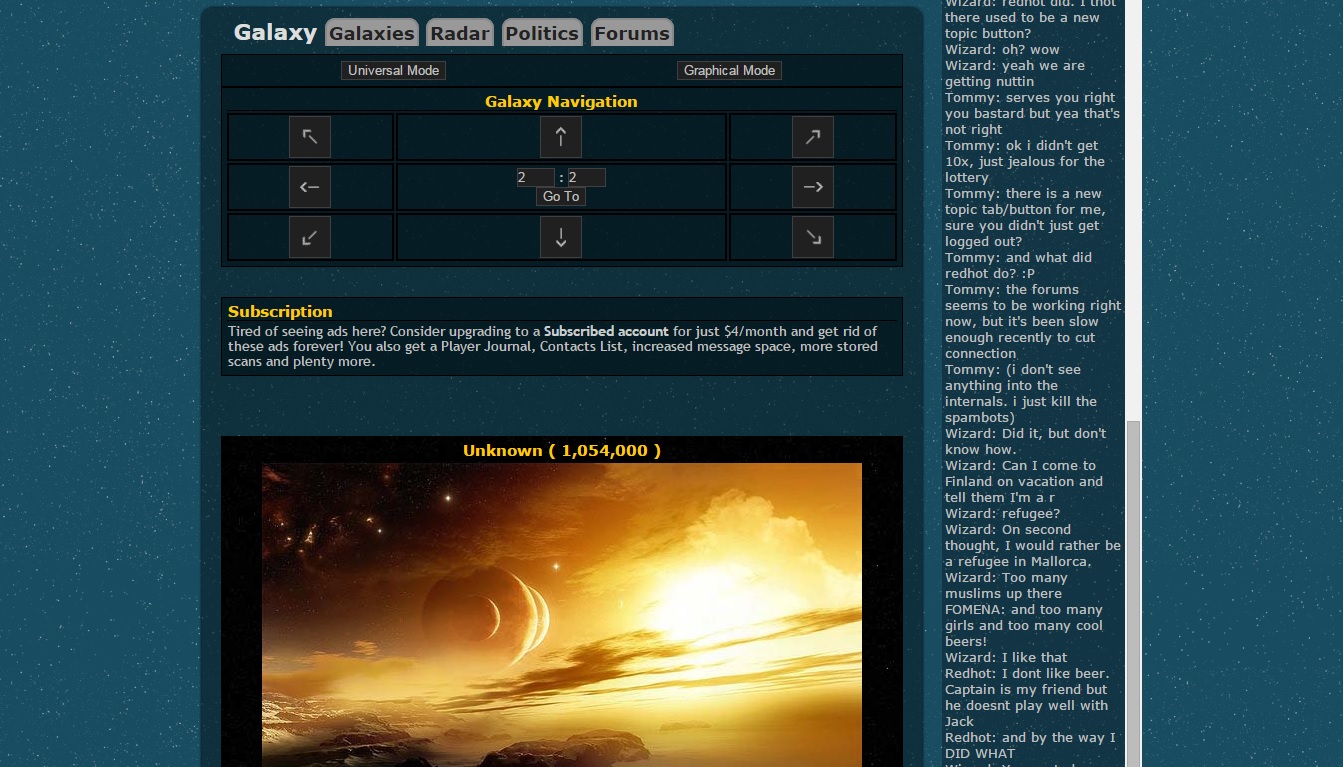 5

comments on

"Colony-Wars"
David
September 03, 2020 at 05:17 am
So... is the Colony-Wars web based game 100% dead now? The link is to a porn link on transgender dating. Just curious if it is gone forever or did it just loose the web address and move? Thanks to anyone who may have information.
Nietzsche
Kareemofwheet
August 22, 2023 at 09:00 pm
What up Nietz, if you see this shoot me an email. [email protected] Im pretty sure that colony-wars is DEAD dead unfortunately.
Brian
January 05, 2021 at 07:54 pm
Would love to know this too. Was trying to find the old forums, but wasn't able to.
Saint
April 02, 2016 at 03:40 am
Off-and-on player for a few rounds here, over the years. This game fills a niche that I have yet to be able to fill elsewhere. The gameplay itself is broken up into rounds, with each round resetting everything, and lasting for a few months at a time. Probably one of the few games where that's actually a good thing, trust me. Join today, as the game only gets more fun as more new players come to learn and join the fray!
Thede
January 18, 2016 at 10:59 am
I have been playing Colony-Wars on and off since 2001. It is a pretty great game. I love the dedication of the players, and game developers to make it better all the time. If you are interested in browser based strategy games, then this is the game for you. Good people. Very active. Your fleet is your life my friends...
Tommy
January 12, 2016 at 12:44 pm
I have no idea who wrote that silly intro. Colony-Wars was one of the first proper space strategy games. Some highly memorable rounds over the years, and the eras before rounds that I don't know . One of the (then) few games completely developed and maintained by the player community, as it remains today. It's pretty horrible. It'll never get the hundreds of thousands of players that big mmmmorpgs do. It's a classic. I think I know who Mike is. If he is staying, hell I have to do that too. Did I forget to mention CW is the best game in its class? Because it is. Welcome. (You'll be my fleet's cannonfodder but anyway.)
Mike
September 10, 2015 at 06:10 pm
I have been playing Colony-Wars for years. An easy and fun game. A little addictive.