Core Exiles
Core Exiles is a massive, sprawling Sci-Fi themed RPG, but at the same time easily accessible and compartmentalized. There is no end to the things you could do every day, yet every activity can be embraced or ignored as you see fit. No direct PvP, allowing for a relaxed and enjoyable gameplay with no threat of griefing or bullying. Many opportunities to coordinate and cooperate with fellow players on game-wide projects, raids, and in guilds. Actively developed, new avenues added frequently.





(22 votes, average: 4 out of 5)
Rate it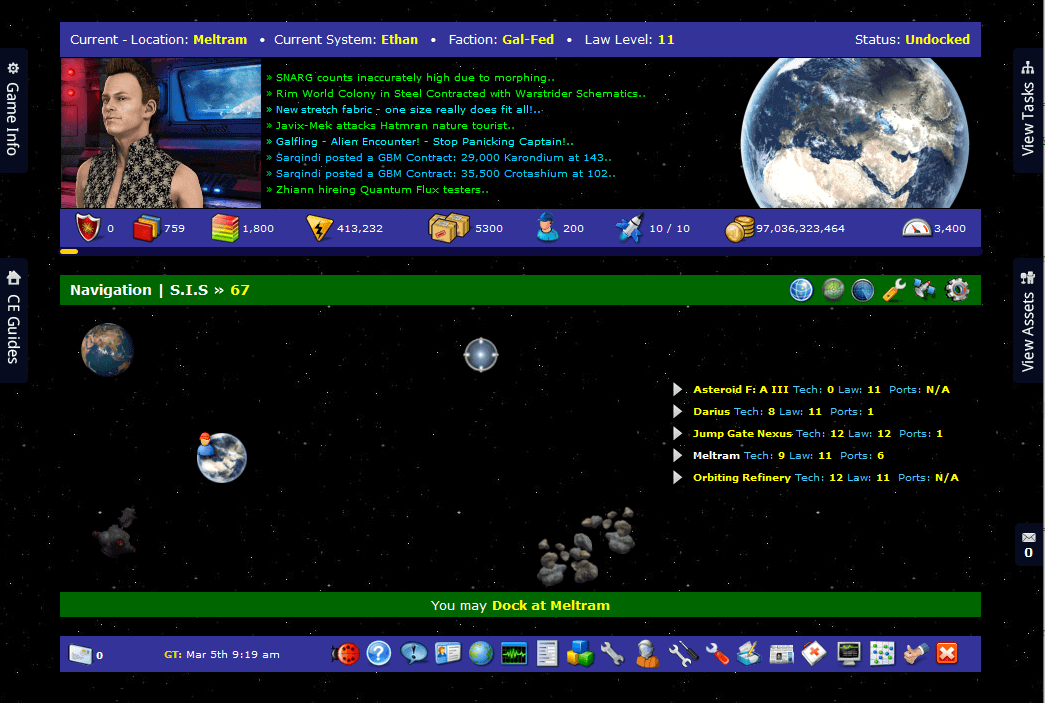 10

comments on

"Core Exiles"
Daemon
May 03, 2019 at 09:49 pm
If you are looking for very deep gameplay, then Core Exiles is for you. It's EVE Online without the fancy fancy graphics and sound effects. Although there is no PvP, the enormity of things that you can do within the game more than makes up for it (As a matter of fact, players don't lament the absence of PvP). The game has a very active discord so new players can get help from veteran players. It's only been a week since I started playing but I can see myself playing this game for years to come.
mentlsback
March 15, 2019 at 04:18 pm
A fantastic game. All of the comments that have been made about it are true. I've been playing it for years and am looking forward to playing it for many more.
Ophelia
March 07, 2019 at 11:46 am
I've been playing Core Exiles for 6 months now and I have only just scratched the surface. It's an excellent game and the development team have put so much thought and effort into making it so great. There is something for everyone, you can be a combat pilot, or if you prefer you can be a miner, travelling through a vast network of systems over 5 galaxies looking for those rare ores to mine. For those of you that like carrying cargo, you can travel through the galaxies delivering all sorts of packages (just don't ask what's in them! :P). You could even become a crafter.

There is a comprehensive crafting system with many schematics and blueprints to collect, which you can use to make new ships, boosts to your chosen profession and all sorts of other goodies.

The beauty of this game is that you can do them all, you don't have to chose a profession and then be stuck with it forever, do them all if you want to!

Once you have started to get the hang of things, and you have a few levels under your belt, there are so many things to work on. You can salvage wrecks left by combat pilots, or explore derelict ships that are everywhere. There are planets to explore and even a whole galaxy of systems waiting for the adventurous pilot to explore. There are mining drones and even mining barges for you to control.

If all that isn't enough, you can create and manage a corporation and you can even have your very own settlement that other players can visit and earn you plenty of money!

The community is incredibly friendly and like no other I have come across before. Everyone is ready and willing to help new pilots on their journey to greatness :)

We have all sorts of competitions and challenges to get your teeth into, as well as hundreds of missions offered by NPCs to keep you busy, and of course, there are some amazing rewards!

So what are you waiting for? Pop in, say hello, and begin an incredible journey with an excellent storyline. I look forward to seeing you soon :)
Bebeb
June 04, 2016 at 09:51 am
I have played Core Exiles from the second day it was open. It has been the most oft played game by me since that day. It holds my attention purely due to the dedication of the dev team. In all this time there have been constant updates and upgrades of both new content and making existing content better, some of this is player driven via the suggestion forum threads, I have not seen the consistency of this in any other game and we are told there is plenty more to be added and not just for the long time/high level players, low and middle level players also get the upgrades and some of the new content.
You are playing CE your way from day one, once past the tutorial it is your choice what to do next. It could be seen as daunting but i found if you take little steps anything is possible.
The community there are second to none for help and assistance in any of the many varied ways to get help, chat, PM in chat, mail or through a guild mentor/member, forums and the FAQs.
If you don't like waking up to all your progress wiped out this is the game for you, no server wipes/restarts and no PvP where others can put you back to square one.
Moonblade
April 21, 2015 at 09:46 pm
Awesome game with fantastic community. Dont miss out on this one !
Rexx Shredd
April 20, 2015 at 03:48 am
I started playing Core Exiles ten years ago. I had some life-changing events happen right after that, and remembered how great this game was back then that I actively sought it out four years ago. What it doesnt have in CGI it more than makes up for in content: Like the poster below, Ive been back for four years and there are still a multitude of things I havent done and places I havent been yet...but the BEST thing about Core Exiles is your sense of independence: there are no best "builds" or follow-the-dots to the next level - You are your own master here and you tailor the game around who you are and what you do... I cant think of another game that allows for this type of personification
Zoorland
April 19, 2015 at 03:18 pm
Core Exiles is a constant source of enjoyment. A massive, sprawling game but at the same time easily accessible and compartmentalized. There is no end to the things you could do every day, yet every activity can be embraced or ignored as you see fit. There is no direct PvP allowing for a relaxed and enjoyable play experience with no threat of griefing or bullying, yet numerous opportunities to coordinate and cooperate with fellow players on game-wide projects, raids, and in guilds. The game is also actively developed, and new avenues for growth and play are added frequently.
Paul Cooper
April 19, 2015 at 09:04 am
Hi there I'm the owner of Core-Exiles a game you recently add to your site. Can i ask that we replace the image as the one you have posted is a poor choice being an error screen and also with all four tabs open.

If you let us know the image format and size I will send you a few to choose from.

Coops
pikolinianita
April 18, 2015 at 11:20 pm
It is really Cool Game! Large, Complex, And no PvP, so you can learn it in your own pace.
Simply brilliant.
aRJay
April 18, 2015 at 10:52 pm
After nearly 4 years I am still finding new things to do, not counting the new possibilities that are still being added by the superb DEV team.