Creature World
Creature World is a browser-based simulation game where you can create and take care of pets. The list of various pets includes Elestri, Mahara, Furetto, Neharas, Zenzor, Gnobun etc. You can increase pets' level, health, stats and battle points. Don't forget to keep an eye on your pets' hunger and happiness. You can explore Creature World where you can visit Skylight City, Hicksville, Ashe Grove, Crystal Waters and Seakiru Sea with each having different activities and possibilities.





(4 votes, average: 4.5 out of 5)
Rate it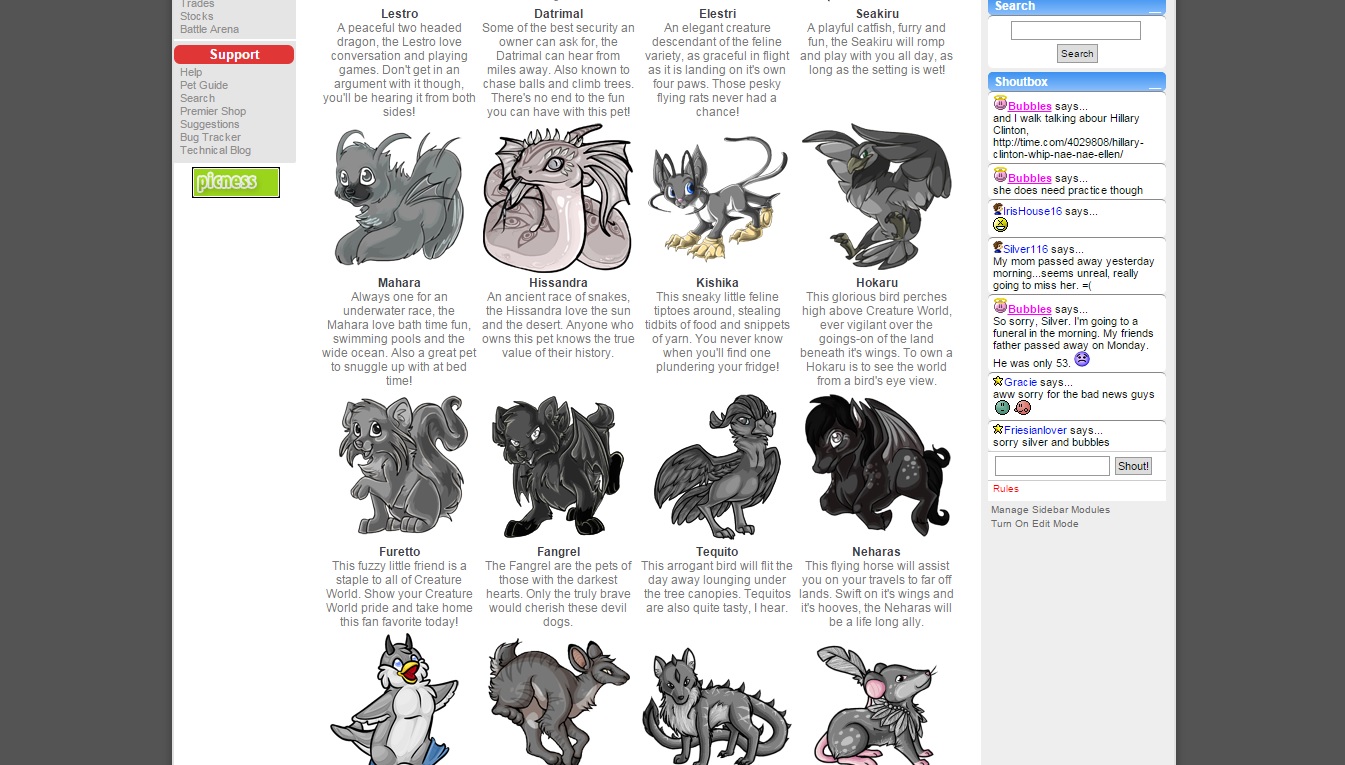 1

comments on

"Creature World"
Peter
September 13, 2015 at 03:55 pm
CW is a fun place to hang out and play some games, it is a nice place to chill and speak to people. With the shoutbox you can basically instant message everyone on CW (as everyone can see it) and anyone can reply! It is a great way for group chats and for everyone to get to know each other.




Games are a big thing for CW, lots of fun ones and lots of boring ones! You can find games all over CW including; the games area, explore, shoubox and the forums. My personal favourites are Who Want to be a Billionare, CWudoku, Santas Quest and Lottery. Some are more challenging than others, daily games are a good way to get rare items and it also makes it easier for newbies to get cPoints. Challenging games will obviously give a bigger reward. For example in billionaire you are given 10 questions that you have to answer and when you get them all right you will get a rare prize! CWudoku can also be challenging depending on the level you go for, the harder the level the more rare the items.

The daily games such as random, tombola, guess, jelly bean contest and sword in the stone are good to play as you don't spend long at all doing them!
Lottery is a new game to the site, it is like lottery in real life, purchase a ticket and when the lottery is drawn there are 2 winners who win 150,000 cPoints! It is worth buying a few tickets!

We also have staff run games such as Friday Night Fever and Saturday Night Fever. FNF is mainly always Bingo night which I don't play very often as it is a bit boring for me and doesn't really interest me. SNF is occasionally played and this isn't very often Bingo, it is usually a selection of games like shoutbox games for example.





When you join you have the chance to customize your profile, bling it up or dress it down! Many users put wishlists on theirs so other users know what they want and what they can gift to them – it can also be used as a reminder for themselves!

It is also a nice place to put pictures up of where you have been recently or you can put artwork that you have drawn or that people have drawn for you! It is just a nice place to customise your area how you want to.

Below is my profile with one item on my wishlist and a picture drawn for me by Kuugi.




Human avatars…one of my favorite things on CW! This gives users a chance to personalize their own avatars to how they want them. They can be dressed up for occasions or just to what they wear everyday IRL!
With the choice of outfits available on the site, you will always have something to choose from!

With the human avatars you get the coolest clothing items from the premier shop, the premier shop is a place where you support the site by buying premier credits then you can buy awesome items with the credits.




And now I move onto collections…a very fun and challenging thing to do on the site. I mainly only collect gummies as I don't have time to do them all as there are so many!
We have many different collections on the site including sticks, squishes, bugs, gumballs, gummies, teddy bears and mushrooms.

The best collections are when users get a month to collect 500 items and put them in their collections in order to get a special prize at the end, this is a great way for members to interact with each other and trade with each other, brings a lot of excitement to the site!





The explore are is a nice feature to the site, this gives you the opportunity to visit areas on the map and you can do special things in each area, for example in Hicksville you are mainly based in the countryside doing farming. You can buy and grow seeds there, go to the farmers market and do some quests for the farmer!

Hopefully new areas will keep being explored as it is always exciting when something new comes to the site!

There are lots more areas I could talk about but then this article would be way to long so I will just summarize them!

First of all you have the trade center, this is a way that you can trade items or cPoints with other members on CW.

We also have the auction house where you can auction of your items and other members bid on them, another feature to this is the blind auctions where you bid and you have no idea what you will receive! The bargain meter kind of gives it away so I think it would be nice if it was removed – gives more of a mystery to it.

We also have forums where you can post games, meet new members and basically talk about CW!

We also have Echo's Darkside Shop + Games which is run by Skooter Lee, this is really fun because for every game you play, you receive points, and with those points you can redeem rare items which you can only get one way...by playing the games!



And that concludes my review of CW! I love this site and the members on it, would just be nice to have more!