Cycling Simulator
Cycling Simulator is a free text-based browser game about virtual cycling. Under your team you can always keep an eye on your team riders and their skills. Staff contains mechanic, doctor, trainers and bus drivers. To train your cyclists you can send them to training camp and hire special trainers. Calendar includes all upcoming races and tactics allows you to think about strategies. Go for shopping, equip bicycles with best items, find new talents to recruit them and participate in various races.





(17 votes, average: 4.53 out of 5)
Rate it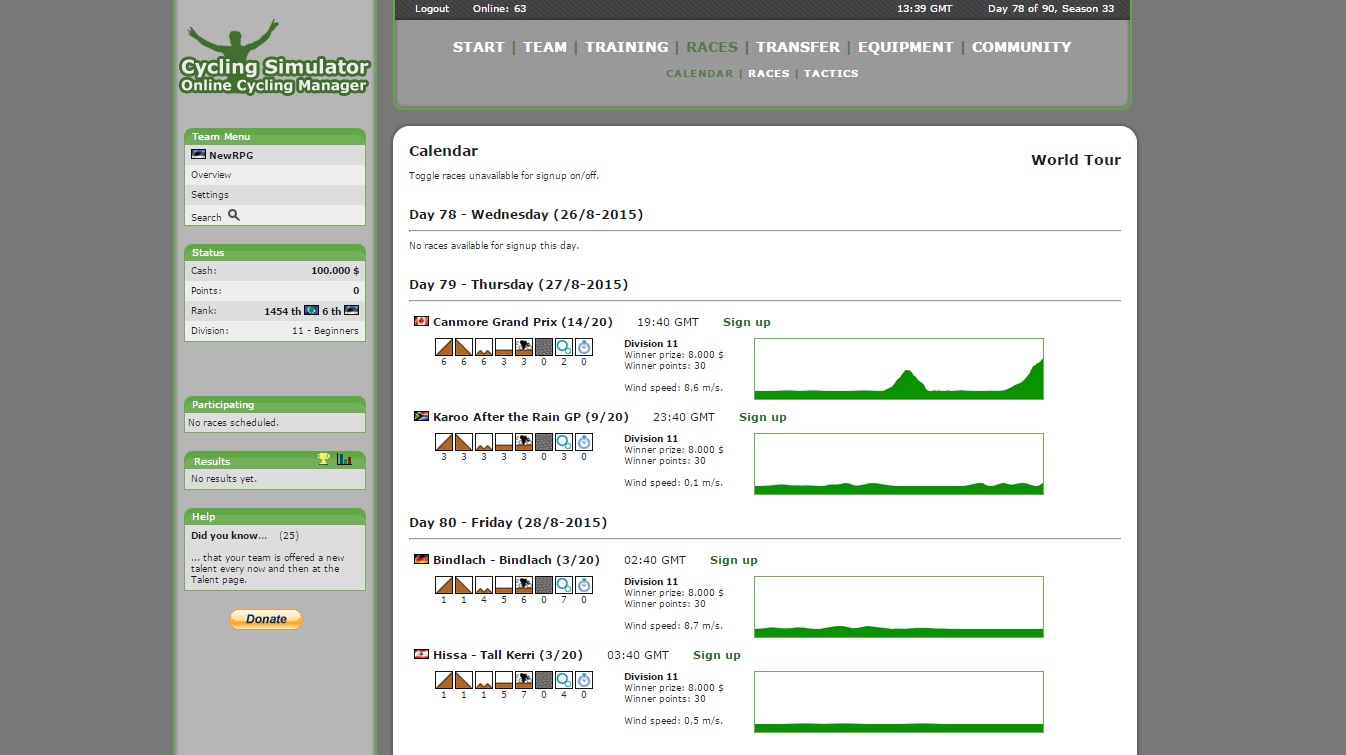 2

comments on

"Cycling Simulator"
DeRodeLantaarn
February 21, 2019 at 11:37 pm
I see you are in division 1 now Bubba?
Well played!
For a game you hate so much.
Bubba
June 20, 2018 at 12:03 am
Browser cycling games are a rare quantity on the internet these days and that truly is sad because it can be a very interesting subject for a text based manager game. The unpopularity of cycling as a subject for a game might be due to the rather obscure nature of the pro sport, plus the problems present in the sport such as doping which doesn't help much either. Although professional cycling is very popular in Europe, through out the rest of the world cycling is considered a minor sport at best and it's pretty much ignored by people interested in the other major sports such as American football, baseball basketball and others. If a cycling game is going to make it and be any good in the text based browser game world then it must be well done and portray the sport realistically. That unfortunately is where OCM fails and it fails miserably and I will telly you why. So stay with me.

First of all the games name is quite confusing because it is not a cycling race simulator like the title suggests, it's a text based manager game. If you want to play a cycling simulator then play Pro Cycling Manager because it is hands down the best true bike racing simulator around. This one is not good and you would have to be on dope in order to play it! So the moniker OCM or Online Cycling Manager would be a better fit and the simulator part needs to be dropped from the title because it is untrue, just like most of the other aspects of this poorly done manager game are.

I could literally go on and on about how badly this game was done but that would take a novel and would be way too boring. Which this game is by the way, boring to the max! I'll tell you about a few of the misconceptions in this game and that should be enough to keep you away. I do mean stay away because it is not a rewarding experience like many other sports management games are. Other games of this ilk rely on the players imagination and once you start this one that concept is totally thrown out the window because of the multitude of very unrealistic things present in this abortion. Plus it takes way to long to accomplish simple things like sending riders to do non race jobs in order to earn money.

The game has a rather nice concept but thats where the nicety ends. As an example, Under 23 or U23 races for riders 23 years and under are present but U23 in OCM is only for riders 22 and under. Once the rider reaches 23 his eligibility to race U23 ends which is not true in the real world of both pro and amateur bike racing. Most everything present in the game is the same but its the difficulty due to a lack of any real thought having been put in during the development phase of this manager game that is maddening.

Tours are present but they are far and few between. Apparently this monstrosity being an European born and bread affair caters mainly to euros because just getting in to a tour is very difficult. Tour entry is not based on merit, its based on a first come first served basis and this will lock your team out of ever being in a tour if you are unable to stay up all night long just to get in to a tour in this game. So being in an important race like a classic or a tour is a hit or miss thing. The game should send an invite to deserving teams that have accomplished something other than creating a team and then being the first to see the tour sign up. In the real world teams get invited to the TDF not because they were Johnny on the spot first but because they have some top riders on their team and because they earned it.

The only division that earns anything is the top division because they were able to make it to the top, so they get all the perks like being in the World Championships. This is one of this games major faults. Since it is extremely difficult to earn or get money in the game then that means that division 1 contains the only teams that can actually enjoy the game and believe me, even with that there is nothing to enjoy here. Division 1 can make money a lot easier than lower ranked teams so that means that they are stocked with the best riders and they get to be in the best races. This relegates everybody else to the position of needing to scratch their way trying to get a few bucks working jobs or trying to win races (which pay a pittance) in the low divisions. This keeps the top teams in the top division and all others trying to get to the top and that could literally take many years to do.

Everything in this game costs a lot and since it is extremely difficult to get money that makes the top division teams the ones that rule this game. Then they bitch and moan if any rules are changed so bad game things are never replaced or improved. Equipment such as wheels and frames cost an enormous amount of game money and it will take a new manager literally years to be able to save up in order to buy the stuff. Then when the manager gets it he can expect a whopping .5 to 2% help in winning races. 500k to purchase a bike frame for the measly 2% chance of doing better in a race is an insulting joke but thats the way this game plays out in pretty much every aspect of the game. Training a rider costs just as much and thats a hit or miss proposition because most of the talents or as I called them, non-talents just aren't even worth the bother of training in the first place. Then if you happen to find a good trainable talent the chances that he will stop training early and never reach potential is very likely.

I could go on and on but will stop at how the races are run. A team could have a rider that is above and beyond the talent of other riders and you would expect him to have a pretty good chance at winning or placing high in races but the outcome of races all seem to be based on a roll of the dice, plus the way top form is handled which is very stupid. Chances of getting injured or having an off day is very high and it's debilitating. It makes having an extremely expensive rider on your team be a waste of time in the first place because by the time they win a race or start doing good then their skills start declining. Off days seem to be used in order to keep the real good riders from excelling. That goes against real racing in the real world.

One of the worst aspects of this game is the many unclear rules that govern probably the biggest part of this game and it is simply atrocious. I have never seen or experienced anything like it in any other text management game and I have played many. The way rider transfers are handled is simply horrible and that right there is a very good reason to stay away. It's that bad. The transfer deal has to be negotiated on the games forum and it is subject to being approved by the game admin (when ever he might be around) and the other managers in the game. If other game managers get together and decide that you have made what they call a "too beneficial" trade for your team then you will be expelled from the game no questions asked or reasons excepted. Essentially getting kicked out of the game for unwittingly breaking the rules. It doesn't matter that it might have been unintentional or a first time offense because you will be tried and judged by the games developer Nick and you will be banned. Then he doesn't even have to common courtesy to inform you if or when the ban will end. Very insulting. I have never seen anything like that in any other game that I have played. Other text manager games have everything automated and handled by game programming so that no human bias or subjectivity will ever come in to play. This game relies on human intervention in order to trade or transfer and it is literally a mess. That's the major reason to stay away from this game because that is the only want to get better or good riders and talents.

The player population does contain some very nice people but if some of the other not so nice or agreeable ones don't like your opinions then they will troll your posting and they will pile on and you will be scorned. With that said, if you do decide to give this one a try do not share your opinions on the forum because you will be shouted down by what seems like a chorus of brown nosers trying to gain approval from game admin. With all of the above said, I wouldn't recommend this joke for any reason. Since 1 star is the worst you can rate a game, it gets only 1 star from me. Too bad zero stars can't be given because that is what I would rate it. My suggestion is to maybe create a team, go back to check things out for a week or so and then quit and abandon your team like literally thousands of other bike racing enthusiasts have done. You have been warned, stay away from this one, it's that bad.