Dark Grimoire
Dark Grimoire is a free fighting text-based browser game. Create your character and keep in mind that you can create many characters and increase their levels. Under Inventory section you can find equipped items. You can also keep an eye on your character information such as level, profession, gold, power, HP, stats etc. Movement section gives you an opportunity to explore the world and move aroud in different directions. Guild Hall informs you with your available points.





(37 votes, average: 4.41 out of 5)
Rate it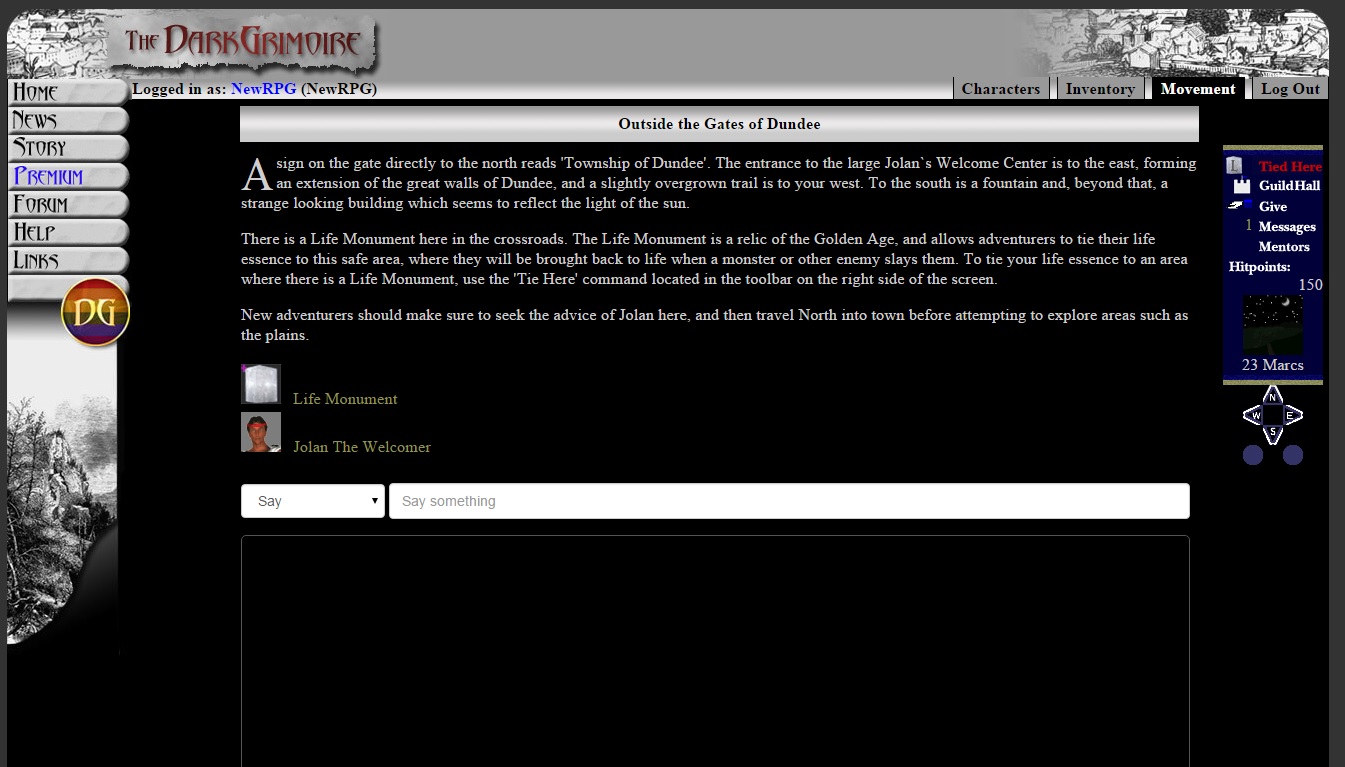 6

comments on

"Dark Grimoire"
GamesALot
September 27, 2020 at 09:22 pm
Great game for any RP level - especially easy for newbs and lots of people to interact with, intricate story lines available for the the experienced :)
Grinding, questing, or just chatting available.
John Smith
January 24, 2020 at 11:45 am
Great game for anyone with a brain. RP is a must but grinding and exploring are options as well.
Fabulous and welcoming community to boot!
soawesome12
February 24, 2018 at 01:43 am
The Dark Grimoire is an amazing medieval era text-based browser game! As others have mentioned, player interaction and roleplaying is a key component. You can shape and develop your own human character(s) in the world of Valorn and participate in a plethora of both admin and player run events.

In addition to the combat and quests available, there are thousands of rooms available to explore and read. The dedication of the writers, players, and admin team is phenomenal and makes Dark Grimoire unlike any other game I have ever played.
GamerGrrl87
June 18, 2017 at 10:19 pm
Good game :) The meat of the game is in player interaction. Grinding quests available. Free to start, super cheap for their 'premium' compared t everything else out there.
fan tom
September 27, 2015 at 11:15 pm
this is a cool game as long as you enjoy interacting with people
charles graves
September 06, 2015 at 08:05 pm
If you like RPG's then this is a great game to play.