Dark Throne
Dark Throne is a text-based massive online adventure game. There are four races and it's up to you which one you choose. You can choose between Undead, Humans, Goblins or Elves. Create your character and make it stronger. Try to get the best armory and weapons. Form a group of friends and play it together or choose to play the game by yourself. No matter how you choose to play the game, it's still a lot of fun.





(6 votes, average: 4 out of 5)
Rate it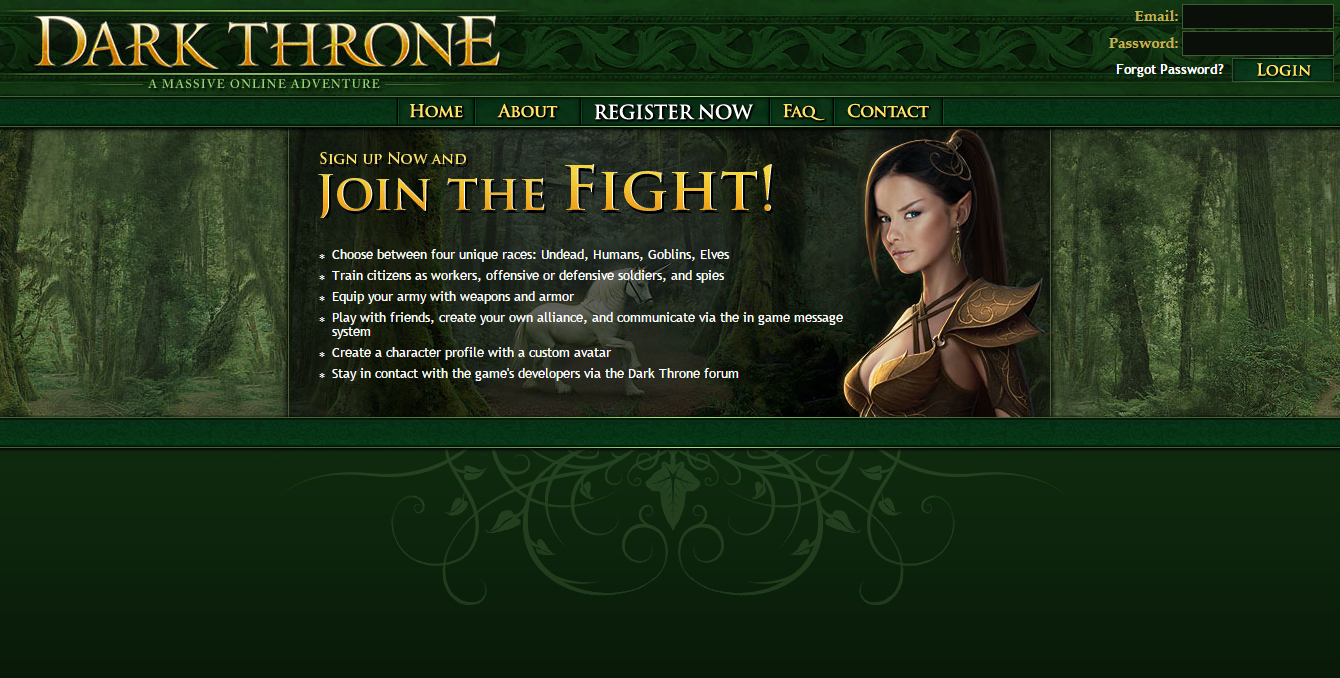 6

comments on

"Dark Throne"
Lucas
February 11, 2020 at 10:26 pm
Sadly it is extinct, my last login was July 2019. Tried log in today, got the bad news. Cheers for you DT, you will live in our memories.
Kevan Harris
November 24, 2019 at 10:22 pm
The game is non existant anymore it is offensive just being there. they should just start over from scratch. Zero all accounts anyone who hasn't logged in in a week loses their account. that way they might actually have an active game at least for a few
stingerbot
December 28, 2018 at 06:37 pm
I used to play way back in the day when the game was pretty active, and sadly I've just logged back in to see the game completely extinct. Shame, it was a great OG text based game
Leon
January 19, 2019 at 03:40 am
try Lord Of Chains, We have over 100 old school Darkthrone gamers.
Mr.Nobody
June 04, 2017 at 12:48 am
I was happy to find this again after so many years. But like toppkkekk mentioned there doesn't seem to be any activity anymore :/ Forums have few new posting, mostly just bumps for alliance recruitments. Otherwise the game seems like it's been stagnant for years. Which is a real bummer. This game was the OG of text based games back in the day. Oh well :/
toppkkekk
January 28, 2017 at 12:47 am
No updates in years, not even a single post in the official announcements since October 2012. This game is dead though there are still a couple hundred (generous estimate) that are still active on there.
Coiner
June 03, 2015 at 04:11 pm
One of the first browser games i played, but since they didn't update enough it seems like the game has stayed in one position for a long time so kinda doomed to extinct. Also i didn't play for a long time and now if i log in, i can't, but i know my account details are correct and i really don't want to start from scratch again.