Dawn 2055
Dawn 2055 is a free text-based browser game. Select your specialization and begin your adventurous journey. Have a look at various missions and read through their short description, required skill/stamina, mission level and the reward. In addition, take a look at crew members to hire and select them by comparing their level, skills and equipment. Inventory section informs you with your current equipment. You can visit shop to purchase more equipment and try out crafting your items.





(24 votes, average: 4.5 out of 5)
Rate it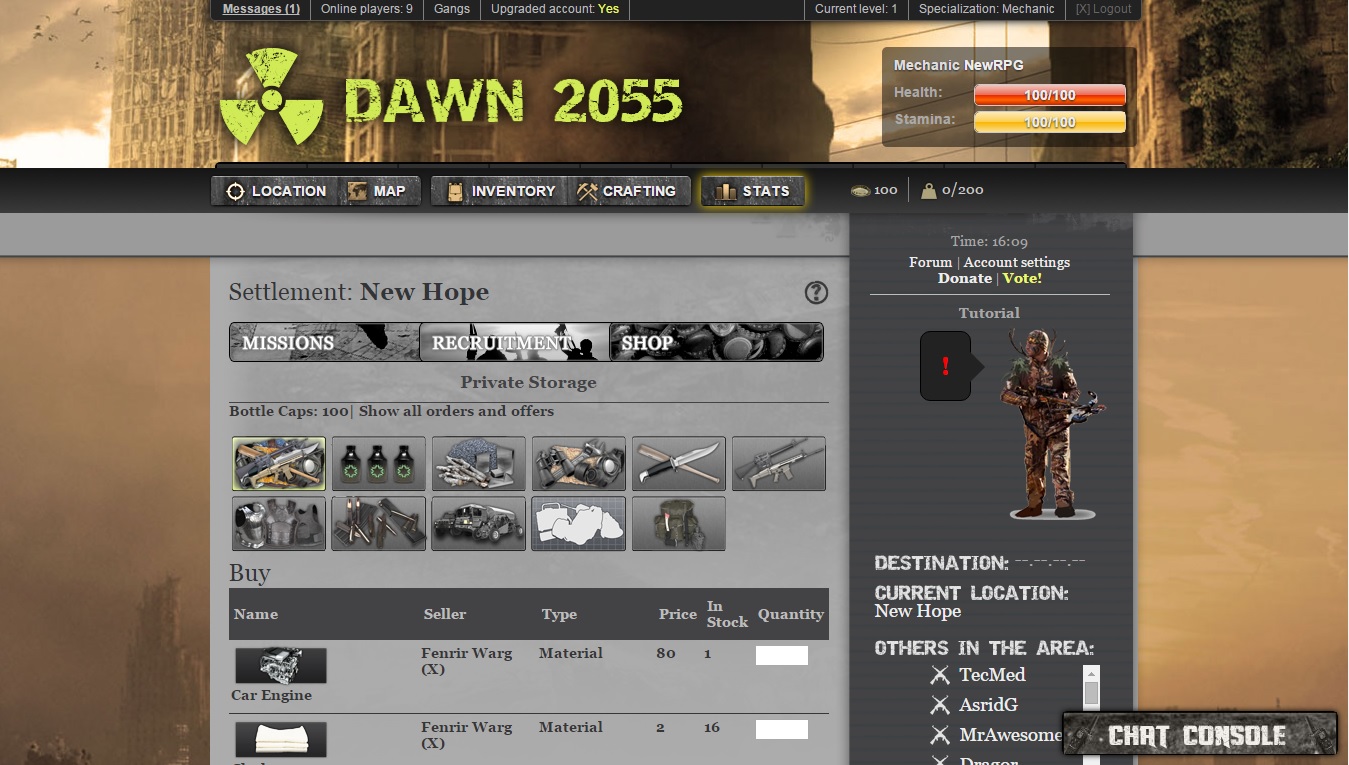 11

comments on

"Dawn 2055"
Blaster
November 30, 2022 at 05:14 pm
Recently it has been remade completely with loads of new stuff added and all the old cool stuff still there, check it out!
YESSSS
December 30, 2017 at 08:15 pm
Dawn 2055 is one of the best browser text based game a strategie - post apoc game - survival and there is a lot of build , deplomacy and gangs war.
Dawn2055
August 17, 2016 at 12:04 am
Hey there. Dawn 2055 recently have gotten a large update rearranging radiation placement on the map, adding vehicle garages, camps and removing last NPC towns making the game fully player driven!
Dandersnuff
June 07, 2016 at 07:42 am
I'm hooked!
Sainty
October 06, 2015 at 10:17 pm
Loving this game so far,I'm a New player ,and find it very addictive,great little game ,NCP fighters/dogs,roaming wastelands ,salvageing,hiding stash's,
crafting and fixing weapons,armour,and equipment.
hiring mercenaries,buying and selling at shops and that's just to name a few,
Brilliant game.....Love it :)
Freeway
September 19, 2015 at 01:12 am
This game. It's great to run in the background while your working.
Raynor J
September 12, 2015 at 10:05 am
Great game, newly revived and with a loyal and active player base. Takeover the wasteland with me ;)
Binky
September 12, 2015 at 07:05 am
Its the best Free text based browser game i know.
make money(bottle caps) with looting members, crafting and selling to pay my commandos.
Deadshot
September 12, 2015 at 02:10 am
Addicting game with an active and enthusiastic developer. A post-apocalyptic sandbox with a map based on actual geographic landscape and a dedicated community. Salvage, craft, fight and see if you can survive and thrive in a world stripped of most civilization. Will you scavenge the wastes? Work as a team to take down roaming bandits and mutants? Forge a new society from the irradiated sand?How you play is up to you.
Jagon
September 12, 2015 at 01:11 am
Great game! Stick with it for a week or two and you will see it as it is: a balanced, fair f2p game. 6 out of 5 stars.
Mark Brown / LootDoc
September 11, 2015 at 06:19 pm
Awesome game ! Select your character type hunt bandits and NPC bosses , dig for treasures join a gang to help grow your level and crew