Dead Awaken (OFFLINE)
Dead Awaken is a free text-based online game that is about zombies. About four months ago zombies started to rise from their chests for the first time. It looks like there's no hope to survive but zombies can be trained. Although, these zombies are now returning against people. Zombies know how to use everyday items and they can think for themselves. They are stronger and more dangerous than ever. Join this game and defeat zombies forever.





(13 votes, average: 3.77 out of 5)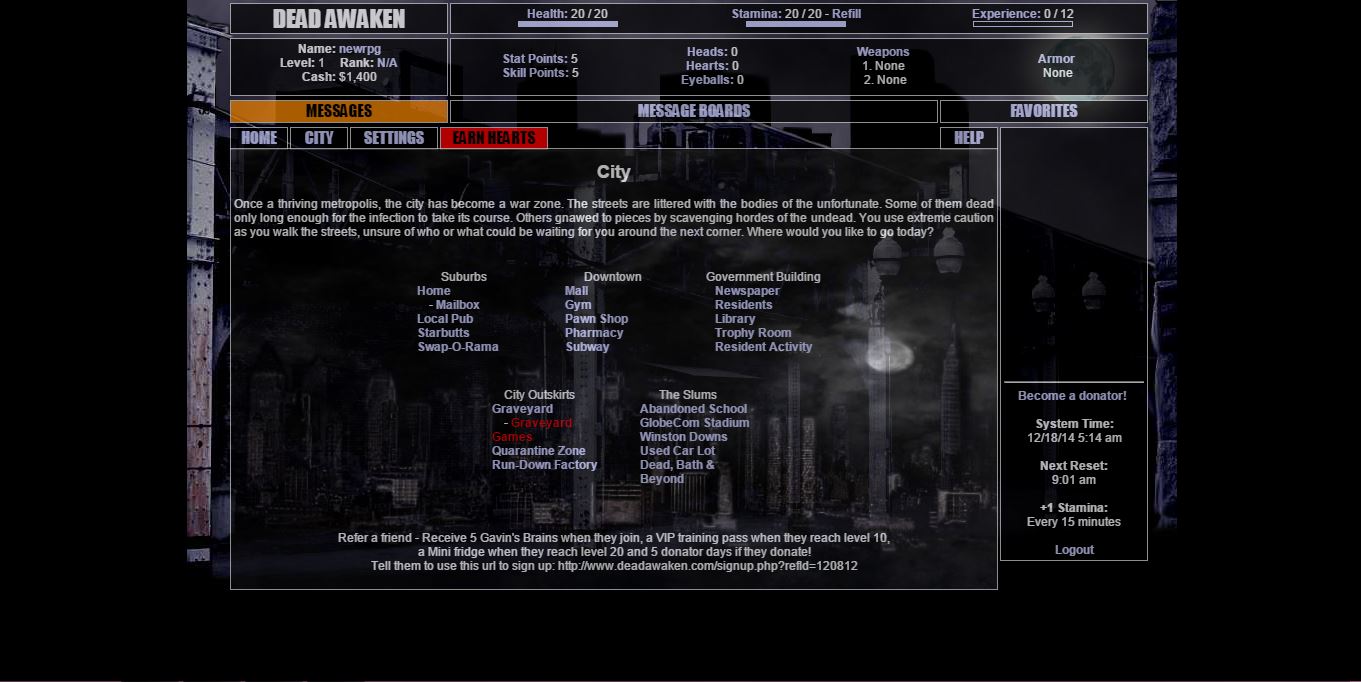 19

comments on

"Dead Awaken"
Steve alpine
January 13, 2021 at 10:59 pm
Yea this game was ahead of its time in different ways... Such a shame to have hundreds of us put 1000s of hours on it just to be thrown in the trash. Such a strange thing to see so many memorable names even in 2021 here... Just randomly googled to see if there were any other games like dead awaken, because even after all this time I still miss the grind. Dont really remember what my last name was I used but Harper here, former leader of top 10 (at the end) mob, Eraphon. Had many account restarts in the early days but JoJo and the SCC got my on my first real hot streak. Broke off with them eventually and had a blast competing against all my peers. This game had potential to adapt and morph into something so much bigger than it ever became under Dans leadership. ( which was fairly little anyway)

Miss all you guys, cool to see some of you still alive. If anyone ever made any sort of reiteration of the game... Mobile or other wise... Could very easily become something great again...
Mephusto
January 12, 2021 at 11:57 am
Mephusto from Pastafarian Brotherhood. I miss this game so much. I was addicted for years. I miss the old mates from it.
Marx Elfindel
December 21, 2020 at 08:08 am
This was a blast! Irken Empire always! Really enjoyed finding new ways to twist the game! Mac, Wicked, Envy, nun puncher, and the rest, it is good to see you all still alive at the end of the irl zombie apocalypse. Hoe you all are enjoying life! If this game came back, especially for mobile, I would play.
Mick
July 28, 2020 at 01:17 pm
This was a thrash game, but the players and mob rivalries and forums were what made it.
This is []D[][]V[][]D from the Pastafarians
Chris
December 15, 2020 at 10:30 pm
Loved this game. Just chatting about it and tried googling it.....gavin and Frost were the big hitters, was in a guild with Frost. He had some rl gun stash hahaha. All the best to you all.
Mcghue
Emily
November 18, 2020 at 07:49 pm
Wow! Crazy that there is still a message board for this. I don't game anymore, but I remember all of you! Babygirl Deathstaker here!
ninjo the exorcist
July 22, 2020 at 01:51 pm
dan only used half the graphics i sent him before he fkd off >8[
Illusive Man
May 13, 2020 at 12:07 am
Wow, played this game for a long time...I miss the pastafarians, so many great friendships and great times.
peggy stein
May 07, 2020 at 06:24 pm
Yep, I miss the game as well..... And I met Inky there. Now we play Torn.
Inky
May 04, 2020 at 08:30 pm
Dead Awaken was good and very addictive shame the owner couldn't be bothered with it.. 10 years + i put into that game can't say i miss the daily grind of searching the GY.
A baby Bunny
April 08, 2020 at 05:20 am
Oh god i remember this game. I was part of a few clans. I only really remember some of my last names i went by. Ababybunny, Rabbid island baby bunny. I miss Luvs, and Ciroceo, theirs was the first clan i joined.
James Innes
February 26, 2020 at 01:44 am
James Innes Multi here i loved this game ans my biggest regret was helping a friend on the same IP and because i was addicted i couldnt resist returning loved getting on the leaderboard for 100 victories 0 deaths ans Keep Away and finding Chicken in the graveyard and just investing it in Intel had more donator days than days played wish they would bring it back
Envy
December 20, 2019 at 06:55 pm
Envy here, you know you miss me.
Pleasehelp
December 01, 2019 at 04:39 am
Pleasehelp over here...miss the og spartan days when 1k/5k Intell was new and level 25 search was insane..hope all is good with everyone..irken yes
Gigglebeard
March 21, 2020 at 10:19 pm
Why did I google this game in 2020? Also why did I see a post from a guild mate from a few moths ago? who knows(: Anyway, i was feeling nostalgic about the game, and your post made me more nostalgic(: I was Leonidas and gigglebeard back then. I was one of the leaders of the Spartans(:

It's strange how long ago that was(:
Robert
October 30, 2019 at 04:14 am
Was a member of The Psychedelic Circus and saw the Merger with the bastids.. I'm trying to remember the usernames of all my homies from there but its been so long.. User name was Thorion if anyone remembers by chance!! If so hmu @LONEMEDIAPROD miss you guys!!
Kitty
September 07, 2019 at 06:50 am
Damn. I was hoping this was still around. Princess of Pickpocket/Deadly Deviant here. Glad you're all still up to no good.
Calvin
March 19, 2019 at 07:57 pm
This game was likely one of the only real, quantifiable addictions I had. Constantly doing calculations in my head, drifting off to sleep wondering if I could really afford that extra +1 from the hideout, all the big new things: introduction of eyeballs, the rise and fall of the Irken Empire, The Psychedelic Circus merger with the Bastids, the strength comeback, donator packs that I bought far too frequently. I miss you all!
- Calvith or Naxeusyll
Scott
September 08, 2018 at 07:29 am
Miss this game. Wish they would bring it back!
MAC
August 01, 2018 at 11:50 pm
Dabs to all my Irken Empire Cronies! Hope this message reaches you. Miss you guys and the crap we pulled in that game. This is MAC ;) the one and only.
Nun
November 04, 2018 at 03:14 pm
Right on Mac, Nun here, still pulling the same crap in other games
Will
July 30, 2019 at 03:46 pm
Irken fam bam

-lord wicked
LordHatred
August 17, 2019 at 02:42 am
Lord Hatred here.. the original.... Nun Puncher, you still mah hero, looool
Sacky
August 02, 2018 at 10:18 pm
Damn.. since when is it offline? :(
Chris
September 02, 2018 at 08:23 am
Wish this was still around ... I miss it as well
Jenn
March 24, 2018 at 12:58 pm
It, for me, was a lesson in patience. Waiting for my refill was maddening. Thank goodness for the forums. I miss that game.
Rick
December 18, 2014 at 09:41 pm
Dead Awaken is a great text based game for those who enjoy building things up over the long term. I've played for several years and enjoy the competition and fellowship the game develops. Join up and join a mob or horde and build your character to compete!