Death-Empire
Death-Empire is a simple medieval themed, empire building TBBG. Create your village and manage your resources: food, gold, stone and water. Food is the most valuable - needed to feed your army. Increase your resource production, for example building more mines to gain more gold. You can upgrade your buildings and also queue your upgrades. If you have enough soldiers then attack other players, but don't make too many enemies. Making friends and allies is more important, start by joining a clan.





(12 votes, average: 4.92 out of 5)
Rate it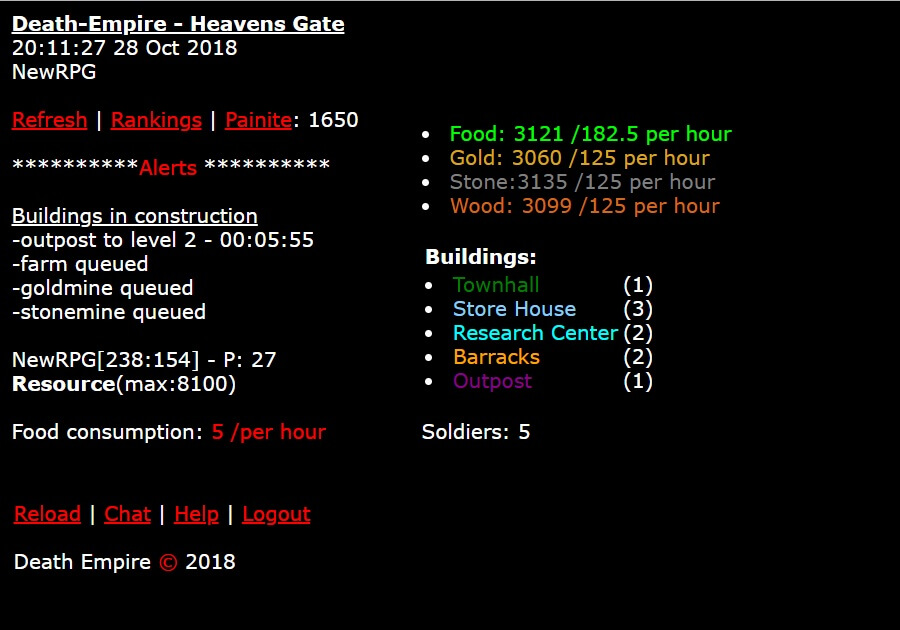 5

comments on

"Death-Empire"
Jaco
October 30, 2018 at 06:47 am
Great game. Closest to moondase youll get. Lovit it.
Kabelo
October 30, 2018 at 06:32 am
This is a really awesome game. Being a player which watched it develop from day 1 in beta stages, Iam still playing it till today. It allows for different strategies which caters from players of different types. Whether a raider, or one who builds multiple bases for army. This is a game I would recommend to all.
J0K3R
October 30, 2018 at 04:47 am
Death Empire is a great game . Reminds me of one of the mos successful text games called moonbase .
Death Empire has lots of potential to grow and i would recommend it to anyone who love playing with strategy , fighting alongside clans and just for the love and fun of the game .. If u join hit me up my player name is J0K3R
VoRTeX
October 29, 2018 at 10:23 pm
This is a great game. Better than Galaxy Wars lmao. I dare yall to try and play this game, its very addictive
Gifticah
October 28, 2018 at 10:19 pm
The game is really awesome if you're into MMOs, probably even if you're not you can easily be hooked. If you've played moonbase before, this is a little better. The thrill is real!
Check it out.