Dominus
Dominus is an open source browser game. Online strategy browser game with very modern looks released in 2014. Some updates and changes are still made, but overall this game is complete and enjoyable. Very friendly community, easy to use and the chat system gets you connected with other players. You manage your own empire and the main goal is to increase your resource income. To increase your resource income you need to send units who explore the world and expand your empire territory.





(33 votes, average: 4.48 out of 5)
Rate it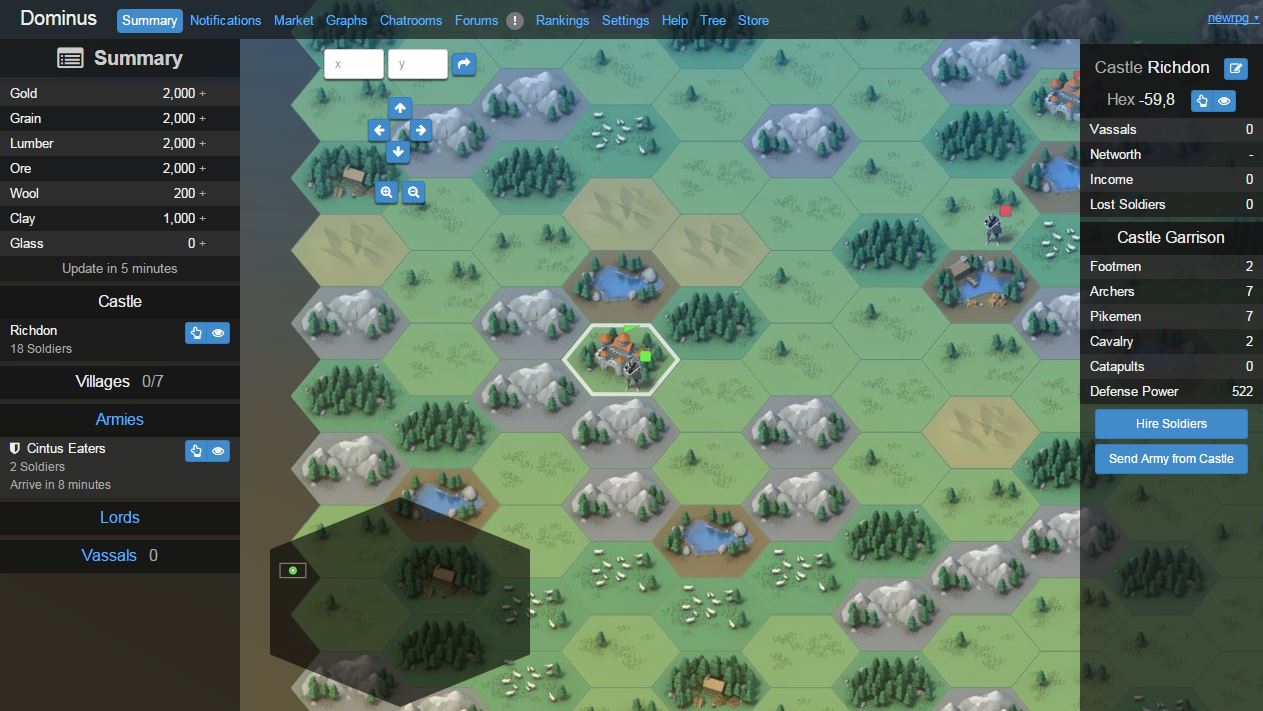 8

comments on

"Dominus"
SphinX
February 03, 2019 at 03:59 am
What a great game. I am new to it and highly recommend reaching out to the vets to have them show you how to fight properly. It takes some getting used to and it not a simple risk clone so it requires some thought on how the armys lay out. Generally good group of players who like to think and have fun testing out the new players.
Ender
October 30, 2018 at 03:15 am
I've been playing this game basically since it was released. There have been a few major changes but other than that the gameplay and community hasn't changed much. A lot of people talk about the speed of the game in their reviews, but there are different game modes in dominus with different speed settings so whatever speed you like you can find here. However the game is a huge time commitment if you want to be successful. It is very hard to do good in a match without being active. As for the actual gameplay, it is really really easy to learn how to play but difficult to master and compare with the veterans such as Alicorn, w00t, Retribution, Nikkita, and Dark Knight. The game itself is very addicting and most complaints come from people not being a part of the community. Most of the players have been around for a while and are pretty good friends with each other, so for new players to fit in and find allies comes with a little trouble but it can be done
FatalHydra
February 28, 2018 at 07:38 am
Love strategy? This is THE GAME! Amazing RTS that you can check on every few hours, and a lot of diplomacy is involved. Not boring diplomacy, either. Great community, will help you get started if you ask. Totally try it out, join a game.
5/5
QingDynasty
February 27, 2018 at 03:09 pm
Easily one of my most favorite games ever, it is an incredible slow-paced RTS, where political prowess is just as important and unit control/economy. A very unique game.
Atticus
February 27, 2018 at 06:16 am
Do you like Age of Empires or Starcraft? Do you like Settlers of Catan? Do you like Sid Meier's Civilization? This game is a unique combination of elements from all of those. It has the strategy of RTS games, the diplomacy of Civilization games, and the map layout of Catan.
Best part? It's totally free, and no in-game store to buy advantages with money, so everyone starts each new game at the same level.
It's hard, and takes dedication. Only join if you can take a whooping.
Chris
January 22, 2015 at 08:58 pm
A very strategic game that pulls you into its world.
The chatrooms become war rooms.
jason
January 21, 2015 at 04:33 pm
I like this game a lot. This is my only second game, but I am already so into it.
If you like Civilization type of games, you'll like this a lot too.
Jason
January 21, 2015 at 11:35 am
This is my third game and have really had a great experience. It is a slower paced strategy game so you don't have to be glued to your screen.The players create a fun and inviting atmosphere. If you like games like Risk , Stratego, or Axis and Allies, you will enjoy this!