Don City
(Online since

2022

)
If you love mafia games and gangster films, this is the game for you! Don City is a browser-based crime simulator in which you can live out your underworld dreams of becoming a gangster or mafioso. With over 26 different crimes to carry out, there's plenty to do in Don City! Earn money and buy yourself a bullet factory or casino, then start making friends (or enemies) with other players on your rise to the top.
Become the founder of the most respected crew Don City has seen. Show what you can do when you're behind the wheel, whether it is escaping from the police, being the getaway driver in a bank robbery, or a high-stakes street race.
If killing rival gangsters isn't for you, but stacking and ranking to the top is, then the location Venice is perfect for you. It has strict no murder laws, which even the gangsters obey!
Do you think you have what it takes to survive in this highly competitive and cruel world?





(5 votes, average: 4.2 out of 5)
Rate it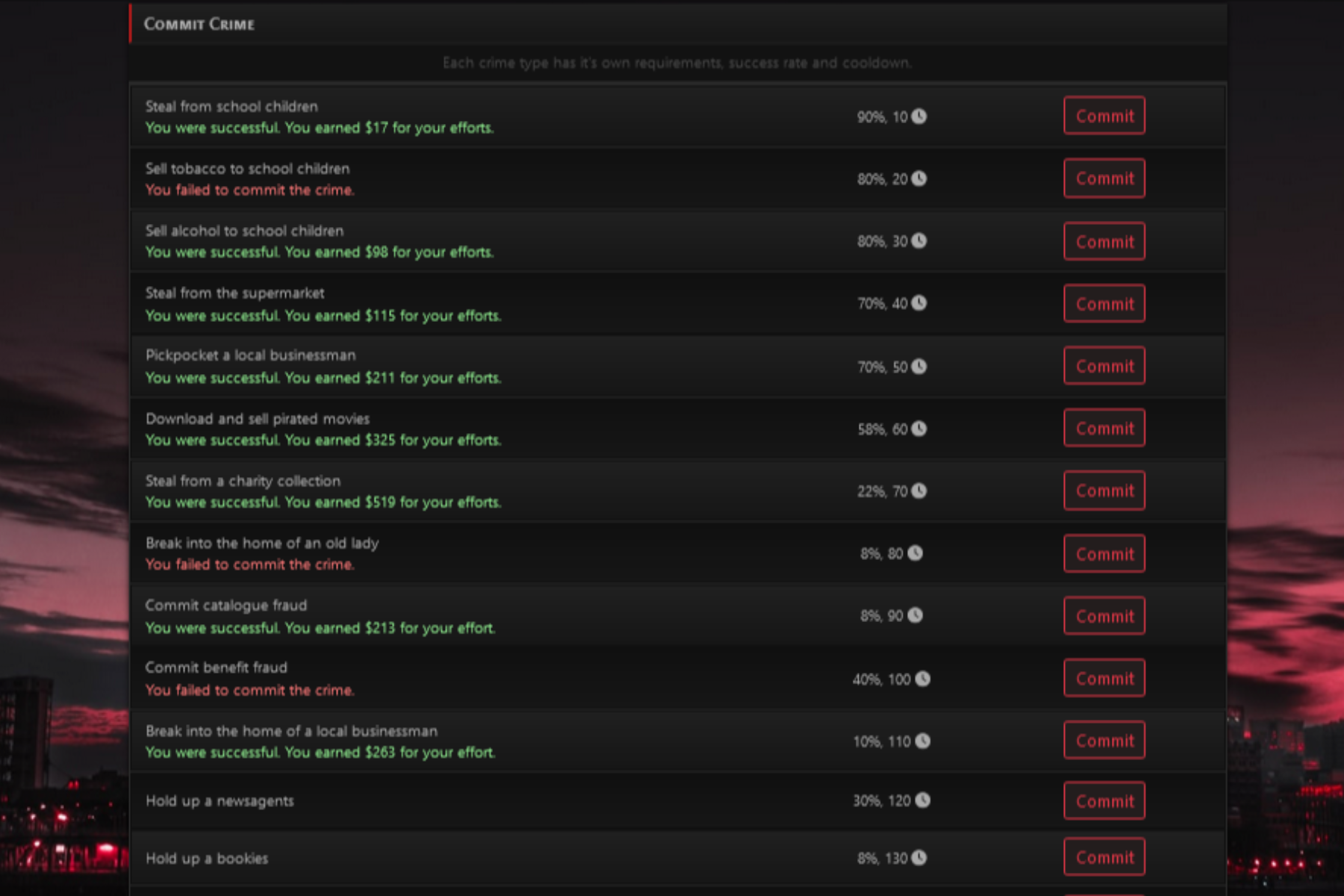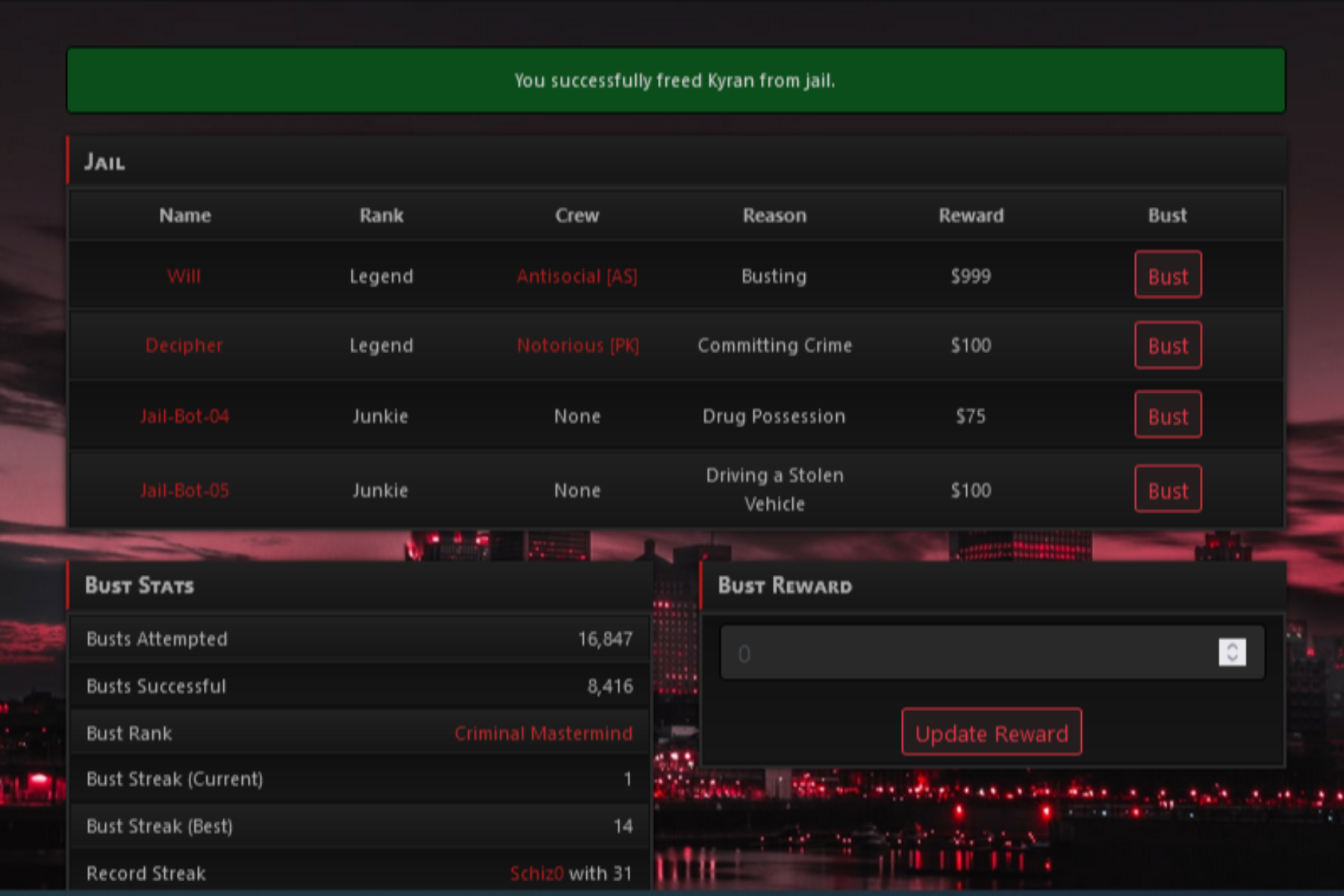 5

comments on

"Don City"
Guard
February 07, 2023 at 07:50 pm
I have played Don City since launch, and I am extremely happy to report to NewRPG that development hasn't slowed down. The developer/admin is still active ingame, in the community and brings out frequent updates. I really enjoy the game.
ReloadZx
July 30, 2022 at 01:07 am
I've not been a player of the online Gangster RPG for some time now but when I heard about DC I knew I had to have a look.

From what I've seen DC doesn't mess around. It has loads of cool perks to different features and always seems to have new features being worked on.

The staff are all friendly enough and have treated me with respect at all times.

An overall summery DC is the game to play and I for one can not wait to see what the future holds.
Peter
July 27, 2022 at 09:34 pm
Don city is a modern take on the classic feel of a text based browser game from early 2007. Don city captures the perfect niche of text based mafia games.

DC is driven by its community and the staff always listen and adjust accordingly if things seem out of balance. For example, adjusted xp rates and pay outs for organised crimes.

DC also utilises discord to keep in touch with its community, this not only allows a good conversation and a flourishing community but healthy debates on where the game is heading and want needs to be added or could be added moving forward.

Many classic features that we all love. Organised crimes, gta, crimes, bust users from jail. Police chase but also modern features. Racing, prem league betting and heists.

With an every evolving community and gameplay, I would highly recommend DC to new and old types of players for this genre. It's user friendly and it caters to people who have a family or work and can't spend 24/7 being active.

Join DC today.
Kyran
July 27, 2022 at 09:17 pm
Don City is a New and amazing online RGP Gangster game and for me I've got to say it's the best I've played and experienced.

From the modern and friendly UI to the ease of each and every action you honestly could not ask for much more.

The staff on the team are always polite and professional and willing to help in a heartbeat.

Updates are regular and always bring an added twist to features and maintenance is always ongoing in the background.

Suggestions and ideas are always welcomed with open arms and you never know yours just might make it into play.

And to wrap it up overall the game is just amazing I wouldn't want to invest my time anywhere else now I've found the ultimate Online Gangster RPG!!
Danny
July 27, 2022 at 07:49 pm
A really good, up-to-date game, mods listen to requests and take on board ideas. Great layout and easy to use. Very good so far, keep it up 🌟🌟🌟🌟🌟