Dragon Knights of Valeria 2
DKV2 is a cryptocurrency based Sci-Fi game originated from the previous version of the game - Dragon Knights of Valeria. Game consists of Planets, Battle Cruisers, Drones, Rebels, and other SciFi related featured as well. It's a fairly simply TBBG, except you can earn various cryptocurrencies along the way. All of the available currencies can be exchanged with other players, you may withdraw or deposit them or even spend them for in-game bonuses if you'd like.





(19 votes, average: 4.68 out of 5)
Rate it
Dragon Knights of Valeria 2 images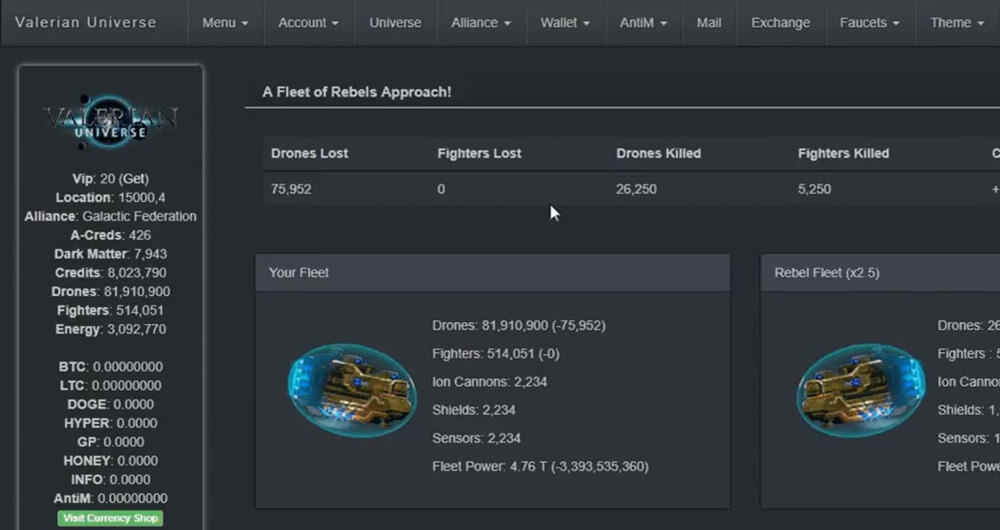 3

comments on

"Dragon Knights of Valeria 2"
Staltz
June 25, 2018 at 03:33 pm
This game has been around for over a year and is based on building a battle fleet and planets. The upgrades generate what you need to get Cryptocoins (several are supported). The Developer is Outstanding and very responsive to requests.

Recently, daily tasks have been added. Daily and monthly challenges are coming soon.

Good luck!!!
dimitris
February 25, 2018 at 02:14 pm
Amazing game! Highly addictive and unique concept. I will not tell you more, go on, check it out yourselves and you will not regret it!
rammuubin
February 18, 2018 at 04:21 pm
This game are very addictive. At first , i just wanna try, then i stuck in it warping through universe almost 7 months now.. Hahaha, great strategies game.