Dragon Swords
Dragon Swords is a free idle browser game. Everybody starts the game as a Human race, but you can upgrade your race as you progress in the game. You can fight against lots of different creatures to earn experience and gold. Complete various quests to earn rewards like gold and dragons. You should know that dragons are the ones who rule over the land. You can create an alliance, upgrade your equipment, spend your Arena Points and use your tokens. Kill monsters and gain levels to receive a Dragon Swords Ticket, take part in monthly lotteries and win actual prizes.





(9 votes, average: 2.44 out of 5)
Rate it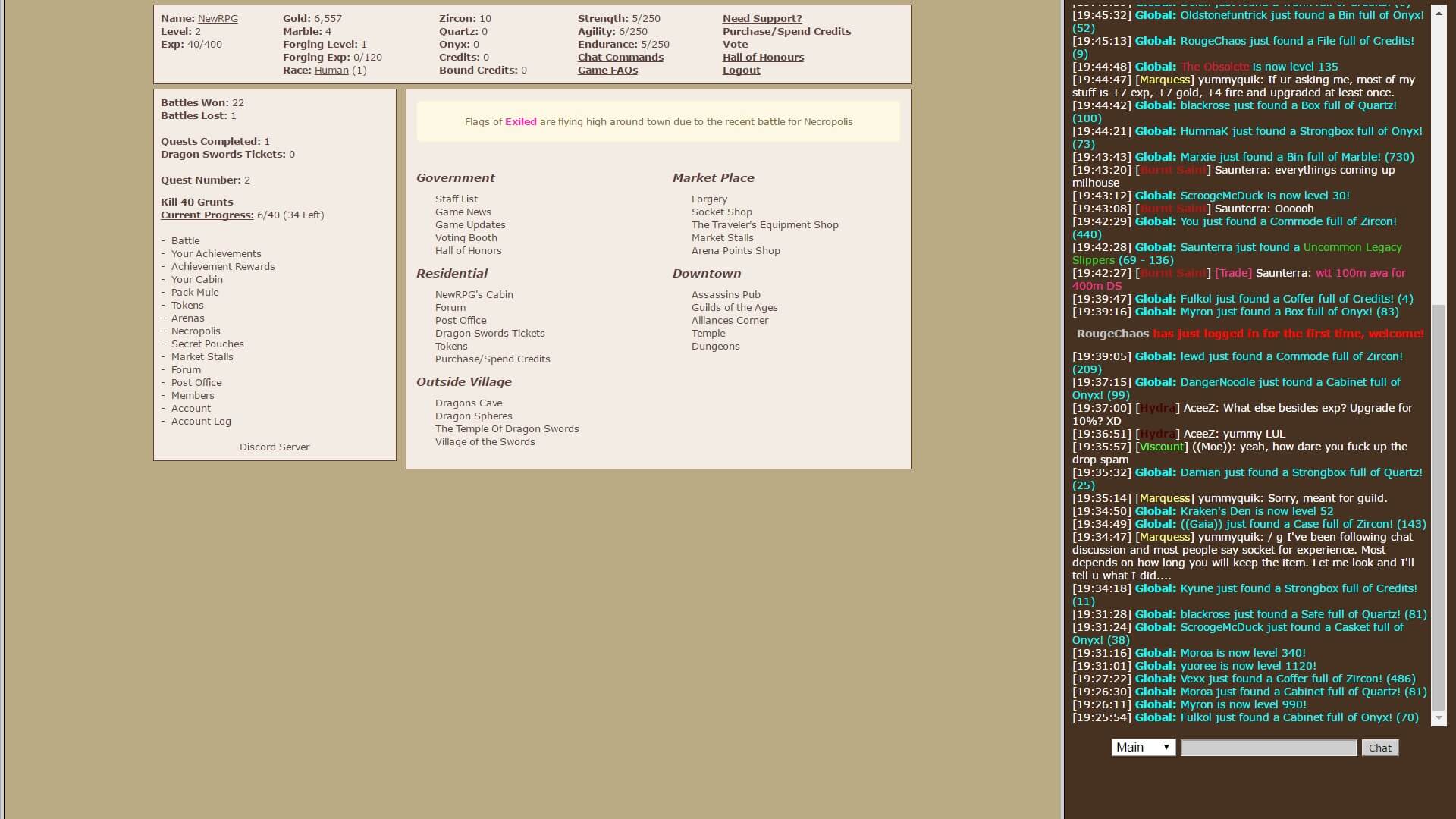 5

comments on

"Dragon Swords"
Gannman
April 08, 2018 at 09:04 pm
Unfortunately, the game seems to have ceased to be. Anyone know if the site/game will be resurrected?
Webshop Administrator
August 09, 2017 at 12:38 am
This game is great, but the addition of the ''Dragon Swords Webshop'' makes it even more amazing.
Great prizes at great discounts (which makes the game much more cheap to play).
There also is loads of trivia and other fun things to do on the Dragon Swords Webshop, so be sure to check it out!

Have fun everyone!
Kratargon
July 12, 2018 at 03:48 am
Letsdance? Is that you? I'm trying to find you again, and god, you don't make it easy :P
Robert Brisbin
June 09, 2017 at 08:33 am
I was playing game it kept knocking me out of my autos so went re-inspection and says page won't load . Is it just me or was it game
Amaranthe
April 28, 2017 at 02:41 am
Started playing this game a few days after it was released and currently has a consistent 200+ players online at any given moment. You start with 300 auto's which is good for about 1/2 hour so you don't have to constantly babysit the game. Extra auto's can be purchased with credits and with enough you can let it run while you're at work or sleeping. You can join a guild and help upgrade it to receive boosts such as attack, defense, gold, and experience. Credits can be used for boosts to upgrade experience, gold, gems, drop rate of items, etc. New features are slowly being added to enhance gameplay and the owner listens to the players ideas recommendations when making modifications to the game.
AceeZ
April 25, 2017 at 02:05 am
Use Ref Code 1012
For free 10,000,000 Gold after registering