Drakor
Drakor is a text based rpg focusing on dragons. Choose your race between Human, Elf, Goblin, Dwarf or Troll. Also choose your class between Mystic Warrior, Holy Knight, Divine Wizard, Fighter Mage, Battle Cleric and Arcane Priest. All new users will get 15 items Starter Set after registering. Starter Set includes a weapon, equipment items, battle abilities and other random items. Start your adventure and look for battles to gain new loot. Visit Battle Arena for quick NPC battles to gain experience.





(81 votes, average: 4.28 out of 5)
Rate it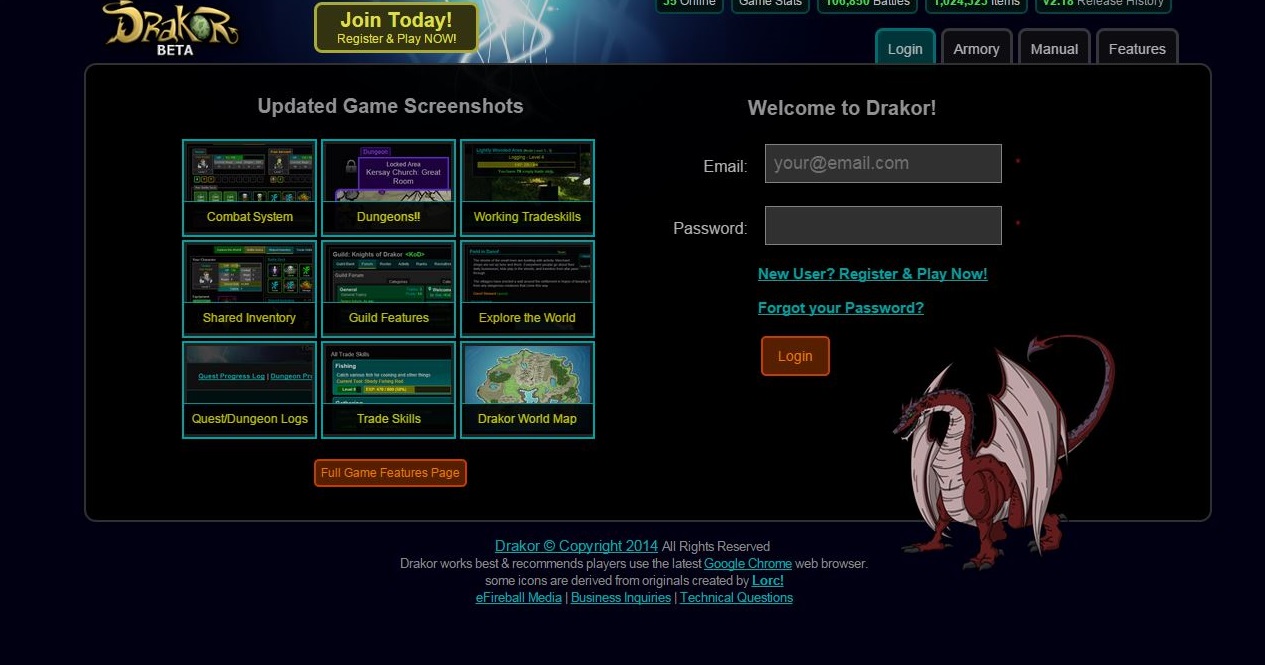 20

comments on

"Drakor"
Rip drakor
March 29, 2021 at 09:52 pm
drakor has been shut down sadly
SaveYourselfFromDrakor
May 20, 2017 at 04:53 am
It takes a special type of mental illness to play Drakor. Although an away-from-keyboard (afk) game, you will still often sit in a catatonic state as you watch Drakor tick off a minute or more of your life to collect one piece of material for the required 10,000 pieces to complete a Construction project. To push yourself further, you will purposefully shut down innate defense mechanisms of your intelligence that scream, "This game is excruciatingly boring!", thereby supressing your mental processes better than any episode of "Real Housewives" could do.

Fortunately, most new players pay only one visit to Drakor, then never return again.

Drakor's Chat is filled with several sincere people. Even Goz, the game's creator, was tolerable...until he sold his soul as well as control of the game's direction to people who have no connection with Drakor or even gaming. Then, Goz's self-concept became grossly out of proportion to reality.
Lady Lily
April 23, 2016 at 09:23 am
I play as Lady Lily a level 3 Human Battle Mage. I havent played long but Drakor is cool game to play in my down time

Signed Loving Gamer

Lily Grace Warren
Anon
April 07, 2016 at 07:03 am
Pretty decent game for what it's worth- although it's bogged down by infrequent updates and a tense, drama-filled community outside of guild chat.

+ Surprisingly good combat
+ Mix of active and AFK content
+ NO energy/stamina/"limited time per day" systems like most text games
+ Not an obvious clone of a different RPG like half of the games sharing the same source code nowadays
+ Cash shop is very unobtrusive and doesn't give paying players a huge advantage

- General lack of "endgame" content
- No PvP to take advantage of the nice combat system
- Updates are few and far between
- Community seems to revel in childish passive-aggressive drama (expect to see people publicly announcing their grudges and who they mute, as well as encouraging others to "take sides" on a fairly regular basis)
- Number of players has been declining as of the time of this writing
LongTimePlayer
February 15, 2017 at 09:38 am
Excessive, unfair and inaccurate generalization of the community as a whole. It's the Internet, there are always a vocal few.
Faaron
October 21, 2015 at 03:50 am
Drakor is cutting edge in Content, Game Play, New Updates and Attention to Detail.

Do NOT underestimate the game's simplistic look as it has so much to offer like it's unique battle experience where you choose how you fight giving a true fighting experience against monsters throughout Drakor. But there is so much more such as Mining, Gathering, Fishing, Mining, etc. This doesn't even scratch the surface of what Drakor has to offer.

They also have a friendly community whom welcome every new player and offer to help in any way to get them started. I completely recommend Drakor as it is probably the most exciting gaming experience to date.
Hori
October 15, 2015 at 02:53 am
Looks really cool, but not really playable on a phone. Unfortunate.
LongTimePlayer
February 15, 2017 at 09:40 am
I play on my phone often. No issues.
Goz
October 19, 2015 at 01:47 pm
Drakor works in landscape mode on your phone/tablet. Many players play on their phone. Drakor is built with responsive design but because of the complexity only works well in landscape mode right now. I will look at adding both orientations in the future . Thanks !
Roo
October 03, 2015 at 10:03 pm
A fantastic game, and entirely free if you want it to be. Agreed that the limited space can be a turn off, but learning how to utilize your space resolves that issue entirely. Simply choose to master one skill at a time opposed to pushing the limits of your inventory space to the max attempting to do all skills at once. It also helps to start with skills that aren't inventory hogs (For example, Logging only drops 13 different materials from level 1 to 50, whereas Gathering drops 41 different materials from levels 1 to 50.) Playing smart and learning how to manage your free tokens and inventory can make this well worth the effort.

Also worth noting that the community is fantastic. The chatroom isn't always hopping, but I would rather have sporadic meaningful conversations opposed to a chatroom full of trolls constantly bickering about this and that, anyway.

All in all, it is worth looking at and giving a fair shot. I tried it and was instantly hooked right in.
Boondog
October 03, 2015 at 08:50 pm
Been playing this game for almost a month now and feel I have enough experience to provide some comment. When you first play it is difficult to believe that this is still a beta version - the screens and gameplay are very slick and look very professional and way better than most completed games of this genre. It has a great supportive community and great place to chill if you are a more mature player, although everyone is more than welcome. Creator and GM Goz takes a real interest and there are ongoing updates ro develop and move the game on - with comments from players taken seriously. Theres plenty to do to keep you occupied in game and skills to develop when you are afk. One of the best features is that there is no player energy bars so you can keep playing 24 hours a day if you wish - either afk or live. As some reviewers have indicated backpack space is problematic if you wish to tackle every skill - but thats the same for any other game I have played. Why not come in say hello and hopefully you will feel right at home - Boondog
Kark
October 03, 2015 at 08:42 pm
This game is designed in such a careful way that anyone can play it! No matter if you are hard working or you got nothing to do! If you have lots of spare time its gonna give you lots of things to work on. If you are hard working and you want to just alt-tab in a cool game from time to time, then its an awesome option too :D

Only requirement for new players in order to like it, is that you can stand managing items and space all the time. But this is nice because every item is unique and you never get bored of it :)

Lastly people on the game are amazing, so we have a nice company over there :D
Drusilla
October 03, 2015 at 08:35 pm
Drakor is a super fantastic game with many things to keep you busy. The community and developer are very friendly and helpful. There are people with humor that make you laugh and very little drama. It's a fun game!

You choose the way you want to play. New updates are added regularly. There's no boredom in this game. You really need to give it a try.
Ravana
October 03, 2015 at 08:32 pm
This game is amazing... Yes the inventory is limited, but there are quests to add space in a bank, n ways to earn tokens as well you don't have to pay real money if you don't want to... The people are friendly warm n welcoming, always ready to offer a new player helpful advice... N the game is always growing, the developer is attentive n works hard to expand the game n active in the community... To say this game is not for everyone is true... There is a bit of a learning curve to work through at the start, but there is a manual that is easy to read n a beginner's tutorial quest to aid a new player. Most of the skills are AFK so you can just start them n let them go, there are no bot checks n a decent inactivity timer... All I can say is give it a try n hope you like it as much as we do.
Elucidator
October 03, 2015 at 08:13 pm
"You can surely get space- with tokens(only gotten by paying real money)- to me that is the 1 downfall" Wrong, tokens are established with each level of each skill. Storae is gotten with teamwork, doing quest, purchasing containers and through donations. Remember this game is developing. Updates regularly, people who don't do well with others this probably is not your game. Lively friendly chat, you cannot befriend the game owner to get privilege even if you do purchase often in game. Totally and completely fun.
Derral Hunt
October 03, 2015 at 08:10 pm
Drakor is a fun versatile text based rpg game. I have been playing it steadily since Jan 10, 2015. Choose your race Human, Elf, Goblin, Dwarf or Troll. If you like combat you will enjoy this game. Combat is done in ten rounds against the rpc (the mobs) by playing strategy cards. Your reward is gold and loot. The loot is random card drops with which you improve your strategy and equipment as you go, or "level up". There are 15 trade skills, 7 are gather or collection skills for materials and 8 are pattern trade skills where you make things out of your materials. There are hundreds of patterns that get even more interesting and better as you level up your tradeskill. If you are into combat as I am you can create your own equipment and strategy cards, curses, buffs, heals, cleanse and damage. You can trade with other players or sell stuff on the world market. Did I mention the Guilds. No. You can join a guild if you would like and get the support of all the other guild members. There are several quest to be done if you would like and dungeons to raid. You began the game with a default amount of inventory space and if you want more space you can purchase more space and many other premium features with tokens that are sold to support the game (server, etc) for a very reasonable amount, and you get one token every time you level up a skill. The game can be played 24/7 even while you are away many activities are afk (away from keyboard). Try it. Drakor.com
Stormwatch
October 03, 2015 at 08:01 pm
The game is just terrific. Sure, storage slots are limited at first but you gain more as you complete quests, something that may not be apparent if you're just glancing at the game. The users are very quick to help out with questions, and there are guides and tutorials to really get you on your way. I recommend joining a guild. The mutual support makes the game really come alive.
Blackberry
October 03, 2015 at 07:58 pm
Drakor is awesome. It's one of the very few games I've seen where you can do all the crafting skills all the way to max level without ever setting foot in combat. It hasn't got fancy graphics, but that means it runs great on older hardware and since it's an HTML5 website, it runs on all operating systems. I run it on Linux and there's a bunch of players who play on their smartphones. The community is super-friendly and the developer is communicative and responsive.
MrsSteve
October 03, 2015 at 07:55 pm
The comment on $5 per additional inventory slot is just wrong.

-There are quests to expand your personal bank
-You gain free tokens when you level up
-There is also token offers

Yes, the game does lend itself to teamwork. But you know, it's an MMO. If you want to play a single player game and do it all yourself, play Diablo or some shit. (Not that Diablo has a limited inventory or anything)

Good game.
Regular updates.
Responsive developer - especially when it comes to accessibility for players with impaired vision. Never seen a developer respond so positively about that before.

Also, there's a resident Duck DJ in the chat, so if you're ever unsure what to listen to - he's got your back.
Andrey
October 03, 2015 at 07:45 pm
Awesome game... A lot of stuff to do, many paths to chose from, very active and friendly chat... Great teamwork among guilds, nice combat and travelling systems!
Jennifer
August 16, 2015 at 01:55 pm
This game is awesome! Its been updated since that screenshot. I can play it at work and farm my character while afk but it also has some active skills as well. There are a ton on mobs to kill, areas to explore, dungeons, complex trade skills, pets you need to care for that talk and give buffs and the community is probably the best ive seen on the web. The GM is on a lot and really active in the community.
JeMeTTe
June 07, 2015 at 06:11 am
I had the exact same experience.

Tried it for 2 days, gave up on the limited inventory.. You basically have to join a guild and work with a shared inventory. $5 per inventory slot is way too much
YourWickedness
January 11, 2015 at 08:26 pm
I like this game, the design is great and the skills/combat are pretty cool...the only thing I myself dislike, is the lack of storage within my character/bank and also guild storage...you can't do too many skills without having to sell things(alot of which you need), before you can make things, otherwise you'll have no room...You can surely get space- with tokens(only gotten by paying real money)- to me that is the 1 downfall