eBoxingPromoter
(Online since

2016

)
eBoxingPromoter is a kind of Boxing Management simulation with a difference - rather than other games where you play a trainer or manager, you take the role of a Promoter/Manager.

You have the duel aim of growing your Boxing Promoter company, by putting on shows and earning TV deals, whilst also developing your stable of fighters. You will be looking to lead your fighters from regional titles right up to world title honours. As well as each country having regional and national titles, there are continental titles and other geographical region titles such as the EU or Commonwealth. And of course there are the 4 main world sanctioning bodies.

The game has a fully simulated amateur scene including national, continental, world and Olympic tournaments, and promoters can scout and sign fighters from this scene. Promoters can also scout for fighters in the professional scene, looking for free agents or making offers to other promoters to sign their fighters.

There are over 80 countries in the game, and thousands of real venues to stage shows - from tiny boxing gyms to the largest stadia in the world! There are real broadcasters from the countries featured in the game, and you can also stage PPV shows setting the price and choosing the headliners.





(29 votes, average: 4.9 out of 5)
Rate it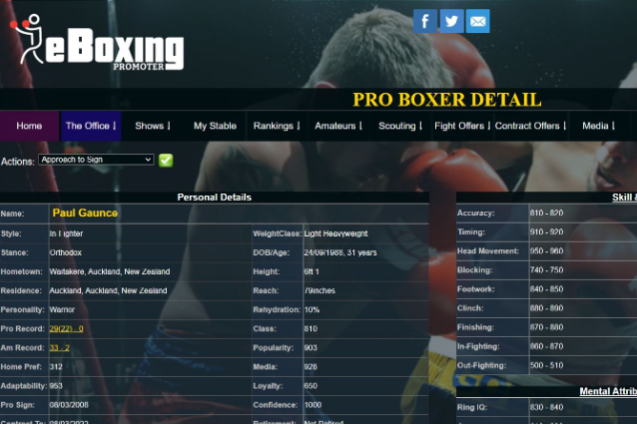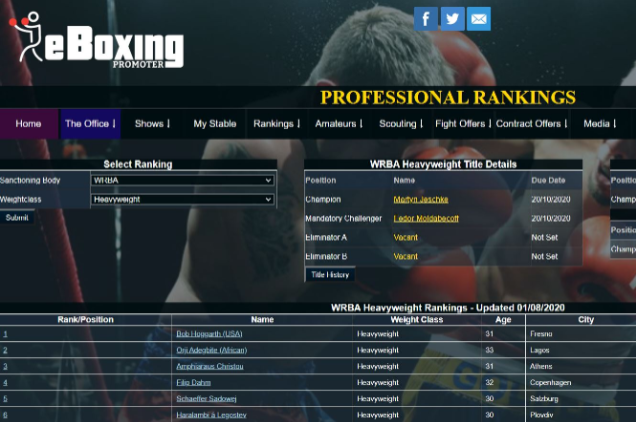 13

comments on

"eBoxingPromoter"
Bobb
February 10, 2021 at 09:54 am
As the others have already said, this is a throwback boxing sim, been looking for something like this for a while, and unlike most others which are offline, this is online where your competing against other real life players, plus the games worldwide Ai System.
A must have for anyone that likes their sports management games.
Rich DeLuca
September 07, 2020 at 01:48 am
Best boxing manager game!
Rook
August 20, 2020 at 06:27 am
One my fav games to play. It's detailed, but not to complicated or, time consuming. (Unless you want it to be with 100 fighter stable) You can sign an Olympian amateur, or find a diamond in the rough through scouting, and train him up to be a world champ.
Love it.
Christian Hamilton
July 29, 2020 at 03:02 pm
The most addictive game of any genre that I've ever played. Can't leave too in-depth of a review as I've spent far too long away from the game. Play the game, you won't regret it.
TeamButterbean
July 28, 2020 at 08:08 pm
Brilliant game if you like your boxing, will have you counting down the minutes till the next in-game update. Screw real life, forget the family, it's all about whether you have the winning bid for the future of the Malaysian Super Flyweight division.

As others have said, good little community, addictive beyond belief, a gem of a sports simulator. Might take a little while to take in every facet, but well, well worth it. Managing training, putting in purse bids, signing fighters, choosing opponents, booking arenas and stadiums, negotiating TV rights, it's got the lot. Love it. Then sometimes hate it. Then love it again. Great game.
Ralston2k3
July 27, 2020 at 10:19 am
Cant even remember when i started now must be 6 years in meself atleast. But its awsome any boxing fan whos got an interest in all aspects of the sport will love it. Couldnt recommend highly enough
Simon Templar
July 27, 2020 at 09:06 am
I have been playing this game for a couple of years now. It's entirely addictive. I am a big fan of real life boxing, and am an avid gamer - with four kids, everyone needs an escape! - and this excellent game manages to hit both of those sides of my personality square on. You can set up a promotion anywhere in the world, choose to sign either amateur fighters and take them all the way through to title (my preference) or sign established pros and see whether you can do a better job than their previous promoter. You can have anything from half a dozen fighter or run a massive promotion with 100 fighters signed to you. The training is very detailed, you can put in as much or as little as you like, and it is possible to develop a real attachment to fighters. If you have any interest in boxing, gaming, sports sims or just need a new hobby (although this most immersive of worlds can become like a second job if you let it..!) then this game I cannot recommend highly enough. An amazing, compelling achievement and a real credit to the developers.
Carl Hughes
July 26, 2020 at 12:19 pm
High quality Boxing Management Game. If you want a realistic Boxing Management game where you can build your promotion on a multi faceted level then this is the game for you.
Lee
July 26, 2020 at 12:17 am
I was searching for years for this type of game and when I found it, it certainly scratched a long over due itch. No other game in this genre comes close. If you like Football manager and boxing, why are you not already playing!?

Highly recommended.
Tangerine
July 26, 2020 at 12:14 am
Really detailed boxing promoter management game.A must for any boxing fan.If you like championship manager you will love this.
Sjw
July 25, 2020 at 11:53 pm
brilliant game, great detail. Must play for boxing and management game fans alike
PolivarianReviews
July 25, 2020 at 10:35 pm
Awesome game. One of the best games I ever played. And one of the best browser management games available. If you like football manager of Sports Interactive or World of Mixed Martial Arts 4 and 5, you will definitely like this game too. (It is just maybe a little too addictive for me. :-( )
Rjs
July 25, 2020 at 09:28 pm
Great game. Fun and enjoyable. The championship manager of boxing games.